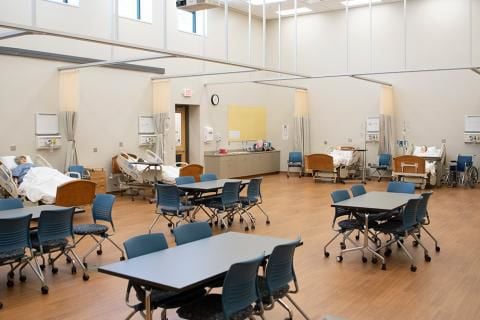 SIOUX CENTER, Iowa -- Dordt University welcomed nursing students to the new Carl and Gloria Zylstra Nursing Education Center last fall.
The space includes a large classroom, skills lab, two simulation labs with control and debrief rooms, and faculty office spaces. The space will offer students the ability to have a hands-on learning experience in a safe environment.
"The simulation lab allows all nursing students to have the opportunity to care for specific patients as they prepare to handle the challenges of today's health care system upon graduation," says Melanie Wynja, instructor of nursing and simulation director.
The simulation rooms include two high-fidelity manikins that can breathe and blink. The instructors control and talk through the manikin behind one-way glass in the control room. Both manikins can emulate a variety of health situations that occur in real life, including a manikin that can give birth. This will give students various health challenges to learn from, alongside the experiences they gain in their clinical settings.
"In a clinical setting, a student may not have the opportunity to care for a patient whose heart stops. In the simulation labs we will have all nursing students experience this and other scenarios in a realistic and psychologically safe environment where it is OK to make mistakes and learn from them," Wynja says.
Dordt's nursing program also recently underwent an update in curriculum, which correlates well with the construction of the new nursing facility.
"The goal of Dordt's nursing faculty is for students to use clinical reasoning when caring for patients," says Deb Bomgaars, chair of the nursing department. "Clinical reasoning is understanding the whole person and being able to plan and intervene appropriately based on patient needs."
The program strives to prepare Christian nurses to approach every person in a distinct manner, as a human being created by God. With 116 in the program last fall, the nursing program became one of Dordt's largest majors.
"Our students' faces lit up as they entered their new space," says Brandon Huisman, vice president for enrollment and marketing. "These areas were intentionally designed for student flourishing, and we're eager to instruct returning students and invite prospective students to take advantage of these wonderful resources."
Be the first to know
Get local news delivered to your inbox!