WAKEFIELD, Neb. -- More than a hundred wind turbines loom large over the small town of Wakefield. 
In Dixon County, just northeast of Wakefield, Enel Green Power North America Inc. built the $430 million Rattlesnake Creek Wind Project.  
All of the project's 101 Acciona AW125-3.15 MW wind turbines, spread out over 32,000 acres, are operational, an Enel spokesman said. 
The project has a capacity of 320 megawatts, though Rattlesnake Creek senior project manager Georg Becker-Birck cautioned that the turbines don't generate that much power round-the-clock. 
"That's installed capacity, that's like the horsepower in your car -- your truck has maybe 140 horsepower, but when you're driving along in the city you don't use all of them," he said. The turbines are expected to generate around 1,300 GWh annually, according to a press release from Enel. 
Social media giant Facebook has agreed to purchase 200 megawatts from the project to power its new data center in Papillion, Nebraska, a suburb of Omaha. A Facebook spokesperson said the data center will begin operations this year, though construction will continue through 2023. 
Adobe, a major computer software company, will purchase another 10 megawatts through 2028. After that, all the generated power will go to Facebook, which aims for a 100 percent renewable energy supply to the data center. 
Rattlesnake Creek employed between 320 and 400 construction workers during the construction process. Enel expects the project to create roughly 20 permanent jobs. 
The project's builders strive to be attentive to local sentiments about the project -- they even hired a dedicated "landowner liaison" whose job is to hear and respond to any landowner concerns.
"We take that pretty seriously," Becker-Birck said. "I think in general the community is pretty supportive... Most residents are, I think, excited about it."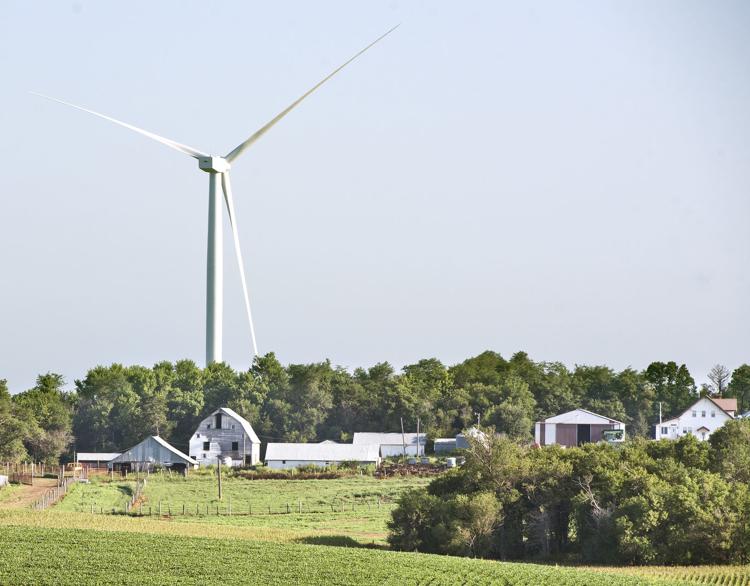 The more than 150 landowners who have turbines, project-built roads or other infrastructure from the project on their land receive undisclosed royalty payments from Enel Green Power North America, a subsidiary of the multinational Enel Group.
Becker-Birck said the payments are more substantial than what could have been earned by planting on the (relatively small) space taken up by the turbines and service roads. Farmers are able to plant crops "pretty much" up to the base of the turbines. They can also use the Enel-built roads for their own purposes. 
"The land loss for the farmer at the end is actually pretty small," Becker-Birck said. And the extra revenue can be a big deal: "For some of them, that's additional income, or retirement benefits, or benefits their business."
Copyright 2018 The Sioux City Journal. All rights reserved. This material may not be published, broadcast, rewritten or redistributed.
Be the first to know
Get local news delivered to your inbox!