SIOUX CITY -- February's frequent snow and freezing temperatures were not enough to stop construction from proceeding on Interstate 29 in Sioux City.
Though the weather wasn't always ideal, workers braving the elements continued to make progress on construction of three bridges and demolished another one.
"They're making some progress out there, but it's tough this time of year, said Dakin Schultz, Iowa Department of Transportation District 3 transportation planner. "It's tough to make progress, but we're in winter in Iowa."
Work continues on the southbound lanes through downtown roughly from Hamilton Boulevard to Floyd Boulevard. The southbound bridge over Hamilton Boulevard was removed earlier this month. Bridge beams are scheduled to be set in March on the new bridge over Virginia Street. Work also continued on the bridges over Pierce Street and Floyd Boulevard.
Once the weather warms again, activity will heat up for the final year of major construction on the 11-year, $400 million project to widen I-29 to three lanes in each direction from Sergeant Bluff, through Sioux City, to the South Dakota border.
Year 10 saw the beginning of work on the southbound lanes through downtown, a phase that introduced a new detour concept to the area. A free-flow traffic pattern routed vehicles past the construction zone on the southbound frontage road while maintaining an exit and entrance at Floyd Boulevard -- all without forcing traffic to stop.
The design, aimed at minimizing traffic delays in the construction zone, was successful, Schultz said in December.
"It worked very well. We had very few issues with traffic backups in that area," he said.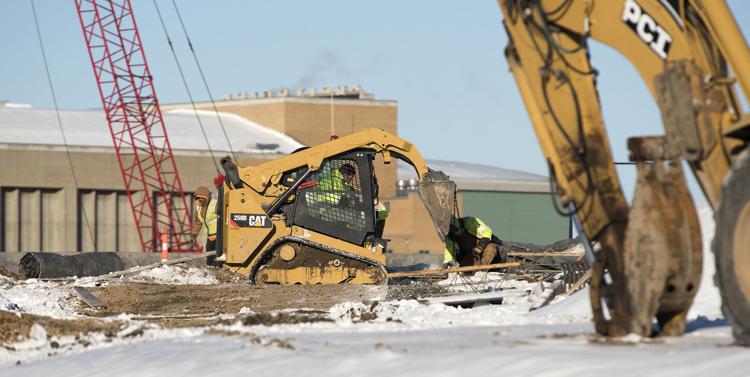 The detour was ended in December, when traffic was switched to the northbound lanes of the mainline interstate, resulting in two lanes of traffic traveling head to head in each direction, a configuration that will continue through the spring and summer.
Once the southbound detour was ended, the Floyd interchange was restored to its normal traffic configuration.
During 2018, paving and construction of bridges on northbound lanes through downtown from Wesley Parkway to just past Floyd Boulevard were finished. Pavement in the southbound lanes was removed. Southbound bridges over Perry Creek, Pierce Street and Floyd Boulevard were demolished, and construction on the new bridges in those locations began.
Work continues on the new Virginia Street connection.
Business leaders are looking forward to the coming year and completion of much of the construction that local residents have dealt with for a decade.
Though inconvenient, the construction is a sign of progress, and the improved highway system is a selling point when trying to attract new businesses and expansion, said Barbara Sloniker, Siouxland Chamber of Commerce executive vice president. Paired with the recently completed expansion of U.S. Highway 20 east of Sioux City to four lanes, a six-lane I-29 makes it easier for shoppers and customers to get to Sioux City.
"We definitely tell prospects about it," Sloniker said in December. "We have good infrastructure coming into and going out of Sioux City."
Major construction of I-29 should be done in late 2019, Schultz said, with cleanup work and the elevation of Hamilton Boulevard in the area beneath I-29 taking place in 2020.