SIOUX CITY -- With views overlooking a growing commercial and entertainment area in Sioux City, units at Summit Ridge Apartments nearly rent themselves.
"We get a lot of comments here. We get a lot of people renting here because of the views," property manager Lynn Sprock said.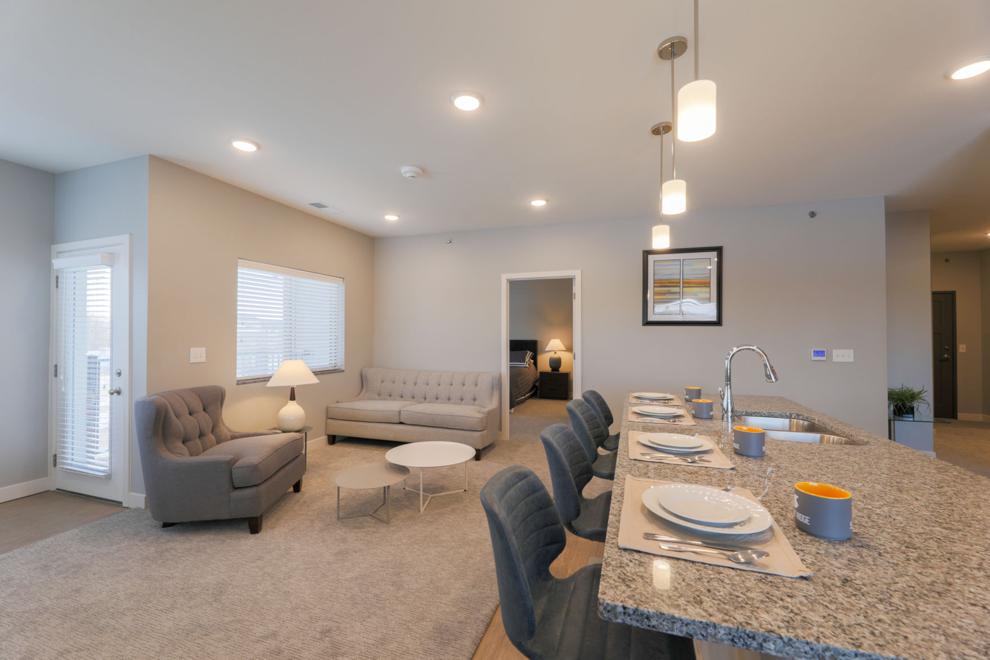 Tenants began leasing units in the $11 million, 73-unit complex sitting atop a hill overlooking the Sunnybrook commercial area on the city's southeast side in November. Just off U.S. Highway 20 and close to Southern Hills Mall and the Lakeport Commons and Sunnybrook Plaza shopping centers, the apartments offer quick access to multiple shopping, dining and entertainment options.
"One of my favorite selling points is we're close to everything," Sprock said.
Perry Reid Properties, of Lincoln, Nebraska, began construction of the single three-story building in the spring of 2019. It contains a mix of studio, one-bedroom and two-bedroom units. All have leased equally well among the initial tenants.
"We have a really good variety in occupied apartments," Sprock said.
Studios are 574 square feet and lease for $1,050 monthly. One-bedroom units range from 753-943 square feet, and rent is $1,250-$1,295. Two-bedroom apartments are 1,247-1,313 square feet and rent for $1,450-$1,570.
Each apartment has a deck with the aforementioned view and is furnished with stainless steel appliances, washers and dryers, granite countertops and higher-end finishes, Sprock said.
The complex contains other amenities such as an underground parking garage, an outdoor community patio, community areas featuring a Wi-Fi lounge, coffee bar, pool table and fireplaces, a 24-hour fitness facility and valet trash and recycling for residents. Both the building and parking garage have controlled entrances.
"The 24-hour fitness center is huge here, and of course the underground parking," Sprock said. "I've been to pretty much every complex in the area, and they don't compete with what we have to offer."
Occupancy was at 25% in mid February.
"We kind of figured it would be on the lower end," Sprock said. "Once it begins to warm up, we expect it to fill up a lot quicker."
Much like the neighboring Summit at Sunnybrook Village, a 225-unit complex built by the same developers in an earlier construction phase. Occupancy there was 98% in February, a sign of Sioux City's strong apartment market, Sprock said.
"There's a big demand right now for apartments. Morningside definitely need more apartment homes in this area. The market is strong, and we needed it," she said.