SIOUX CITY — Ho-Chunk Inc. has hit the halfway mark with Virginia Square, its $30 million downtown housing and commercial development project.
The mixed-use project, called Virginia Square, involves extension renovation of three multi-story structures in the 100 block of Virginia Street and the construction of another building.
Following two years of construction, the first phase was completed in December 2016 with the opening of 100 Virginia. All 20 modern-industrial style apartments in the three-story structure offers have been leased, said Dennis Johnson, chief investment officer for Ho-Chunk, the economic development corporation for the Winnebago Tribe of Nebraska.
Across the street, work on a former five-story cold storage building, renamed 103 Virginia was completed in the fall. In its current layout, 103 Virginia has 20 apartments and seven condos and commercial space.
"Of the 20 units that we're renting, we got about a half-dozen that have been pre-reserved already and we are fielding a lot of inquiries weekly on filling them up," Johnson said. "This building, by all indications, seems like it will lease up pretty fast like 100 Virginia was."
Apartments, which run between $1,275-$1,650 a month, come in either one or two-bedrooms and range in size from 821-square-feet to 1,430-square feet and come fully loaded with amenities, which include a hallway storage space, quartz countertops, flat panel black slate cabinetry, stainless steel appliances and fixtures, polished concrete flooring in the living spaces and bathrooms and "very modern " carpeting covering the bedroom floors.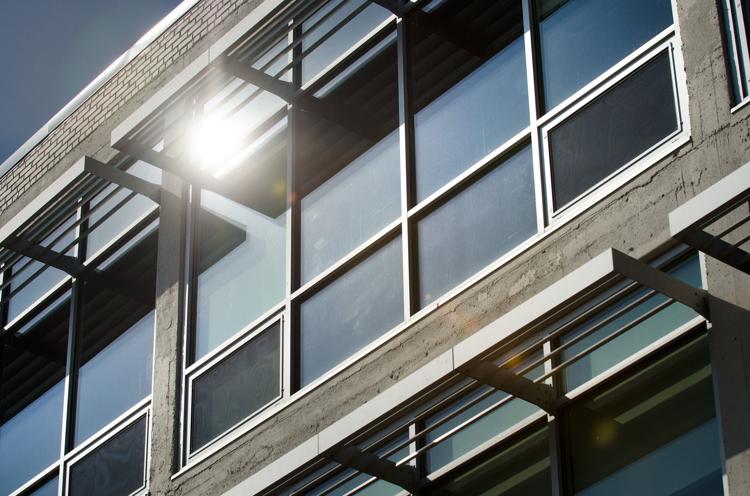 While showcasing one of the third-floor corner apartments, Johnson pointed out the unit's 12-foot high loft style ceiling that showcased exposed ductwork and original building fixtures. He also highlighted the nearly floor-to-ceiling glass windows that are accentuated by exposed brick. The windows offer panoramic views of downtown Sioux City and provide an abundance of natural light.
"These were bricked in if you look back a few years ago and if you look at some pictures of the building," Johnson said. "We took it back to the original openings that were bricked-in over the years."
Renters in 103 Virginia also have the option to pay an additional $75 a month to live in a climate-controlled indoor parking garage that can hold up to 30 vehicles on a first come first served basis. Seven of the indoor parking spots are reserved for condo owners.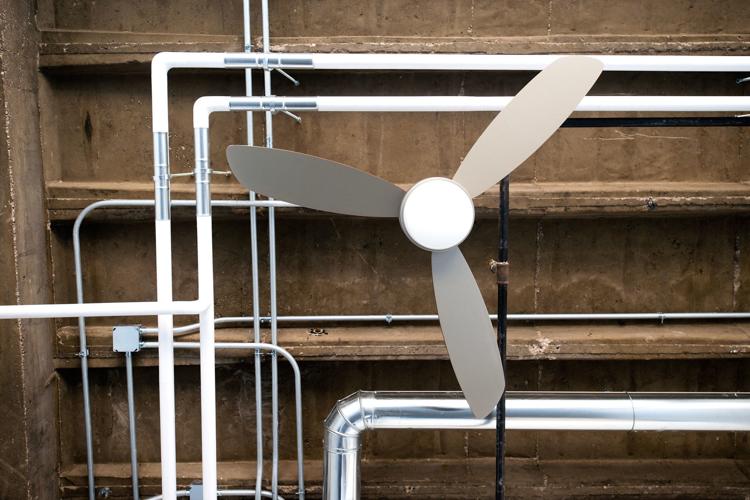 Additionally, all residential tenants have access to a fully-equipped third-floor fitness center, a second-floor community room that can be rented out for private functions but that also will serve as an event space for residents and access to a fourth-floor rooftop patio with a rubber brick walking surface that faces Historic Fourth Street.
Besides all the internal amenities 103 offers, Johnson noted its location adjacent to the riverfront, Interstate 29 and the Fourth Street District, all in walking distance, is another perk.
"That's another one of the great features; you're going to have pedestrian access underneath I-29 getting to the new riverfront development that the city is working on," he said. "As those plans get implemented over the next couple of years, you have the most easiest access to the riverfront."
You have free articles remaining.
The seven condo units provide the same internal and external amenities as the apartment units, but really showcase why they sell for no less than $415,000 on the inside.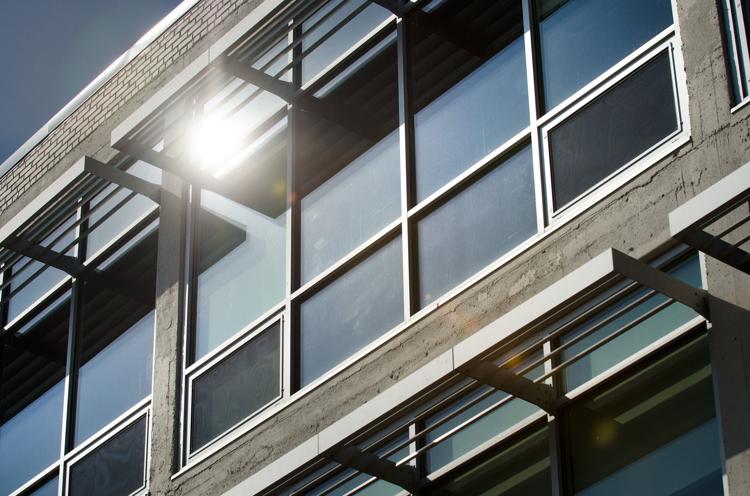 Condos range from 1,545-square-feet to 2,245-square-feet and each unit occupies the fourth and fifth floor of 103 Virginia.
The first floor serves as a living quarters and features an immense living room, a decked out kitchen and a half bath. The fourth-floor houses two spacious bedrooms that each have a private full bath and there's a reading nook connected to the master bathroom that overlooks the stairwell.
Similar to the apartment units in design, the condos contain stainless steel appliances and fixtures, modern cabinetry and panoramic views of the city. However, they differ in that they also have fireplaces and a sectioned off private rooftop patio that faces the Missouri River.
The third flood of 103 Virginia was slated to become commercial space, but Johnson said Ho-Chunk is reevaluating that.
"We've just had such success and demand downtown that I think creating those as residential units would have almost immediate demand," he said.
If Ho-Chunk goes forward with creating additional apartments at 103 Virginia, Johnson estimates the building would house 30 units total.
Table 32, the final addition to 100 Virginia Square also was completed in the fall. The restaurant occupies the first floor of the building and was developed by the Miller family, the original owners of the now-defunct Bev's on the River, which is now the site of Crave.
With two of the four Virginia Square buildings complete, Ho-Chunk is working on the final phases.
In the next few months, construction is slated to start on 101 Virginia Square, located directly north of 103 Virginia. A previous industrial structure was razed after being found unsuitable for redevelopment. The new building set to replace it will house a 45 unit apartment complex and retail space.
A fourth building, called 102 Virginia and directly south of 100 Virginia, may become home to a five-story 90-room Hilton extended stay hotel. Johnson said that deal is not 100 percent certain.
"We're still evaluating the feasibility of it and if we want to go in that direction," he said.
The first three phases of Virginia Square were about a $25 million investment. Should Ho-Chunk pursue the hotel, Johnson said the development's cost will increase to about $30 million.