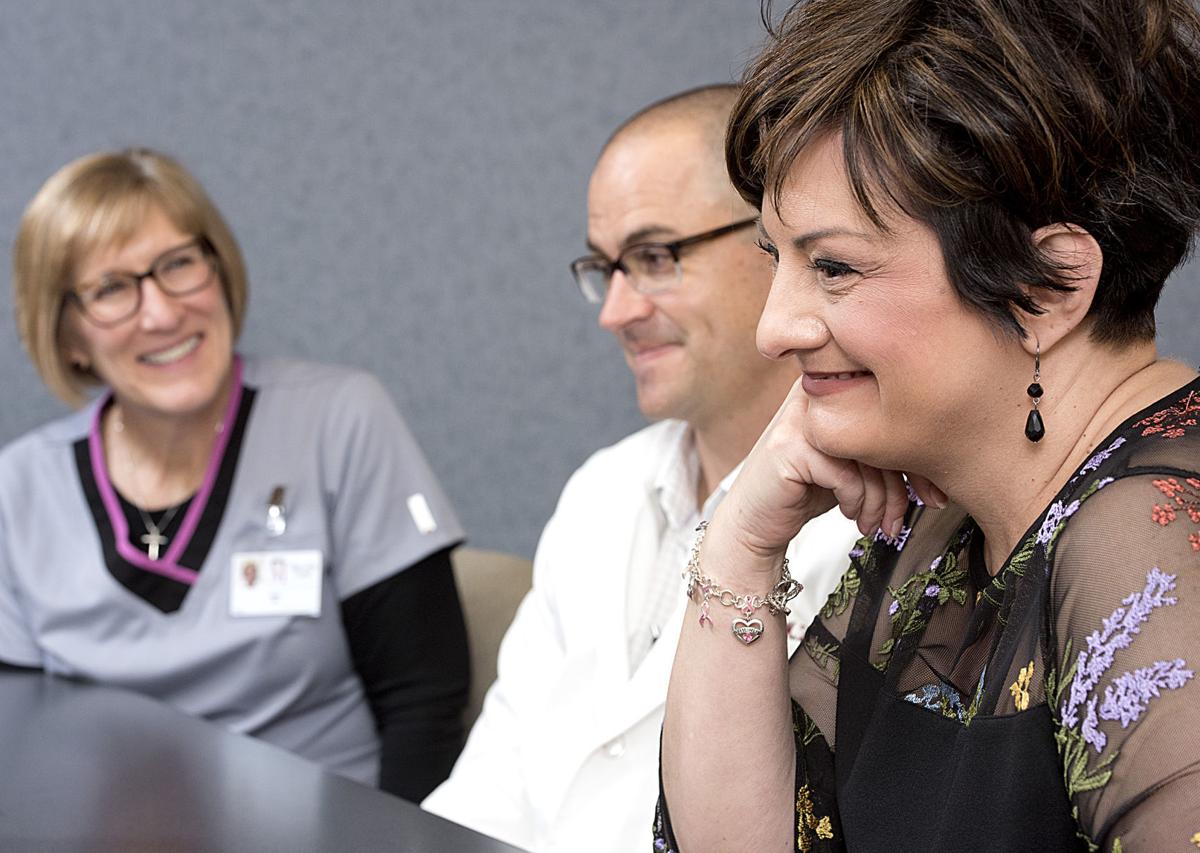 NORTH SIOUX CITY -- After Kristi Mullins was diagnosed with breast cancer, a disease that is expected to claim more than 40,900 U.S. women's lives in 2018, she was swiftly referred to Midlands Clinic's Coordinated Breast Care program, a partnership with June E. Nylen Cancer Center.
This collaborative approach allows patients with breast cancer to meet with a breast surgeon, oncologist and plastic surgeon during a single visit at Midlands Clinic's Morningside office. These physicians then consult with one another and other health care professionals who make up a multidisciplinary board to devise a comprehensive treatment plan for each patient. Mullins, 45, of Sioux City, calls them her "dream team."
"I thought it was comforting to have everybody in one spot," she said. "I felt a lot better about the diagnosis after I met with all the doctors for the first time."
While breast surgeon Craig Nemechek, of Midlands Clinic, said coordinated breast care doesn't necessarily reduce the cost of treatment from an insurance standpoint, he said it can lessen travel expenses and lost wages for patients who otherwise may drive significant distances to multiple appointments scattered over the course of three or four weeks.
"They want to know they're having the best care they can possibly have. I think sometimes with breast cancer, women were concerned that they should leave town for that reason," he said. "I think with what we're doing now, there's no question that we have excellent care. There's no reason to leave."
Nemechek said the coordinated breast care approach also reduces anxiety that some patients feel between visits.
"Instead of seeing a patient in the office, them going home and waiting for referral letters or phone calls back, we have a very good treatment plan within the first hour or two after we see the patient," he explained.
Laura McNaughton, a plastic surgeon at Midlands Clinic, said having a team approach has basically become the standard of care in the United States to treat major medical problems, including breast cancer. Patients with breast cancer who are being treated through a coordinated care model don't have to worry about whether their physicians are on the same page, according to McNaughton.
"For the patient, they don't have to bounce from one medical office to the next, to the next and wonder if their physicians are talking. They know their physicians are talking," she said.
Breast care coordinator Barb Hansen said Mullins was very scared when she visited Midlands Clinic's Morningside office for the first time within a week of receiving the diagnosis after a 3D mammogram in July.
Hansen explained the coordinated breast care process to Mullins and reassured her that everything would be OK.
"What I say is, 'We're going to take very good care of you. We're going to be here every step of the way,'" said Hansen, who has worked as a nurse for 40 years.
Nemechek said it's important for the patient to be seen by both the oncologist and surgeons during the initial consultation in order to get a treatment plan put together and then again during the first post-operative visit.
During the initial consultation, Nemechek joined Mullins to go over her diagnosis and treatment options. Susan Roeder, an oncologist at the June E. Nylen Cancer Center, and McNaughton followed. In total, Mullins said she spent 3 1/2 hours at the clinic that day.
"You can't just schedule a breast cancer patient into a 30-minute slot. Sometimes it's 25 minutes. Sometimes it's an hour," Nemechek said. "Certain cases are much more difficult and complex and they require a little more discussion with the oncologist and the plastic surgeon."
That same week, after Mullins' first appointment, Nemechek said the breast tumor board reviewed her breast imaging to see the tumor's exact size and location. Then, he said they devised a final treatment plan.
"I think that's been the most exciting and beneficial part of what we've done so far -- that breast tumor board where we get very good input from many specialties," he said. "I think after that discussion, we are very confident that the plan that we choose to go forward with is the best plan for the patient."
Roeder, who was part of the University of Iowa Hospitals and Clinics breast cancer care program for 14 years before coming to June E. Nylen Cancer Center, described breast tumor boards as "invaluable" to both patients and physicians.
"I wish we could do that for all cancer types because so much useful information comes from that," she said. "It's so different to see the films and to see the (pathology) on a screen instead of on paper and then the difference of reading that report yourself versus sitting there with several other breast cancer specialists reviewing it. There's just no comparison."
Roeder said breast cancer survival is on the rise in the United States. Although improved diagnostics have played a huge role in detecting breast cancers earlier on, she said a large number of breast cancers are still caught by a patient feeling a lump or noticing a change in the breast, such as a difference in skin color, dimpling or nipple discharge. She said advances in surgery and oncology are also helping more patients beat breast cancer.
Mullins' treatment plan involved a double mastectomy, a surgery in which both breasts are removed. She had that operation at Mercy Medical Center on Sept. 13 along with the first stage of prosthetic-based breast reconstruction, which involves placing tissue expanders.
Although the Women's Health and Cancer Rights Act of 1998 requires group health insurance plans that pay for mastectomy to also cover breast reconstruction, McNaughton said less than 50 percent of women are offered reconstruction during their breast cancer consultation.
"Imagine being told you have breast cancer and thinking you want reconstruction, but you can't afford it and then later on finding out that it was by law that it would be covered," she said.
Mullins, who didn't require any chemotherapy or radiation to treat the cancer, was set to have permanent breast implants placed during the second stage of prosthetic-based breast reconstruction on Dec. 18.
"I can't emphasize enough how happy I was with my care and how much having this dream team helped me," she said.