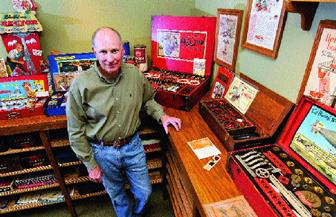 It's the Mount Everest of boys' Christmas presents. The top toy, bar-none, on little Frankie Sargent's wish list. The be-all, the end-all, the Holy Grail of .... well, let's just say it's the Climax of Erector Glory. And that's no exaggeration.
That's the official name: The Climax of Erector Glory.
It's an Erector Set that sold for a then-impressive $69.75 in 1929, the last year really bad things happened on Wall Street. Today, it's worth thousands - depending on its condition.
And for one brief moment in time, not-so-little Frank Sargent owned his own Climax of Erector Glory, one of fewer than 10 such sets still in existence. But actually having it was not as cool as trying to get it - the "thrill of the hunt" and all that. So eventually he sold it to another collector - another grown boy who really, really wanted it.
But Sargent, a Sioux City endodontist, is happy with his still-impressive collection of A.C. Gilbert Erector Sets that occupy the display counters in a large basement corner of his Sioux City home. There are some large wooden boxes, but most are the red metal Erector boxes that vast numbers of boys wanted to own through much of the 20th century. Gilbert's first set came out in 1913.
Mom and Dad gave Frank his first Erector Set, a Ferris wheel, which they bought for $35 at Younkers/Davidson's in 1961. A "well-played" set, it's kind of beat-up looking. Today, he said he would be lucky to get $25 for it. It's basically worth only the value of the parts, but some of the parts could bring that much alone, he noted, pointing to a small speaker and needle used to play a since-lost record. The record would be worth about $100.
"Some of the parts can fetch upwards of over $2,000 for just a part," he noted.
He pointed to a 1926 Erector Set that has rare cast-iron wheels. That was the only year a set offered cast iron wheels. They proved too complicated and expensive to make. So from 1927 on, the wheels were rubber.
Sargent recalled buying one well-used set just to get a rare clamshell - a scoop attached to the lifting hook of a crane. He then resold the junky set - minus the clamshell.
"You have to sometimes look really carefully at the Internet pictures and you'll see stuff. So you've got to be pretty observant," he said, noting that much of his collecting is done via the Internet, though he did find a nice ferris wheel set, circa 1955, at a garage sale on Court Street a few years ago. "It was actually pretty decent. It had been played with, but all of the cardboard was in it."
Sargent has always been a collector, a trait he says he inherited from his father. He collected stamps as a boy, and he used to collect Fiesta dishes and plastic radios. At one time, he collected jukeboxes, but with a set of nine, they pretty much took over his basement. He has one Wurlitzer jukebox left. For a while he even collected cars, indulging his passion for the 1957 Pontiac.
He never intended to collect Erector Sets. It just sort of happened.
When he spotted that first set at Davidson's back in 1961, it wasn't the parachute jump Erector Set he most wanted, but it was the biggest set available in Sioux City. And he was still shocked - and grateful - when it showed up under the Christmas tree. His dad worked for Raskin Packing, and the $35 price tag seemed mighty expensive at that time, he said.
"But I always wanted this one," he said pointing to a parachute jump Erector Set he now owns.
"And lo and behold, it was probably 1986, they knew I always wanted that set, and my Mom and Dad surprised me and found one in an antique store. So I finally did get the set about 26 years later," he said, laughing heartily. "And then it kind of took off from there."
At his collecting peak, he figures he had 85 Erector Sets squeezed into his display space. He even had a rare 1914 set, though he was never able to acquire a 1913 one.
He was a successful endodontist by then, and his family had learned to take his collections in stride.
Sargent had moved back to Sioux City to set up his practice - and he saw an ad in a toy collectors magazine advertising Erector Sets. He saw one he liked, called the owner in Chicago and made his first purchase. This was in the pre-eBay days when he still had a string of jukeboxes. But he'd caught the fever. He started buying more sets. He had to have the big robot, then his first wood box set ... and so on.
He doesn't build anything with these sets - that would devalue them - but he fondly recalls building that first ferris wheel six or seven times.
"I even still have the board I would screw it to. It's still up in the attic," he said. "The thing that's neat about these toys was that the instructions never really gave you every clue. They'd show you a picture and you had to figure it out. The older sets, from the '20s, some of those models were extremely difficult to build and you really had to have a knack for putting things together. So it taught me diligence, how to put things together, and you get to be a little mechanical doing it."
It also made him want to be an architect, but he opted for dentistry instead. But he's happy. He still does a lot of work with his hands.
Then he finally acquired the biggest set they ever built, the 150-pound Climax of Erector Glory. "It took two of us to lift the box," he said.
The Climax set came out in '29 but it was sold the following three years. Collectors, however, aren't sure if any of the Climax sets were actually made after 1929. Considering the cost and the timing (the Stock Market collapse), it may have taken that long just to sell all the 1929 sets, he noted.
While most traditional sets are designed to build one thing, like a train or ferris wheel, the Climax of Erector Glory was big enough to build just about anything.
A.C. Gilbert's "classic" period from 1924 to 1939 offered the most prized models: the white truck, steam shovel, stiff-leg derrick, ferris wheel, airplane, Zeppelin, ship, and locomotive and tender. "That is when he made the neatest Erector Sets, like these here," he said, And the most valued.
Erector Set is the trade name of a toy construction set that was popular in the United States during much of the 20th century. It consists of collections of small metal beams with regular holes for nuts, bolts, screws and mechanical parts such as pulleys, gears and small electric motors.
The Erector Set was invented by A.C. Gilbert in 1911, and was manufactured by the A. C. Gilbert Company in New Haven, Conn., from 1913 until its bankruptcy in 1967. Gilbert would sell 30 million sets in his lifetime. He died in 1961.
His inspiration came from watching steel girders being erected to electrify the New York, New Haven & Hartford Railroad. He believed that creative toys could replicate skyscrapers, trains, bridges, cars and a host of things that fascinated young people. Others had attempted to do that, but Gilbert used realistic steel pieces for kids to build enormous models.
The Gabriel Company of Lancaster, Pa., bought the Erector name, and continued to make nearly identical sets into the 1970s and 1980s. Currently sold Erector sets are actually Meccano sets manufactured by Meccano S.N. of France.
The Erector Set is said to have been the subject of the first national advertising campaign in America for a toy. Its slogan was: "Hello Boys! Make Lots of Toys." Its great success made it part of American folk culture, although its popularity has faded in recent decades in the face of high-tech competition.
Scores, perhaps hundreds, of different Erector Set kits have been made over the decades, most famously the "No. 12 1/2" deluxe kit that came with blueprints for the "Mysterious Walking Giant" robot.
Be the first to know
Get local news delivered to your inbox!