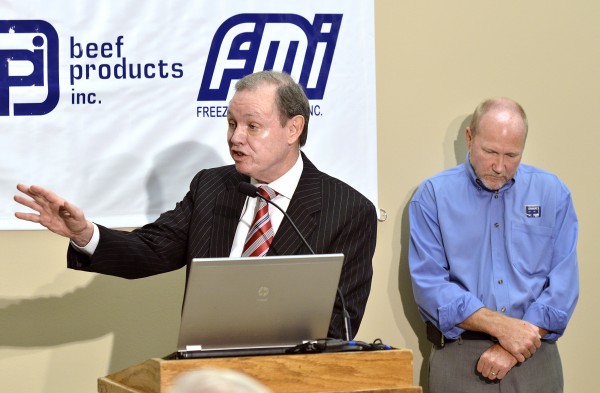 DAKOTA DUNES | Beef Products Inc. filed a defamation lawsuit against ABC News on Sept. 13, claiming the national news network engaged in a "vicious" monthlong misinformation campaign against the company and its signature beef trimmings that caused consumers to mistakenly believe the product was unsafe and unhealthy.
The Dakota Dunes-based is asking for more than $1.2 billion.
The 257-page lawsuit, filed in Union County, S.D., Circuit Court, names American Broadcasting Companies Inc., ABC News Inc., "World News Tonight" anchor Diane Sawyer and news correspondents Jim Avila and David Kerley as defendants.
The suit also names as defendants three BPI critics who were interviewed for the ABC stories -- former U.S. Department of Agriculture officials Gerald Zirnstein and George Custer, and former BPI employee Kit Foshee.
The defendants denied the allegations.
BPI claims ABC made 200 false, misleading or defamatory statements in 11 on-air broadcasts and 14 online stories between March 7 and April 3. that ignited a consumer backlash and led to the loss of 80 percent of the previously thriving company's sales.
The network's action, the company alleges, ignited a consumer backlash that dried up 80 percent of BPI's sales of Lean Finely Textured Beef, forcing the family-owned company to close three of its four plants and lay off more than 700 workers, according to the civil suit.
Dan Webb, BPI's Chicago-based attorney, said network journalists unfairly framed the issue.
The reporting "caused consumers to believe that our lean beef is not beef at all -- that it's an unhealthy pink slime, unsafe for public consumption, and that somehow it got hidden in the meat," Webb said at a news conference at BPI's Dakota Dunes headquarters.
According to BPI's defamation lawsuit, the phrase "pink slime" was mentioned 130 times during the 28-day period in question. Zirnstein has been credited with coining the term in a 2002 email. 
During the same period, other national news organizations also published stories that portrayed the beef product in an unflattering light, fueling a media firestorm that quickly spread to social media sites.
Asked why ABC was singled out for litigation, Dan Webb, responded: BPI "is a responsible company. We're not going to go out and sue everybody under the sun that says something about our product we don't like. The only reason we sued ABC is because they made a choice to turn this into this sustained, long-running repetitive conduct that devastated the product in the marketplace."
Webb, a famed Chicago attorney and former U.S. attorney who served as a special prosecutor during the Iran-Contra affair in the 1980s, and has represented business giants such as Microsoft and Philip Morris, described the defamation case as "unparalleled in American history."
"This misinformation campaign was actually started by ABC after they had been given substantial information that showed the statements were false and misleading and defamatory and they did it anyway," he said.
The suit said the network improperly interfered with BPI's relationship with its customers. Webb said ABC created a "blacklist" of supermarkets and other retailers that sold ground beef that contains LFTB. Under pressure from worried consumers who watched the broadcasts, many of those outlets dropped the product, he said.
BPI's lean trimmings, which were found in as much as 70 percent of the nation's ground beef, is made from fatty trimmings from steaks, roasts or other cuts of beef. The bits of lean meat are heated and separated from the fat with a centrifuge before being treated with small amounts of ammonium hydroxide gas to kill E. coli and other potentially deadly pathogens.
"For more than 30 years, our family has built and operated companies that are committed to providing consumers with wholesome, safe and nutritious lean beef," BPI CEO and founder Eldon Roth said in a statement. "The blatantly false and disparaging statements made about our lean beef have done more than hurt my family and our companies; they have jeopardized the future of our employees and their families."
After the controversy erupted, BPI's sales of LFTB plummeted from 5 million pounds per week to less than 2 million pounds per week, forcing the company to close its plants in Garden City, Kan., Waterloo, Iowa, and Amarillo, Texas. The only plant still open, in South Sioux City, is operating at greatly reduced hours and production levels.
BPI estimates defendants' actions will cost the privately-held company more than $400 million in profits over the next five years. By filing its defamation suit in South Dakota, one of just 13 states with so-called food product disparagement laws, a jury could award actual and consequential damages three times that amount. BPI is also seeking unspecified punitive damages, plus attorney fees and court costs.