SIOUX CITY -- Under the leadership of a third generation, a storied Sioux City manufacturer has moved into its new-old home for a second time. 
In 1942, I.J. Rocklin, then head of Rocklin Manufacturing, purchased a sturdy, 30-year-old building to house his farm equipment business. Soon thereafter, extreme wartime demand forced Rocklin to hastily build two other structures to house around-the-clock manufacturing operations. 
For whatever reason, after the war ended and Rocklin's operations shrank back down to a normal size, the company stayed put in one of the squat little war-era structures. The elegant older building sat mostly unused for decades. 
Until last summer, that is, when the Sioux City maker of the Rocklinizer carbide applicator and MoldMender micro-welder returned to the two-story 1912 building, originally the site of the Automatic Valve Seating Machinery Company and later Albertson & Co. 
I.J. Rocklin founded Rocklin Manufacturing in 1934, first specializing in farm-related equipment before transitioning to war manufacturing. In the 1960s, he developed the Rocklinizer, which applies a thin coating of tungsten or titanium carbide to industrial surfaces (like the tip of a drill bit), lending an extremely durable edge. Decades later the firm developed the MoldMender, which repairs steel molds and dies. 
Ross Rocklin, I.J. Rocklin's grandson and the current president of the firm, said the company is glad to be back in its old digs. Despite its sturdy bones, the building had begun to fall into disrepair before Rocklin stepped in and restored it. 
"That brick building had really lost its utility and become a bit dilapidated, and not really used for much other than car storage, which wasn't really relevant to our business," Ross Rocklin said.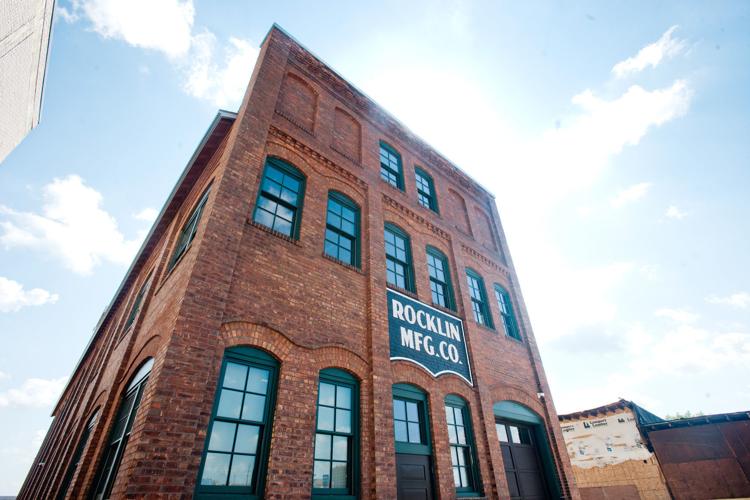 When it became clear the company should leave the wartime-era building, with its non-air-conditioned shop and cramped space, Rocklin decided the 106-year-old, nearly-8,000-square-foot building, with its large windows and storied architectural features, was a suitable place to house the whole works. 
"We'd really outgrown our space that we were using, and so looked to that brick building for everything that we do," Rocklin said. "And now we have much better space -- we now have a conference room and a show room, a lab where we can complete samples, we'll have much better office space and room for growth, for adding people. A much better production area, a better room dedicated to testing and quality control, a larger shipping room." 
The World War II-era building was demolished in August. The company's prized ordinance flag, which it earned by the extraordinary contributions it made to the war effort, hangs framed in the company's "new" building. 
The move to the new-old building began shortly after the second-generation family leader, Jim Rocklin, died in January 2017 following a 25-month battle with pancreatic cancer. The company's expansion plans had been under way prior to his death. 
You have free articles remaining.
Fern Rocklin, Jim's widow and Ross' mother, said she is very proud of her son taking the reins of the firm.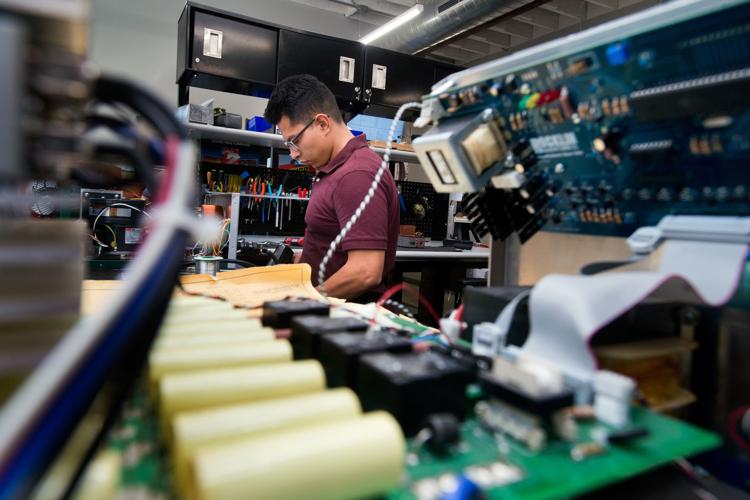 "I'm so happy that he's bringing (Rocklin) forward and that we're preserving this," she said. 
Prior to the renovation, Fern said she was seldom inside the 1912 building. In recent years, she became a major advocate for it. 
"I've spent about six years on the Historic Preservation Commission and I know how important it is to preserve our history and our buildings," she said. 
Ross Rocklin says the firm went out of its way to preserve and show off as much of the building's original character as possible -- its interior features the same exposed brick walls and beams visible in photos of its early days. Where doors and windows needed to be replaced, they tried to keep them as authentic as possible. 
They're hoping to get the building listed on the National Register of Historic Places. 
"We really went through a lot to have the building work for us, but also have it appear the way it did historically," Rocklin said. 
The building's distinctive mural facing Gordon Drive has also been restored, with Jim Rocklin's image added alongside his father, who is depicted smiling and dressed in a yellow jacket and red tie, standing with mid-century Rocklin workers. 
All 10 current Rocklin employees moved to the building last summer.
During a tour, general manager Chris Rosener said Rocklin still occasionally gets repair orders on Rocklinizers that were manufactured in the 1960s. 
"We'll get, every once in a while, a call from somebody: 'My Rocklinizer just quit.' We'll look it up, and it was built in 1968," Rosener said. "There's a lot of them out there, that age, still running." 
Standing in the rehabbed building the day before demolition began on its counterpart, Rosener said he wouldn't miss the old Rocklin shop. 
"Nope," he said with a laugh. "We're ready to move out of it. And this is where it started." 
Copyright 2018 The Sioux City Journal. All rights reserved. This material may not be published, broadcast, rewritten or redistributed.