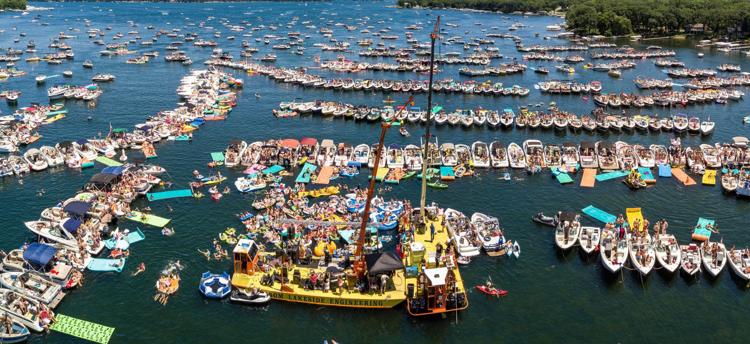 SPIRIT LAKE, Iowa -- Tom Gustafson may consider himself among the least likely subjects to author a book, let alone two.
Let alone three, four and more.
But that's where Gustafson, the eyes behind (or below, in this case) "Above Okoboji" finds himself these days, scanning the terrain from about 400 feet, capturing images for his "visionAIRy drone" that's become a hit with a pair of books showcasing the Iowa Great Lakes like none before.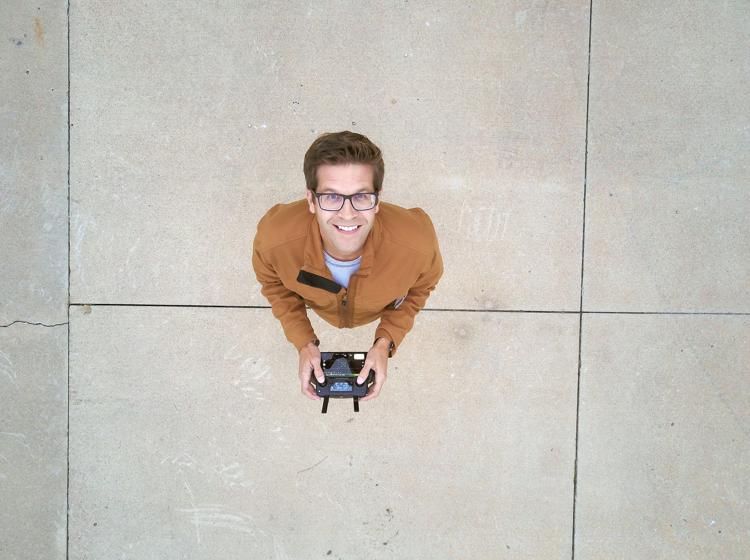 Gustafson, after all, is a 47-year-old finance graduate from Iowa State University, a native of the Iowa Great Lakes who returned home a quarter-century ago to work in manufacturing sales. He has since developed Lakes Area Storage, an enterprise that keeps him hopping across four Iowa Great Lakes locations.
He and wife, Janine Gustafson, who owns and operates Yoga Okoboji, have raised two sons, one a college graduate, the other a college sophomore. For much of the year, Tom and Janine are transitioning into that "empty-nest" stage.
Enter into that void visionAIRy, a concept born two years ago as Gustafson, who has always enjoyed photography, got into drones.
"Years ago, I was a private pilot," he says. "When the genre of drones came out, I paid attention. And when drones got better -- and their visual capabilities improved -- I jumped in."
Gustafson bought his first drone in December 2015. Realizing how afraid he was of crashing it, he spent a month working with the simulator to hone his flying technique. He experimented with cameras and shot his first picture of himself, looking skyward into his camera that was 20 feet above him, maybe 30 feet away.
"It was February 2016 when I took my first photo," he remembers. "My heart was beating so fast."
Gustafson had shot some traditional photos of the Iowa Great Lakes through the years from the ground. In early 2015, at Janine's insistence, he set up a Facebook page as a way to share his photos. The feedback he received was immediate and rewarding. It told him that people were excited about photos showing the beauty of the Iowa Great Lakes.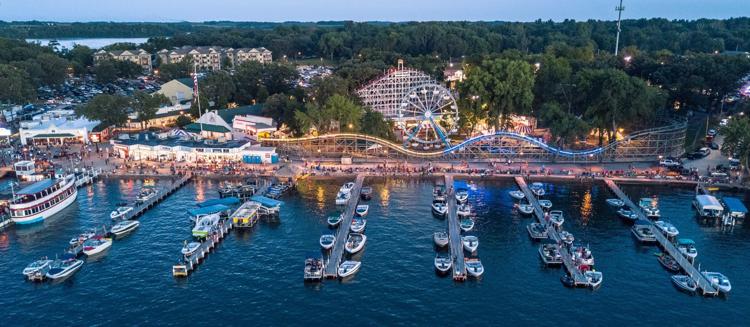 "People were requesting to be my 'friend' on Facebook, so I started 'Photographs by Tom Gustafson' on Facebook," he says.
Gustafson set his land camera aside and immersed himself in capturing Great Lakes scenes from 50 to 400 feet. His Facebook page zoomed to 6,000 followers in no time.
Jim Hussong, the well-known mayor of Arnolds Park, kept telling Gustafson to publish a book, a concept that intimidated and intrigued the storage-unit business owner.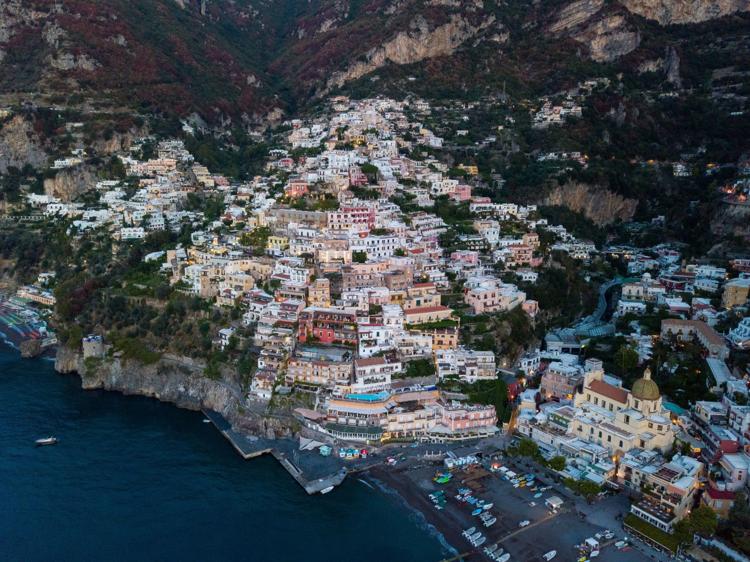 Gustafson connected with a graphic artist and landed a publisher. He edited his photos by learning the Lightroom program and completed the process, turning out his first "Above Okoboji" book in April 2017, a volume that featured 117 color photos and one published in black-and-white. Some 1,500 copies sold by mid-summer, requiring Gustafson to order another run of 1,000 copies, all of which have since been sold.
He created a website and offered "Above Okoboji" for sale there and at Three Sons, The Barn Swallow, The Iowa Great Lakes Maritime Museum, Boathouse Apparel, Books 'N Things, Yoga Okoboji and Mau Marine. The book, divided into images detailing four seasons, sold for $40.
"I didn't make a lot of money on it, but I learned the process," he says, adding that he didn't go bananas in touching-up his photos via Lightroom. "I also learned that people enjoy this kind of book."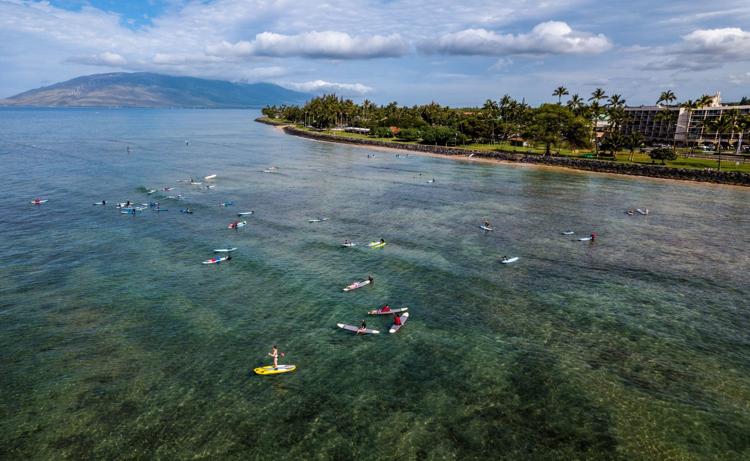 The seeds had been planted, so Gustafson worked the land -- and the water -- in photographing with his drone the Iowa Great Lakes again for a 2018 "Above Okoboji" edition that boasts a top-of-the-line glossy, matted and embossed cover that gives way to 270 spectacular photos on 300-plus pages, including six three-page fold-out panoramas and maps at the back of the book containing a key for locations to each photo in the collection. Rather than divide the book by seasons, Gustafson broke down a "day-in-the-life" at the Iowa Great Lakes by focusing on mornings, afternoons and happy-hours.
All the photos in this volume were taken in 2017. The cost for this "Above Okoboji" effort is $75 and, like its predecessor, is available through Gustafson's website and select retail sites. He printed 2,000.
Along the way, Gustafson learned of just one other photographer using drones to capture images in this manner for a book. That shooter had focused on the beauty of San Diego, California.
It led Gustafson to wonder if there may be a market for other "Above..." efforts. He and Janine, he says, love to travel and explore new places. So, naturally, the couple embarked on an adventure in Italy for a few weeks, allowing Tom to come away with the drone images he'll use in "Above Positano, The Amalfi Coast, and Capri." Gustafson's "Above Maui" is set to be published in a couple of months. "Above Switzerland" will follow, soon giving him five books within the span of two years.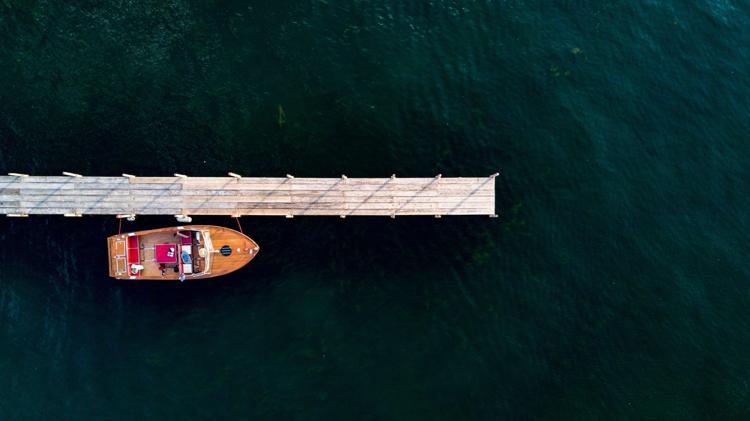 "I'm the only one right now with two published titles and soon I'll have Maui and Switzerland," he says, noting that his shots seem to strike a chord, helping to re-engage or reconnect people with an area in which they reside or visit.
"Plus, we're having a great time," says Gustafson, ever-thankful he stumbled into this rare-air avocation.
When asked if Gustafson's drone has crashed, he nods and shares the story of a recent sensor failure that led to his drone clipping a tree as the photographer worked to chronicle the razing of The Inn. It remains the only blemish on his 400-plus hours of flight, a body of work that has produced hundreds of stunning vistas and brought joy to thousands who love photography and the places he has chronicled from this new perspective.