SIOUX CITY -- Cleanliness is next to godliness.
Or so it's reported -- and recorded -- as said by John Wesley in 1778.
The phrase takes a turn for Sioux City sisters Karen Sowienski and Lisa Barker, both of Sioux City, a pair sometimes dubbed "Domestic goddesses."
Barker has been cleaning up others' messes since 1991. Sowienski joined this "Sister Act" in 1994. Together, they bounce, sing and scrub their ways from homes to businesses and more, often seeking order among the grime twice per month for their accounts.
"Our clients are really our friends," Sowienski says. "We exchange Christmas gifts and Christmas cards."
The sisters exchange a few tips for the rest of us who attempt to avoid grime, grease and slop, the result of daily maneuverings through house and home.
"We start at the top," Sowienski says with a point toward the ceiling. "Lisa gets up and gets all the cobwebs and dust from the top of shelves. And then we work our way down."'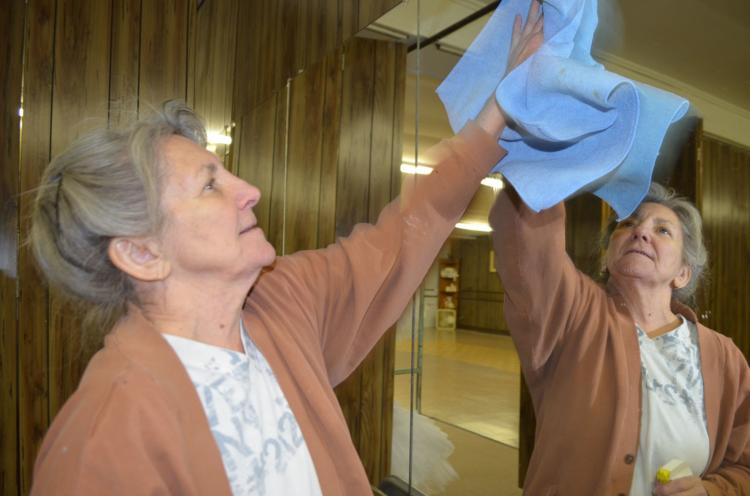 Barker notes that the finishing steps of their thorough cleaning often centers around floor level, literally. "We end up by vacuuming and scrubbing," she says.
Scrubbing, by the way, entails more than running a dust mop over the floor. No, scrubbing to these cleaners involves elbow grease and tired knees.
"You must get down on the floor to get it clean," Barker says. "I wear knee pads and I get down on my hands and knees because you need to. Getting down to floor level allows you to see the corners and where dirt can hide."
Sowienski nods. She, too, hits the floor and uses her hands to scrub. Her knees, she laughs, are about worn out because of this work. Both women offer work-weary hands as evidence of their commitment to all things squeaky clean.
In addition to dusting and scrubbing, Sowienski and Barker scour toilets and clean bathrooms; they spray glass before wiping it down; and they collate or eliminate unkempt piles, if necessary. On occasion, when directed, these cleaners will add to their regular duties and sweep out the garage, as an example.
"Cleaning ceiling fans is also something we're asked to do," Sowienski says. "The ceiling fans in bedrooms aren't as bad as those found in the kitchen. Everything in the kitchen gets a little dirtier because of the presence of grease."
And while Sowienski remarks that kitchen grime challenges her the most, Barker's list of trouble spots starts in the bathroom. Barker wishes more people would purchase and launder cloth shower curtains. She also asks that homeowners consider laundering bath mats from time to time, if not just fully replacing them with new.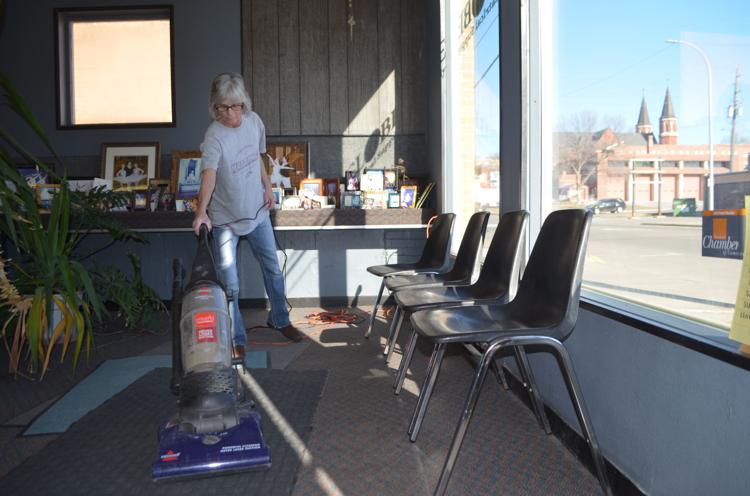 "Most of our clients are middle-class working people who are tired after 40-hour work weeks," says Sowienski, a core member of the group working behind the scenes at the Sioux City Community Theatre. "We have a great relationship with our home owners and business owners."
Late fall and winter can be the toughest time to keep homes and businesses clean, the sisters say, due to Mother Nature. Leaves and snow have a way of being tracked indoors, there's just little that a business, for example, can do to prevent it. For the most part, the same goes for homes in and around Siouxland.
"I lived in Los Angeles years ago and I remember going to some shops on Rodeo Drive," Sowienski says with a smile. "You had to take your shoes off before you entered the stores!"
Barker experienced the same while helping a family member find a bridal gown a few years ago in Sioux Falls.
Chances are, that's not going to happen much here. And that's one reason there's demand for strength and savvy of these sisters.
"It does take a toll on our nails, our hands and our knees," Barker says with a nod.
That's the trade-off with being next to godliness, perhaps.