SIOUX CITY -- From the time she was a young child, the Rev. Erica MacCreaigh knew she wanted to become a parish pastor. 
But MacCreaigh initially took a different path, first becoming a librarian, who specialized in prison and jail. She worked in the Colorado State Prison System and the Arapahoe County Detention Facility before returning to her early calling.
"I had some interesting experiences in that other field, but that pull toward parish ministry never went away," said MacCreaigh, who now serves as a pastor at Sioux City Westminster Presbyterian Church.
Back when MacCreaigh was going through the ordination process in Denver, she took a unit of clinical pastoral education (CPE). When she was doing the day to day work of a parish pastor in Sioux City, MacCreaigh realized she needed to take another unit of CPE to polish her pastoral skills. She entered the Clinical Pastoral Education program at St. Luke's College, completing 400 supervised hours of training in March.
"My first unit was six years ago and then I didn't have a pastorate for four years, so the skills got rusty," MacCreaigh explained.
While some young seminarians take CPE through St. Luke's College, the Rev. Roger Cauthon, department chair of Clinical Pastoral Education, said the majority are second-career students. CPE is an opportunity for lay persons, pastors, church leaders and healthcare professionals to get clinical experience as a chaplain in the hospital setting through visitation.
Cauthon said there is a demand for hospital chaplains. Most major hospitals, he said, have a spiritual care staff that treat all patients, regardless of their religious background.
"It's really a training in how do you be with a person that's really in the worst moment ever of their lives and, as they say in the medical field, do no harm, but help them to expand themselves and accept what's going on and to hopefully heal more quickly with spiritual help and some emotional support," he said.
St. Luke's College has a long history of providing pastoral education. The first CPE program, Cauthon said, began in 1982. Last year, he said 30 students completed the program. Ideally, Cauthon noted, prospective students should have both an undergraduate degree and a seminary education or a graduate degree in religion, but he said a lay person from a church could enroll in the program.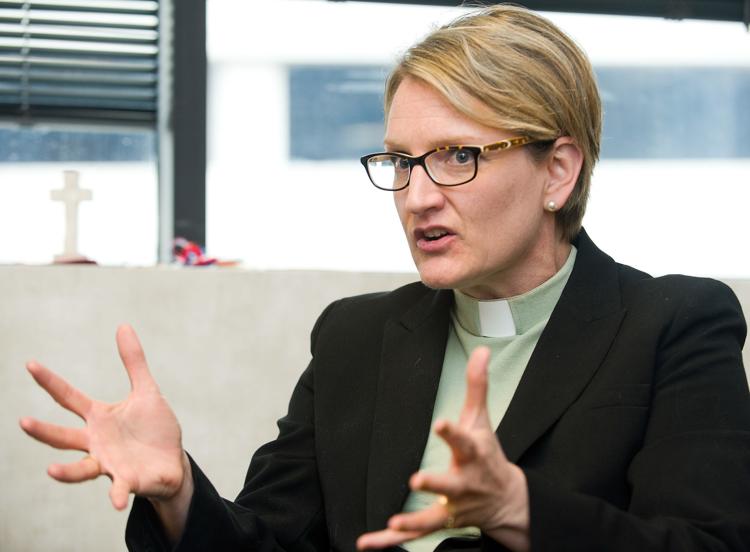 He cautioned that CPE is not the same as other graduate programs, where students read books and take tests. Instead, he said students meet with people in crisis in a hospital setting, write up a report about their experience verbatim and discuss it with a group of approximately five students who provide feedback.
"What we're really studying are the living human documents for our text, which are the students and the patients; and we're learning from them," he said. "A student will bring in a verbatim and we'll spend and hour, hour and a half talking about, 'Why did you say that?' or 'I wonder what was going one here?' or 'What was happening inside of you?'"
MacCreaigh said the verbatims challenged her attention to detail and memory.
"You've really got to pay attention in an encounter with a patient or parishioner in order to be able to report it and then being honest and somewhat exposed when you're sharing this with your peers and then being able to learn from their input," she said. "If we're not very honest and thoughtful in our feedback with each other, it's not a good learning experience."
Chaplains have to be able to cross racial, ethnic, cultural and religious bridges to help and support patients. Cauthon said they have just a couple minutes to become an "intimate stranger."
"A patient coming to a hospital is very much alone. They're in a strange place. They feel odd and out of place," he said.
According to Cauthon, studies show that patients who have had one or more visits with a chaplain report that their overall hospital experience is much better. Cauthon said students learn to listen not only for content, but what the patient is saying emotionally. He said chaplains are not just there for patients and family members, but also provide support to hospital staff who experience trauma and carry it with them.
In some of the best encounters with patients, MacCreaigh said a prayer might not be offered or God's name might not even be mentioned.
"You know it's a good encounter when the patient is talking and sharing what that experience is like," she said.
Chaplains should be curious, able to see people in a positive light and have compassion and empathy, according to Cauthon and MacCreaigh.
"We too are fragile. We're all going to be in those places," Cauthon said. "We're not fixers. We don't go and offer solutions. We go in to be with."