CHEROKEE, Iowa | John and Donna Beier heat one of their greenhouses on certain days in July.
And, more often, they haul out cooling pads in that unit.
Those are the measures these Blooming House business owners in Cherokee take to achieve a spectacular sea of red around the holidays. That's what 2,000 blooming poinsettias can yield this time of year.
"Poinsettias are a big challenge to grow," John Beier said as he stood in mid-November, awash in a blanket of bright red. "Poinsettias are so susceptible to disease and pests. Few retailers grow them because they're tricky."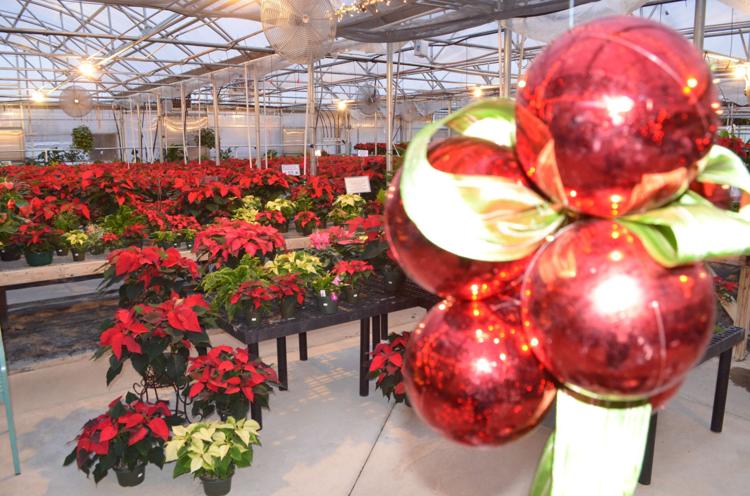 The Beiers, who employ one dozen people in a sprawling one-acre site on the northern edge of Cherokee, just east of Highway 59, obtain the plants a 2-inch cuttings. They house them in the enterprise's fourth greenhouse, a place to which they run heat in an effort to keep temperatures above 68 at all times.
What if the mercury soars, as it does in July and August in Northwest Iowa? "Then we haul out the cooling pads," John Beier said.
These plants, a holiday tradition for many, might be more pampered than the folks who sit by the fire and wait for St. Nicholas' arrival.
Josh Anderson, a son-in-law to John and Donna, spends time each summer and fall walking among the 2,000 plants, inspecting areas for pests, most notably the white fly which likes to invade once corn dries across Northwest Iowa farm fields.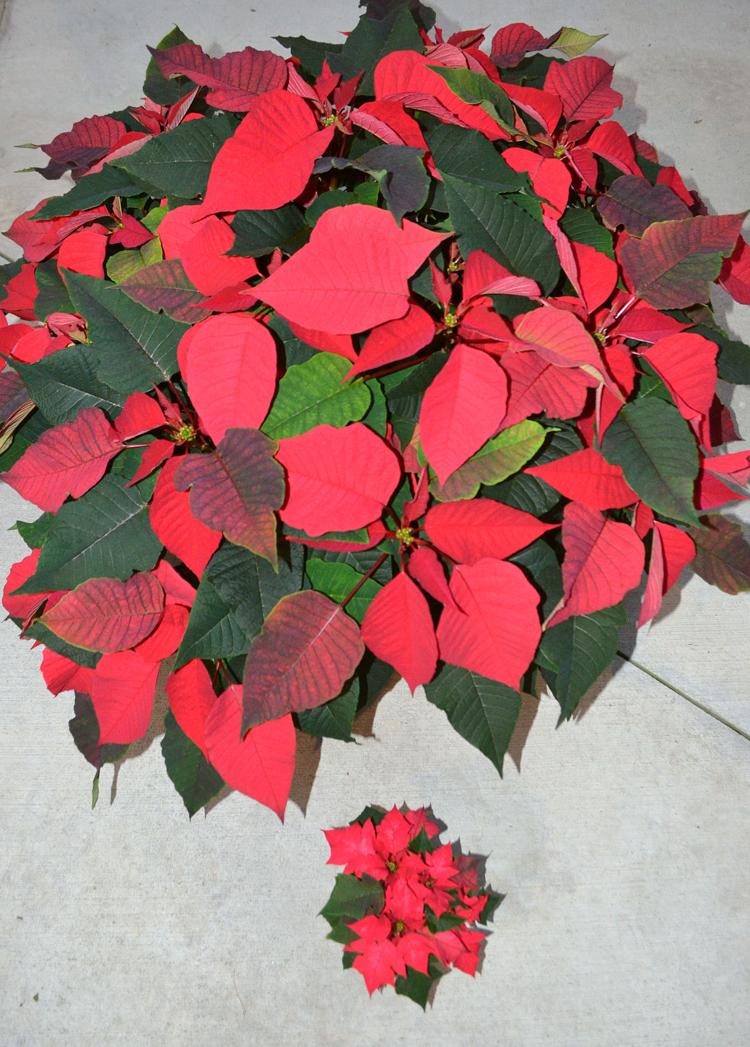 "We put this card (a yellow, sticky card) on a plant and a white fly will stick to it," Anderson said. "When we see one on a card, we check the whole plant over."
Going to each plant may be time- and labor-intensive, John Beier said, but it beats blanketing hundreds of plants with a pesticide application. This eye-test scrutiny and a bug screen outside the green house have allowed staff members at Blooming House to reduce pesticide application by up to 90 percent.
"I remember going from plant to plant in 2013," Anderson said of his first year with the business. "It was tedious."
The payback comes in November and December when thousands make their way to Blooming House in search of poinsettia plants that bloom in seven different colors, 10 different sizes. Fifty-percent of the crop here is sold on a wholesale basis, while a quarter of the crop goes to churches across the region. The last quarter is sold via retail.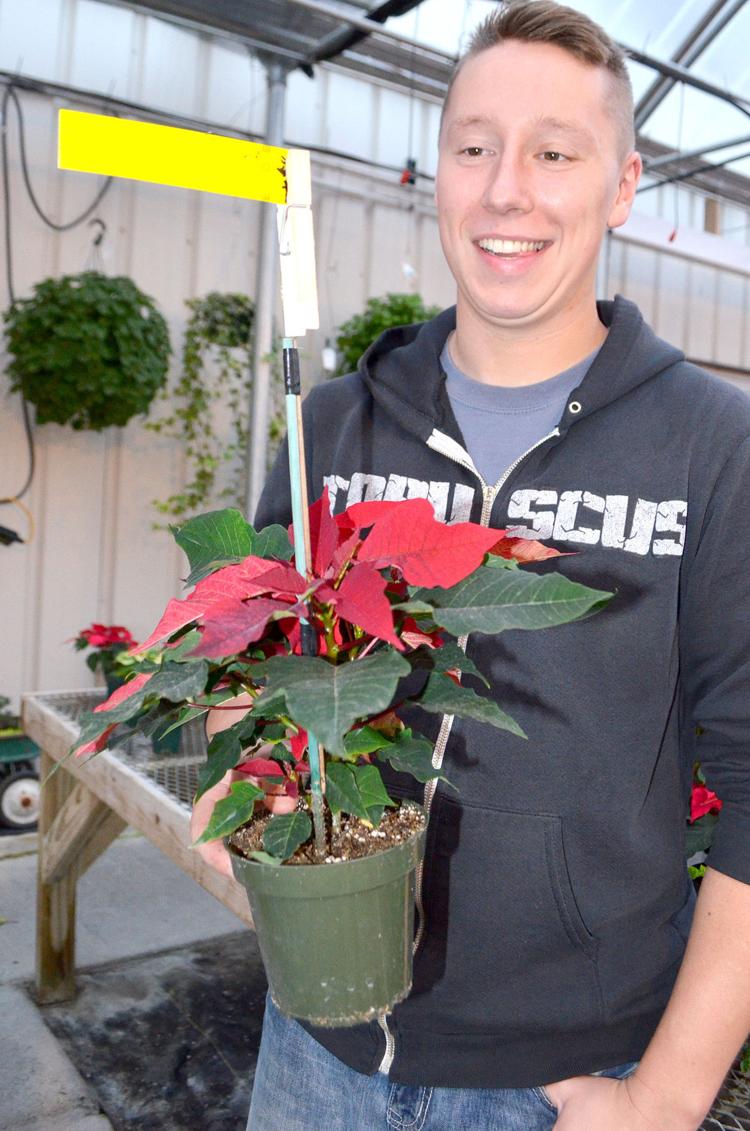 "We double-bag each plant and make sure the customer's vehicle is warm when they leave," John Beier said. "Poinsettias don't like to be shipped or sleeved."
A poinsettia that is sleeved, he explained, may sustain damage to a leaf or stem, thereby triggering production of ethylene, a death hormone for a poinsettia. That hormone causes the plant's flowers and leaves to drop.
The poinsettia, named for Dr. Joel Roberts Poinsett, the first U.S. ambassador to Mexico, who brought the plant north in 1825, are not poisonous, despite a popular and persistent myth.
"Poinsettias do have latex that, if you crack a leaf or a stem, you can get a little latex on your hands," John Beier said. "And some people are allergic to latex. You'll get a rash, but they're not poisonous."
Having dozens of long rows of poinsettias growing in this manner throughout the fall season is a benefit for the business. John Beier said there are workers in Cherokee, nurses primarily, who occasionally spend a portion of their lunch hour just walking through their greenhouse units.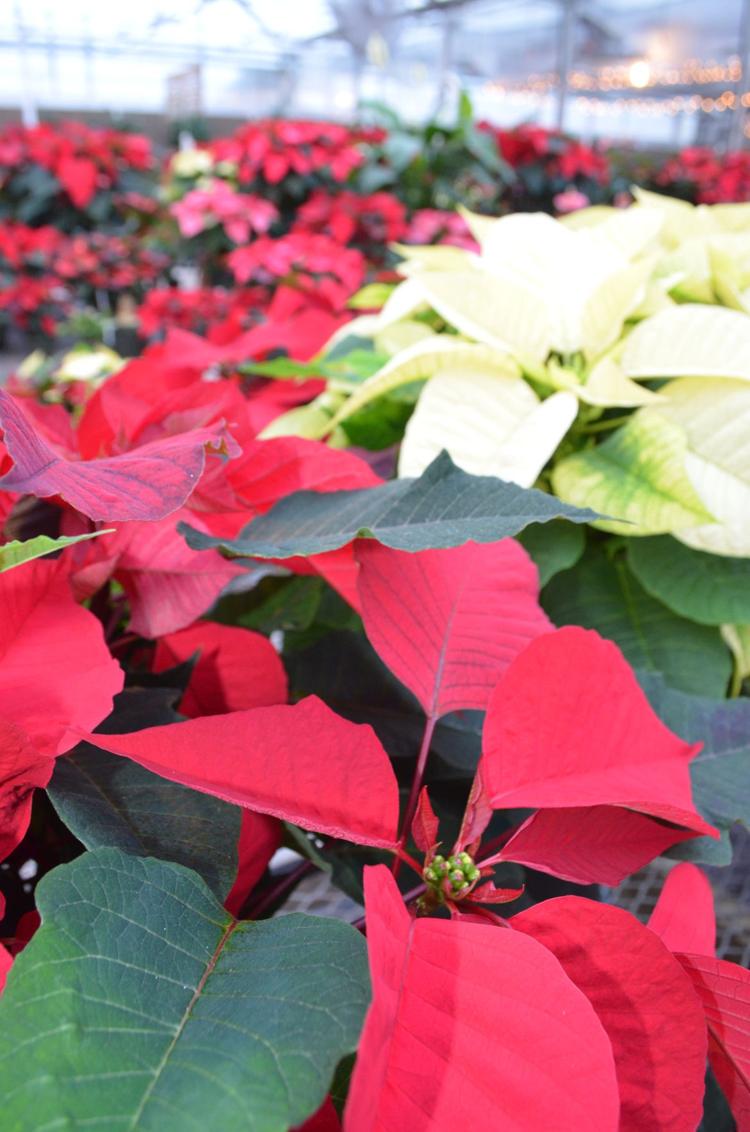 "It's fascinating," he said, "as people come here to walk because it's therapeutic."
Do the business owners mind?
"Oh no," John answered, "that's what we're here for."
John and Donna Beier are here for more than that. These high school sweethearts from Freeman, South Dakota, came to Cherokee 14 years ago to purchase the popular Rhoadside Greenhouse, a Cherokee business staple for generations. John, a horticulture major at South Dakota State University, had served similar operations in Ames, Iowa, for three years, and Pella, Iowa, for 16 years.
Two years ago, the couple dropped the Rhoadside name, opting to focus solely on Blooming House, a name that decorates their signage, literature and business model.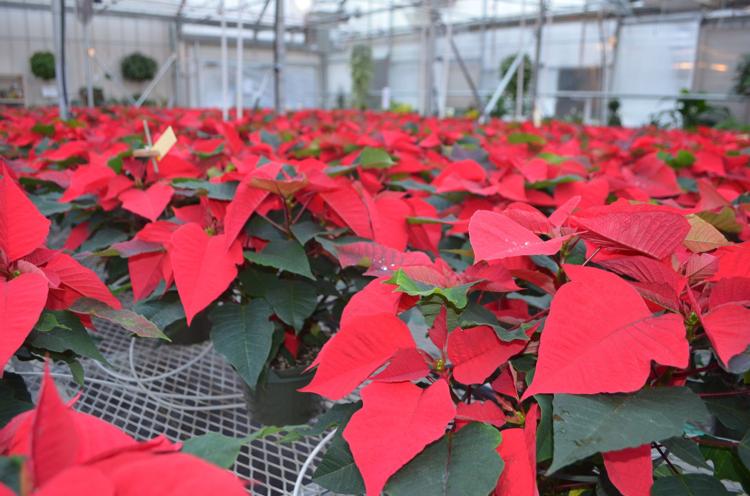 "Sometimes our spring customers have no idea what we have in the winter," Donna Beier added, noting how the business strives to serve as a Northwest Iowa destination. "You can always find blooming plants in our greenhouses."
"We have a half-acre under-cover and another half-acre in outdoor production," he said. "In the spring, we are all retail, no wholesale."
The staff works to grow 8,000 perennials, 24,000 annuals that measure at the 4-inch level. Blooming House pros also grow 900 hanging baskets and 7,000 geraniums.