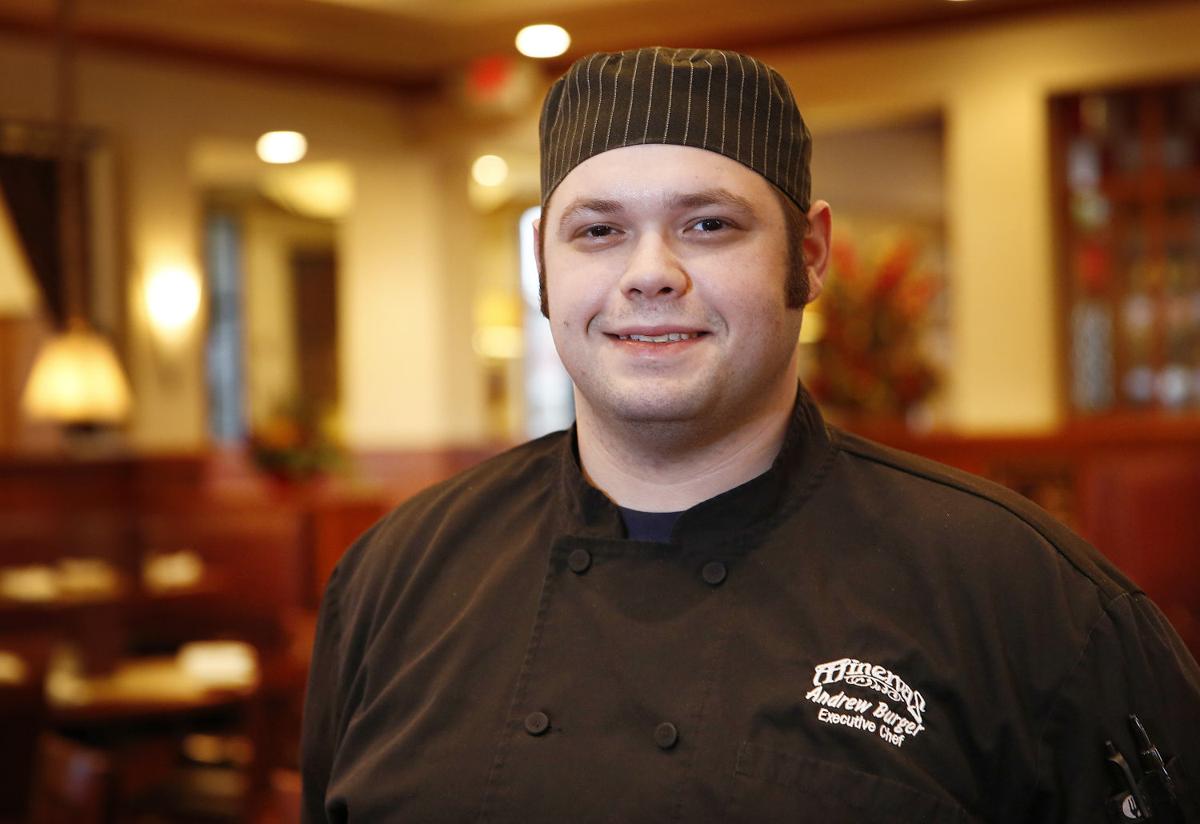 Preparing a plate of Seafood Mac & Cheese, Minerva's executive chef Andrew Burger loves giving traditional comfort food a culinary twist.
That's only fitting for the Sioux City native who credited his mom and grandmother with providing him with a passion for cooking.
"I think most chefs learned to cook from their families," Burger said, inside the 2945 Hamilton Blvd. restaurant's kitchen. "As soon as I was tall enough to see over the stove, I've been cooking."
Beginning his culinary career at Sneaky's, he subsequently got a taste for cutting-edge cuisine as a sous chef at Kahill's.
In 2014, Burger was named Minerva's top chef.
While the restaurant's dinner menu includes such upscale items as Char-crusted Ahi Tuna (seared raw tuna served with a Ponzu sauce, wakame salad, carrots, crispy green beans and a wasabi oil) and Steak Gorgonzola Campanelle (premium steak, Crimini mushrooms, asparagus, garlic, Balsamic vinegar, fresh herbs, cracked pepper, sherry and a rich Gorgonzola cream sauce), it also had such reinvented comfort food favorites as Shrimp & Grits (sauteed shrimp, Applewood bacon, green onions, garlic, Tasso cheddar grits and a homemade Cajun gastrique).
"The great thing about being a chef is that you never stop learning new processes, preparations and recipes," Burger explained. "You're always discovering new ways and new ingredients to work with."
Still, he insisted it is the simpler foods that capture his imagination.
You have free articles remaining.
"When I'm cooking for myself, I tend to be a meatloaf or pork cutlet sort of guy," Burger said. "That's the type of food that I grew up with and it's still the type of food that I like to eat."
At home, Burger has a budding gourmand in the making: his 3-year-old daughter Addilyn.
"My daughter loves to help me cook dinner," he said. "In fact, she even calls me 'chef.'"
However, Addilyn Burger has yet to acquire a taste for Lobster Cheddar Fondue, Sea Salt Calimari or the Chopped Quinoa Salads her dad makes at Minerva's.
Instead, she prefers her dad's decidedly simpler fate.
"We make plenty of peanut butter and marshmallow fluff sandwiches together," Burger explained. "Plus Addilyn shares my love of (Little Debbie) Zebra cakes."
Although he dreams of some day opening a small restaurant of his own, Burger is content to push the culinary envelope at Minerva's.
"When you're a chef, you must always be creative and be willing to learn new things," he said. "As long as I have a passion for food, I will always be a chef."