HOLSTEIN, Iowa | Sheryl Book began coaching high school cross country 26 years ago. She recalled leading her team toward the starting line at a race, often held on a golf course.
What did the athletes carry with them for this fall sport?
"Oh, they'd have a thin duffle bag and maybe a pair of tennis shoes," Book says. "They might not even have a second pair of shoes."
Her runners would drop what they had near a tree or the starting line. They'd head back to their bag when the race concluded, often 20-25 minutes later.
Things have changed. Walk through any high school cross country invitational these days and you encounter hundreds of blankets, personalized equipment bags, tarps, training kits, Gatorade carriers, large coolers, bags of ice, fold-out tables, chairs, specially designed team flags and tents.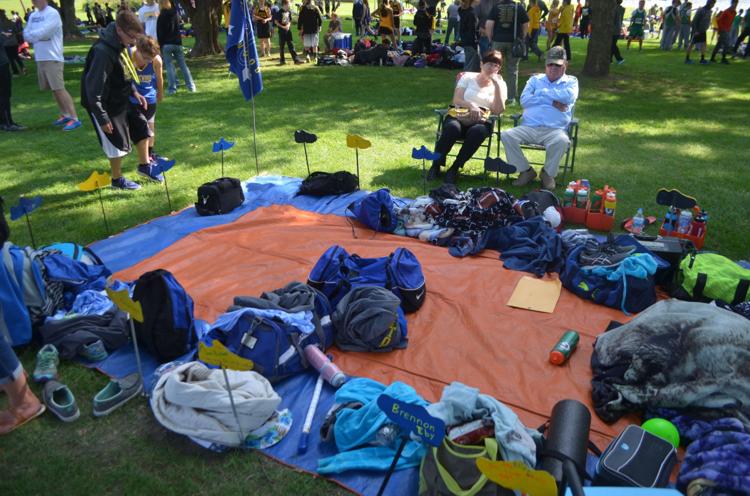 One school, South Central Calhoun, even has life-sized fabric posters of their runners hanging from the Titans' team tent.
No, this isn't your parents' cross country campsite. These are small communities that dot the landscape surrounding one of high school's most grueling athletic endeavors: The 3.1-mile race.
The campsite for Book's runners from Westwood High School is typical. Spread out across a large tarp (the tarp belongs to Book) are athletes stretching, napping and visiting. Many sip chocolate milk, while others reach for a bag of ice. They prop their heads -- and knees -- on backpacks made by Nike, Adidas or UnderArmor.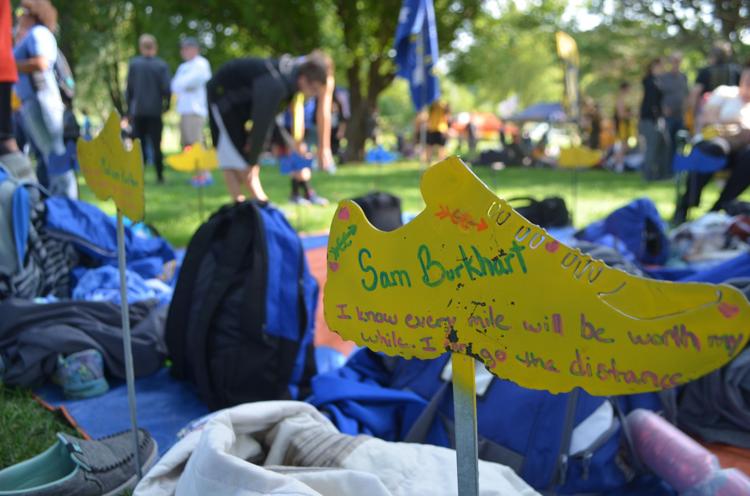 Small stakes with cut-out shapes of shoes, created in various industrial arts classes at Westwood, ring the perimeter of the tarp, letting other teams know this is the Rebels' territory. Well, those stakes and a black flag that waves at one corner and a "CC" metal stake in Rebel blue at another corner.
"The shoes were painted by coach," says Elisa Davis, a Westwood freshman who completed her first race of the year at the Tim Thomas Invitational in Holstein on a September Saturday. "The blue shoes on the stakes are for boys and the yellow ones are for girls. High School runners get metal shoes on their stakes; junior high runners get wooden shoes on their stakes."
Each stake contains a quote, or some stickers, along with a student-athlete's name. Davis, for her part, has an inspirational quote written on her shoe. "Run Forrest run!" comes from the popular movie, "Forrest Gump."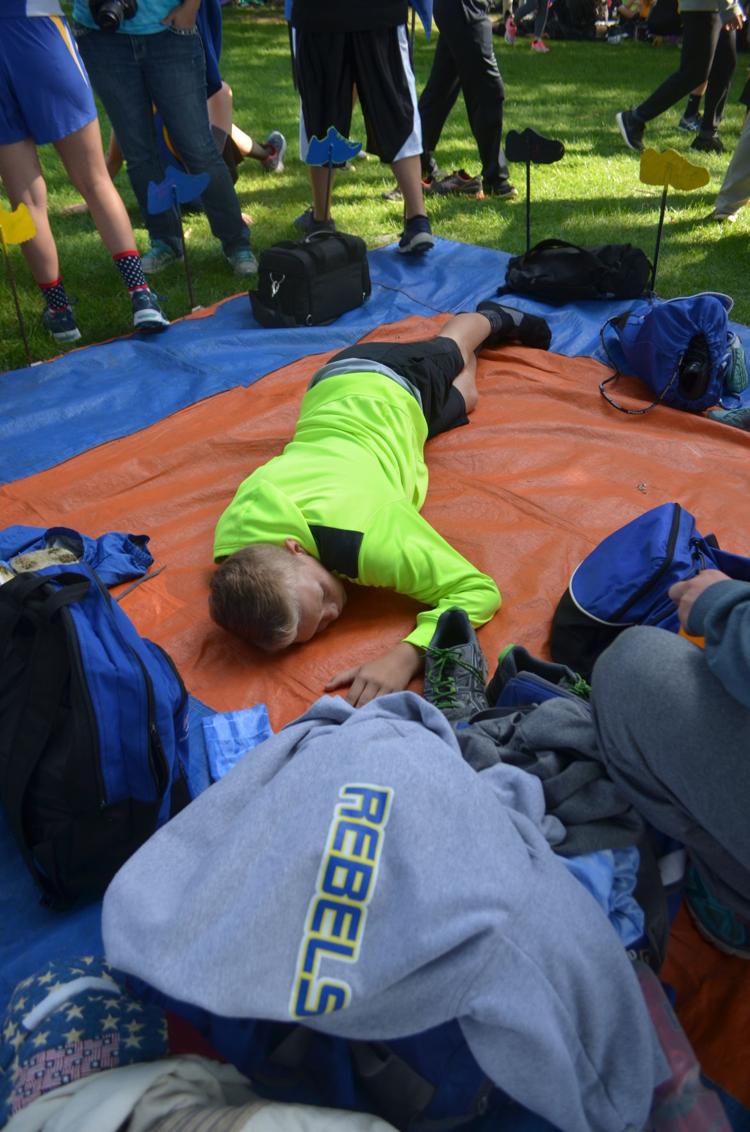 On this day, the Westwood runners either left their tent in the bus or back at the school in Sloan, Iowa. The reason: The temperature on this day is mild, reaching only 70 during much of the race. Additionally, there are plenty of shade trees on the 9-hole course at Holstein. And, the Rebels were quick to find a campsite spot in a shaded area not more than 15 yards from the starting line.
"Everyone brings a blanket," says Natalie Killian, a senior who passes the time following the varsity race with Westwood classmate Tyler Siegfried. Killian is a 5-year cross country veteran, while Siegfried has run in this sport for six seasons.
"I bring more than one pair of shoes and I decided which to use based on what the course is like," Killian says. "I also bring an extra pair of socks in case mine get wet while we're walking the course before the race."
Killian, who drinks chocolate milk from the cooler after each race, also brings a change of clothes, which she tucks away in her backpack.
"Even though it's a hard sport, I feel good after I've finished a race," Killian says as Siegfried reclines and snacks on a Nature Valley granola bar.
Delanie Coady, a junior at South O'Brien High School in Paullina, Iowa, lies in the sunshine while checking her iPhone after the girls' varsity race. Coady, who hails from Primghar, Iowa, has pink tape running up and down her left knee, a knee topped with a bag of ice she grabbed from a team cooler.
"I have tendinitis," she says, squinting through the sun.
When asked about difference in temperature on the South O'Brien tarp, compared to that found in the Westwood campsite, Coady nods. "It is kind of hot here," she says. "We didn't get here early enough this morning to get a shady spot."
Despite being in the direct sun and battling tendinitis, not all is lost for this Wolverine. Coady, after all, sports a T-shirt for her favorite college team, wearing the colors of the Iowa Hawkeyes on the day they face intrastate rival Iowa State. The Hawkeyes pulled out an overtime victory on this day, one completed two to three hours after thousands of runners and fans have "broken camp" and left Holstein, another Tim Thomas Invitational in the books.