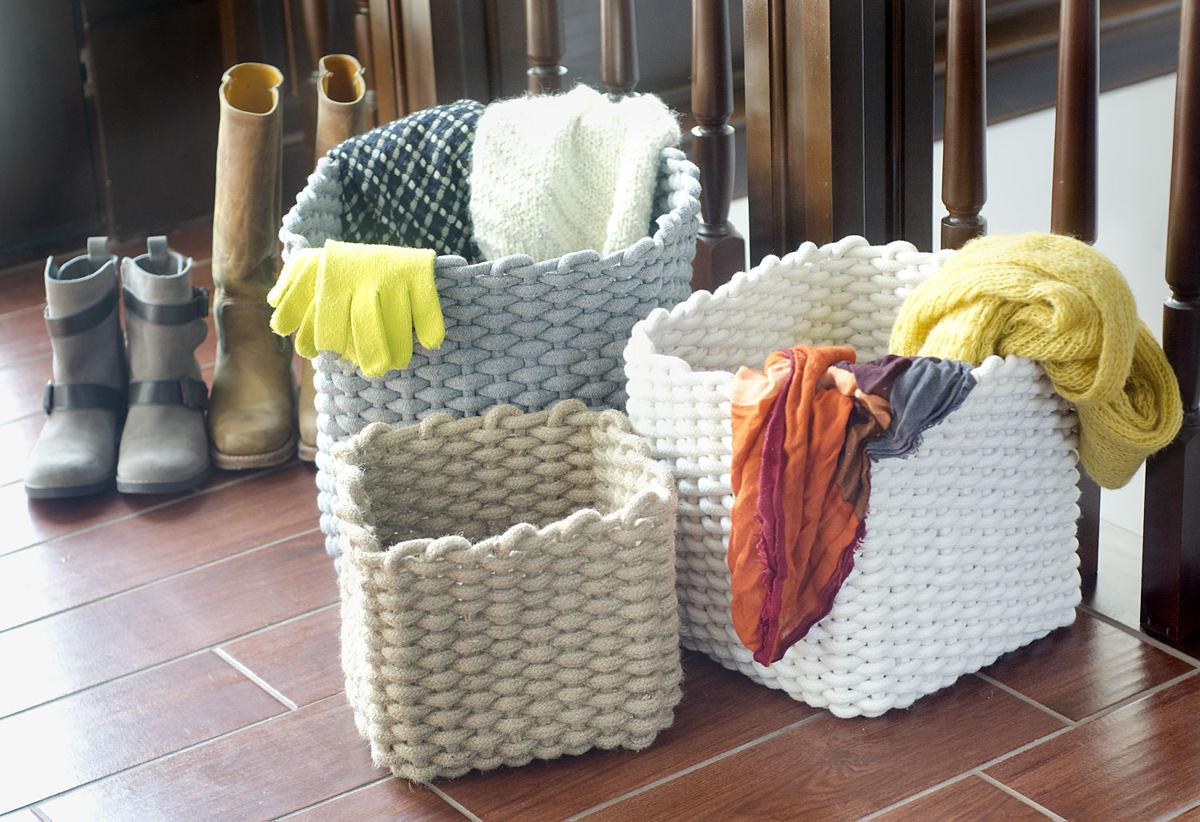 Is your house looking a little scary? Clean out the cobwebs before friends and family arrive for the holidays and freshen up for fall with the help of Lisa Kalaher and Heather Rubel with Mod House Interiors. Their tricks are really treats.
Your storage solutions should be a stylish as the items that they hold. These rope baskets are a great way to store some of your outdoor gear. You can't control the weather, but you can keep boots, mittens and scarves in check.
It may be the season of plenty, but that doesn't mean you have to turn your home upside down, creating a fall fright. Add a little festive flair by picking a couple spaces you want to redecorate like the fireplace or entryway. There's no need to have a house overloaded with pumpkins, wreaths and scarecrows to recognize the changing seasons. Bring a fresh fall look to your home by picking a statement piece that's transitional enough to leave out all year like this golden yellow leather framed mirror. Then, add some small accent pieces to bring a little harvest to your home.
Bar carts and rolling baskets are all the craze for home interiors lately. You don't need to be an aficionado of martinis or wine to add this piece to your home. Make it a cozy and functional fireside cart by adding blankets, books and games. When you're ready, roll it on over to your favorite chair and enjoy simple comforts with a cup of coffee or hot cocoa on a fall morning or night.
You have free articles remaining.
4. Contemporary Cornucopia
Want an easy, affordable and tasty way to get your house ready for fall? Decorate with something as simple as seasonal fruits and vegetables. The trick to making this look like a high-polished design is to make sure the bowl has standout style to contain your treats. If you're going to the apple orchard or pumpkin patch this fall, you can put your pickings on display in an artful way.
Give an old fall wreath new life by adding a pop of color into home décor with something as simple as vases. Mixing blues with traditional fall colors adds contrast and interest to a space. You don't have to run out and buy all new things. Use what you have and mix in a few new items you really love.
Use found objects in your home and repurpose them. Books, knickknacks and cards can add visual interest to your space without breaking the bank. Stack books in different ways and anchor them with small decorative pieces. Update what's old with polished pieces. Copper is the new 'it' metal this fall, and mixing metal remains a strong trend so don't be afraid to introduce this lovely warm hue.
Decorate an ottoman or coffee with a unique faux fur accent piece and top it with an earthy wood tray and decorative boxes. Smaller items can be swapped out with the changing seasons. Complete the transformation by adding different throw pillows that subtlety suggest fall foliage but could easily weather the winter and blossom in the spring.