ANKENY, Iowa | During the 1980s farm crisis, with crop prices seriously depressed and a poor economic forecast for farming, farmers began to question whether their children should bother with the then-unprofitable venture of growing food.
Enrollment in the Future Farmers of America plummeted, bottoming out in 1990-91 at 8,722 members. 
Scott Johnson, executive secretary of the Iowa FFA Association, said it was a glum time for the agricultural sector. 
"If you think about, the impact of the farm crisis and how that rolled into the '90s -- how many kids were telling their kids, 'Don't go into ag, there's no future, there's no place for you to come home and farm,'" Johnson said. 
But, like crop prices, the fortunes of the FFA have reversed, and now the organization's membership is at an all-time high, at about 14,900 statewide. According to the national FFA website, the organization has 649,355 members in the United States.
And the growth of membership looks to be sustained -- the state FFA has had more than 14,000 members for over two years.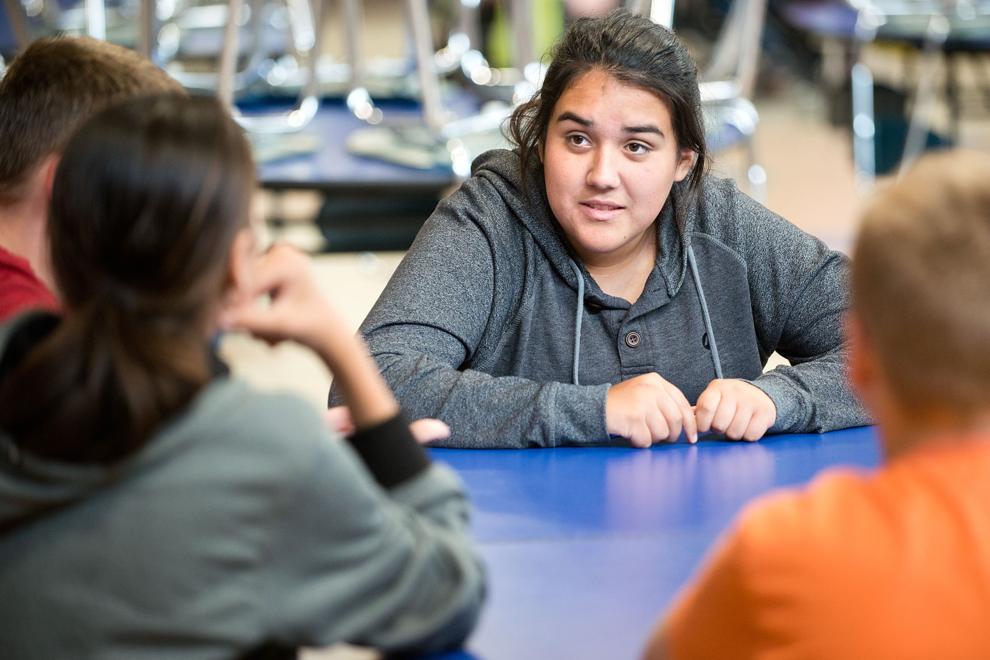 "The last time we were over 14,000 members was back in 1981, '82," he said. "Just at the beginning of the farm crisis, basically."
As evidence of the organization's growth, Johnson pointed to the many school districts in northwest Iowa that have recently started FFA chapters, including Lawton-Bronson, Washington High School in Cherokee and Hinton High School. 
Stephanie Bass, the FFA adviser in Hinton -- which started its chapter last year -- said the program was something everyone wanted. 
"Community members had been really pushing for an ag program for quite a few years now," Bass said.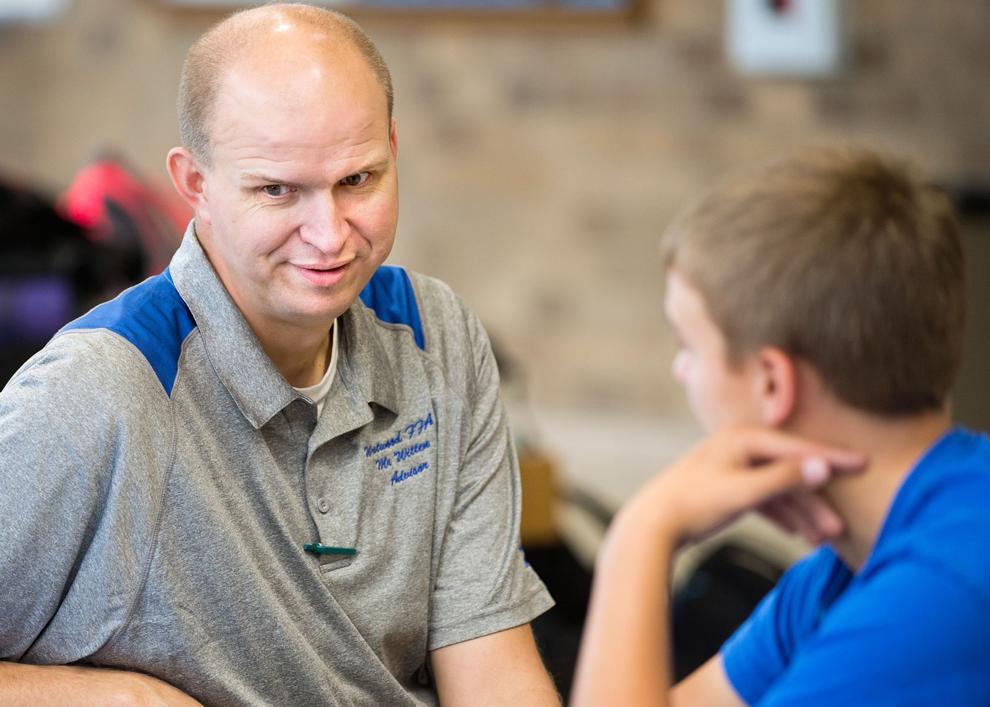 The FFA's inaugural year in Hinton saw about 20 enrollees, and Bass said she's hoping for about 30 this year. 
"I think they're super pumped and super excited for this next year," she said. 
Students at the Hinton FFA can take part in a number of activities, including ag sales, job interviews, soil judging, public speaking and a number of other contests. They also participate in SAE (Supervised Ag Experience). 
"That's essentially where students go out and perform a job and they basically gain career skills by performing that job," Bass said.
Probably none of the current high school students at Washington High School in Cherokee remember the last time the school had an FFA chapter, 10 or 15 years ago. The school revived its charter just this year. 
Hannah Barnes, the FFA adviser at Washington High, said Cherokee wanted an FFA chapter and an ag program, just like Hinton did. 
"A lot of community members had started requesting that the school offer agriculture classes for their students," Barnes said. "Once I was hired, then the question started coming about: 'Well, when are we going to start an FFA chapter?'"
The first FFA meetings at the school, Barnes said, saw only 11 or 12 students. In early September, almost 40 students came to the FFA meeting -- a number Barnes called "very exciting."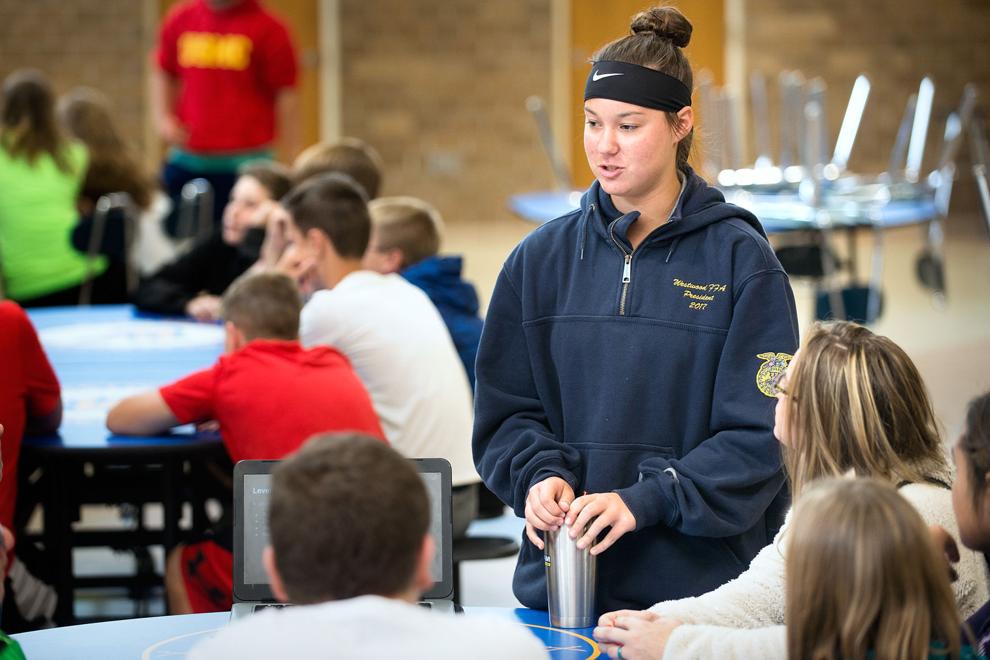 "The kids at Washington High School are really just excited that they finally have a club that's for them," Barnes said. 
At Westwood High School in Sloan, FFA Chapter President Sam Burkhart said her favorite part of being in FFA is "going and helping in the community -- it's a lot of fun." 
"We usually volunteer around the community, so we'll go and we'll plant trees or we'll help plant gardens around the community -- we'll just try to get more people involved in agriculture," Burkart said. 
Fellow Westwood High junior Lupita Munoz, the chapter historian, said that her FFA involvement has improved sharpened her public speaking abilities. 
"When I was talking in front of other people I was really nervous, but after doing some competitions in FFA I broke out, and it's really fun," Munoz said.
Munoz said her favorite part of FFA is the annual convention in Ames. 
"It's really amazing," Munoz said. "Especially the talent show, you see how many people have talent, they're really good. And you meet a lot of new people."  
The fun seems to be contagious -- private schools in Iowa, few of which have ever had an FFA chapter, are now interested. 
"Kind of a new realm for us up in northwest Iowa as well are the Christian schools looking at having their own program," Johnson said.
'It's not just for farm kids'
The FFA has lately made itself into a sort of big-tent organization that incorporates diverse student interests -- especially science, technology, engineering and math (STEM). Town kids can be just as involved as those from rural acreages or large farms. 
"I still, on a daily basis, have to remind the students that it's not just for farm kids, because I think that's the biggest stigma that FFA gets," Barnes said. 
Dan Witten, the FFA adviser at Westwood in Sloan, said the mix of students in his chapter doesn't match the FFA stereotype. 
"We have a very low percentage" of students on a traditional, working farm, Witten said. "We get a lot of acreage kids or just rural kids, and town kids." 
Despite the push to broaden the group's appeal, FFA hopefuls in larger school districts, including Sioux City, Cedar Rapids and Davenport, are mostly out of luck -- there's no chapter in those cities. Even in Des Moines, the reach of the program is fairly limited.
"I receive more inquiries now from larger school systems that are asking about it," Johnson said.