SIOUX CITY -- Students beware: Your substitute, Mr. Stansberry, probably won't be the kind of sub who just turns on a movie. He's going to stick with the actual lesson plan.
So you'd better hope your teacher's lesson plan calls for a movie. 
Stansberry -- Bryce Stansberry for those not under his tutelage -- is one of the younger substitute teachers in the Sioux City Community School District.
A 2014 graduate of the district where he now works, Stansberry graduated from the University of Iowa in December. His teaching license is in secondary social studies education. 
"Just to get my foot in the door in the district and get some experience under my belt, I've been substituting for the past three or so months," he said back in March. "So I am probably the youngest substitute in the school system."
Full-time, permanent teaching is a goal for Stansberry, but he's not sure if that's going to be in this district -- he and his girlfriend aren't sure where they're going to settle down once she finishes nursing school. 
But for the time being, Stansberry is broadening his teaching horizons in Sioux City. He has taught classes totally outside his wheelhouse, mostly at the elementary or high school level, and sometimes middle school. 
"I've done elementary music classes, elementary P.E. classes, I've done classes at the Career Academy downtown," he said. "I just go wherever there's a need, pick and choose. I like the variety -- teaching kind of transcends just one subject."
He doesn't have a problem taking on even the intimidating subjects that might scare away other subs. And there won't be a reading day or a movie in class if he can avoid it (though sometimes that's what the original teacher had planned).
"Especially at the high school level, students understand that substitutes aren't going to be as well-versed in that subject matter, potentially, as their full-time teacher," he said. "They're pretty understanding. At the very least you can try and help, you can ask other students to maybe help that student that may be having problems."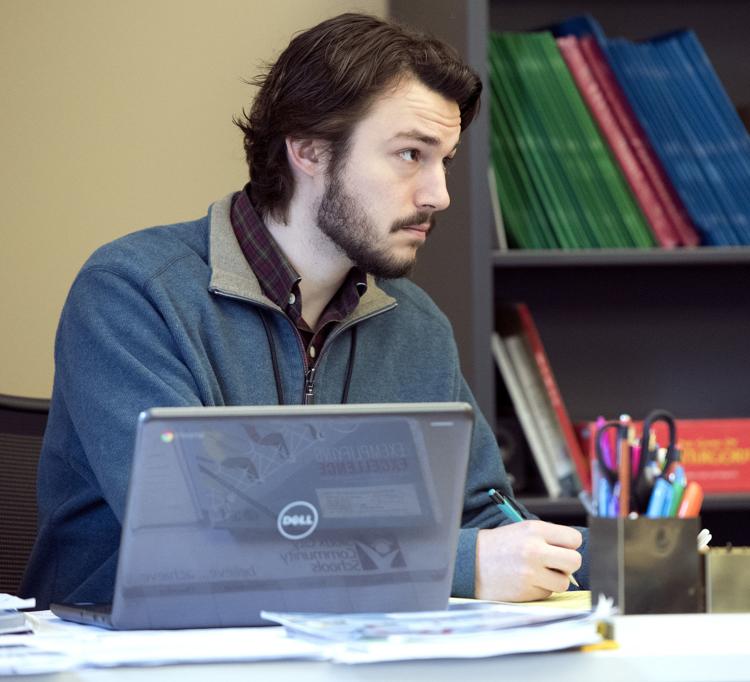 So how does a substitute teacher like Stansberry know if he'll have a job to go to in the morning? He uses a website that lists current openings in the district, while other subs opt into a call service for this. 
"I usually try and check for jobs the night before, but if there's nothing that looks appealing, I'll wait until the morning and wake up around 6 o'clock and see what they have," he said.
In a district the size of Sioux City, there's usually something: "More often than not, there are at least five or six positions that need to be filled."
Not all substitutes have to search every day for job openings. Fellow young substitute Emily Cleveringa, who graduated from Iowa State in December, has a 12-week position teaching second grade at Irving Elementary, covering for another teacher on maternity leave. 
She began in late February, and the regular teacher won't return until the last four days of the school year. Naturally, since she's there so long, she's not doing movie days. 
"I am teaching everything that the teacher would be teaching," she said. 
Cleveringa teaches the English half of a dual-language program. One half the class is with her in the morning, then they go to their Spanish-language classes in the afternoon; the other half of the class then joins her. 
Long-term, Cleveringa is hoping to become a permanent teacher in Sioux City, hopefully in August. The experience of being a long-term sub should leave her well-prepared for that. 
"It's kind of like the beginning of the year, where they're trying to learn a new teacher," she said of the first days of a long-term substitute job. "At first the challenge is just, you're not here one day, you're going to be here with them for a long time, so you're really making those relationships with the students."