SIOUX CITY | Ruslan Fedotenko didn't feel cheated about having his appearance at the 2002 Winter Olympics cut short by obligations to his National Hockey League team. 
In fact, the very idea of being bitter about it seems foreign to him. 
"That's just a part of life -- I was under contract," Fedotenko said.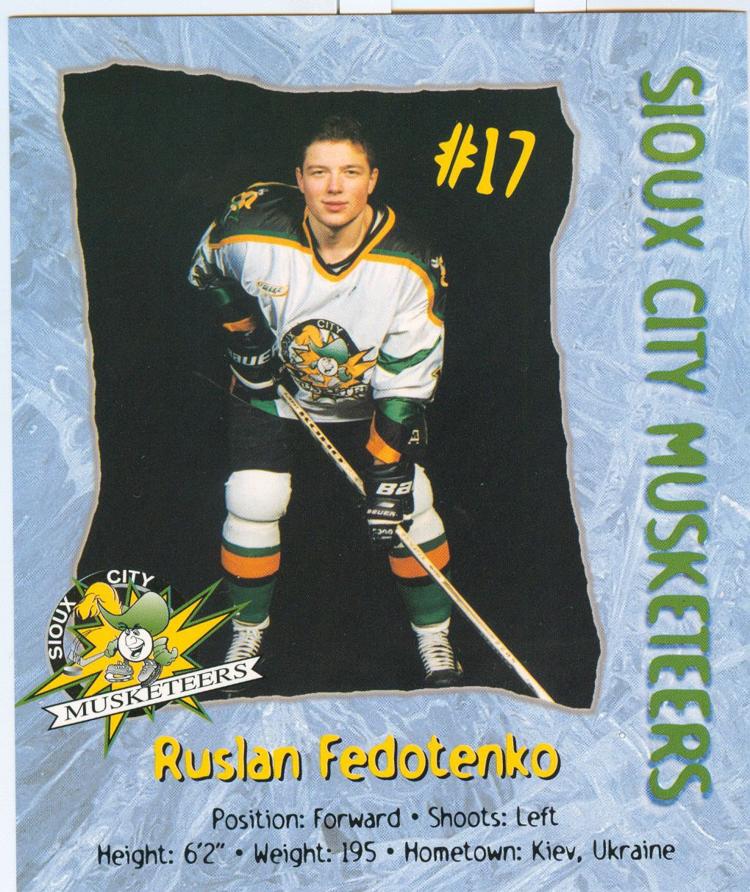 Fedotenko, who played with the Sioux City Musketeers in the 1998-99 season, competed in one preliminary round at the Salt Lake City Winter Olympics, but was unable to play in more, partly due to obligations to his NHL team at the time. 
'They liked me and they kept me'
A native of Kiev, Ukraine, Fedotenko came to Sioux City after playing in a junior hockey league in Saskatchewan. 
"After that year, I had offers to go to college, but I needed to play one more year in juniors and pass my SATs, so that's how I ended up in USHL," he said.
"Actually was an interesting story, because I was having tryouts in Des Moines, and they already had two Europeans who they liked better. So they picked them and so I ended up getting, I guess, offered to Sioux City, and Sioux City decided to take me, give me a shot. So then I went to training camp there, and they liked me and they kept me." 
What does Fedotenko remember of Sioux City? 
"It was honestly, a bigger town than I was playing in Saskatchewan, but it's still a pretty small city. I mean, I was from a four million-people city, from Kiev, so to me is a little bit of a change," he said. 
But there was one change that Fedotenko found challenging. 
"The only thing I was having a tough time to adjust to in the beginning, is the smaller rink, auditorium rink," he said. "It was an older arena, and the ice surfaces are much smaller than currently right now.
"As a European, I was coming from Olympic-size ice. So for me it was -- double adjustments needed to be made, to play in the smaller rink." 
Fedotenko only stayed parked in Sioux City for a year. By 2000, Fedotenko was in Philadelphia, first playing with the Phantoms before moving up to the NHL, joining the Philadelphia Flyers. 
'No chances to qualify'
It was while he was with the Flyers that Fedotenko was invited to participate in preliminary rounds at the Salt Lake City Winter Olympics, to represent his home country. 
"At the time, I was one of the top (Ukrainian) players in the country," he said.  
"However, I was playing in the NHL." 
He had to ask permission from his club to take part in the preliminary games -- but the scheduling just didn't work out. In fact, making it to just one preliminary round was a breakneck feat in itself. 
"I played with the Flyers in St. Louis, one game, one day, and they went home, and I flew to Salt Lake City, played that night a preliminary game, and then jumped on a red-eye and flew overnight back to Phillie because we had another game there," Fedotenko said. 
If he had wanted to, Fedotenko said he still could have returned to to the preliminaries after the game in Philadelphia -- but by that time, Team Ukraine had already lost another game, and "so they had no chances to qualify." And since the Flyers still needed him (he was under contract), he didn't return to the games. 
Which didn't seem to upset him too much. 
"You always would like to represent your country," he said. 
"I'll be honest -- when I was a kid, I never thought I would be playing in the Olympics and playing to represent the country. Never thought about that... The culture, how we grew up there, we didn't really emphasize the Olympics and everything."