SIOUX CITY -- Jo Morgan, director of health services at Briar Cliff University, enjoys being a stand-in mom to roughly 1,000 college students.
Morgan, a registered nurse, triages young adults with a variety of ailments from earaches to sports injuries to allergies.
"Seasonal allergies is a big thing for us, because we have a lot of kids that come from different places that don't have the same flora that we have," she said. "In the fall they start out with bug allergies. We have some kids that don't even know what a wasp is, so they don't know what a wasp bite is."
This year, Morgan said she's seen a number of cases of impacted wisdom teeth. When students are far away from home, most don't know what to do when a medical condition presents itself. Morgan, as well as two nurse practitioners who are on campus for three hours twice a week, can help them out or refer them to a provider in the community. Services provided at the Health and Counseling Center are covered through student fees.
"There's no charge for them, except if I have to give them an immunization. If they get cut, we give them a tetanus shot," she said. "If I have to do a strep test, we have minimal charges for their lab test. We're not a full medical clinic by any means."
Morgan said the Health and Counseling Center works with a laboratory in Dakota Dunes to ensure students are up to date on their immunizations, whether they'll remain on campus or travel out of the country to places like Honduras to study abroad.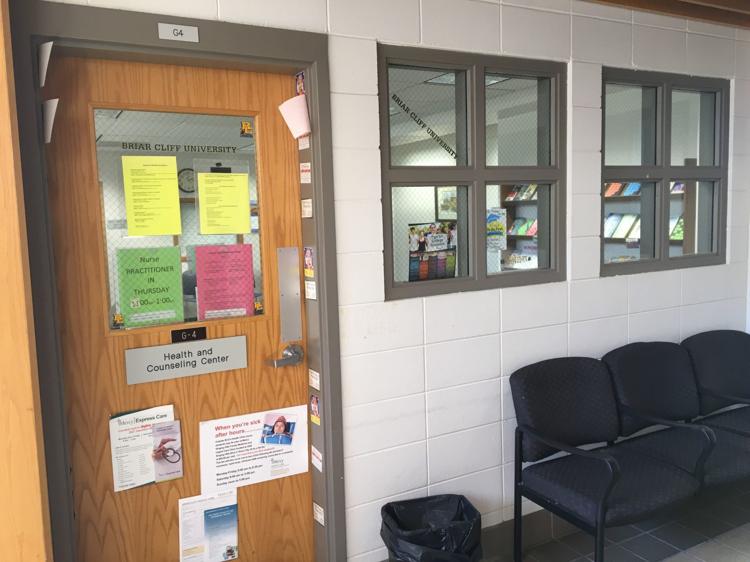 "Give me no tools and let me figure out what's wrong with them," said Morgan, who has been working a Briar Cliff for six years. She is contracted through MercyOne Siouxland Occupational Health. "I came from ICU, where the machines told you what's going on. Here, it's pretty much your assessment."
Morgan said her presence makes students, who for the first time don't have mom or dad around to tell them to take a Tylenol or ibuprofen, more comfortable. 
"When they come back the next time, I'll recognize them and say, 'So what have you done so far?' You're trying to educate them as they're coming through," said Morgan, who makes appearances at various programs, fairs and activities on campus. "We have what call a spring break health and wellness fair. We invite many vendors in, and at least our kids get exposed to who the chiropractors are here and where are some facilities they can go to and that kind of stuff."
Morgan works closely with Jenny Tobin, director of counseling services at Briar Cliff University. She said students' mental health problems may lead to physical illness.
"It's a joint venture many times," she said.
According to the 2014 National Survey of College Counseling Centers, 86 percent of college counseling center directors reported a steady increase in the number of students arriving on campus already on psychiatric medication, and 94 percent reported an increase in students with severe psychological problems on their campuses.
Tobin said mental health conditions, like anxiety and depression, are on the rise among students and more students are aware of the signs and symptoms.
"They know so much more than I did at their age about depression and anxiety," she said. "I try to work on raising awareness and decreasing stigma and just letting them know about resources so they can have that power to seek out their services, whether it's here or off campus."
Tobin said anxiety and depression, which go hand in hand, lead the way among students. Relationship issues and the stresses associated with juggling school, sports and work also bring students to Tobin's office. She said students reach out on their own, or they are referred by a concerned coach, professor or Morgan.
Tobin asks students if they're making it to class, socializing, eating and sleeping. She said developing good habits before they arrive on campus is key for freshmen. She said they should get involved in an activity or sport so meet other people rather than spending the time they're not in class or studying in their dorm room.
"If they've struggled with mental health before, I'd say check in as soon as they get here and lets make a plan of what they need to do and what signs they need to watch for if they're not doing well," she said.
Morgan said parents should let incoming freshman do things on their own, like getting themselves up in the morning the summer before they arrive on campus and asking questions about what they should do when they're not feeling well.
"Give them a little independence," she said. "We're past the helicopter (parenting) and we're now in lawnmower (mode). Lawnmower parents wipe out all the obstacles. (Students) have no idea how to fail."
Tobin said parents must reduce time spent on cellphones with their kids start classes. She said every hour check ins aren't unusual in today's world.
"We need to get them to let go of home and connect here. They can't do that if mom's calling them every hour to see if they're in class," she said. 
Tobin offers short-term focused solutions, as well as cognitive behavioral therapy. She said students who need medication, as well as those with a chronic mental illness are referred to an off-campus provider.
When looking at statistics of who accesses services, Tobin said freshmen are more likely to utilize them. As time goes on and they understand how to better cope with life, Tobin said use decreases. Massages are offered on campus during finals weeks, therapy dogs are brought in and yoga classes are held to help students de-stress.
"We try to have open gym-time during each semester," she said. "We have game night, too, now, so we try to offer alternatives that don't involve any kind of alcohol to just de-stress and relax."