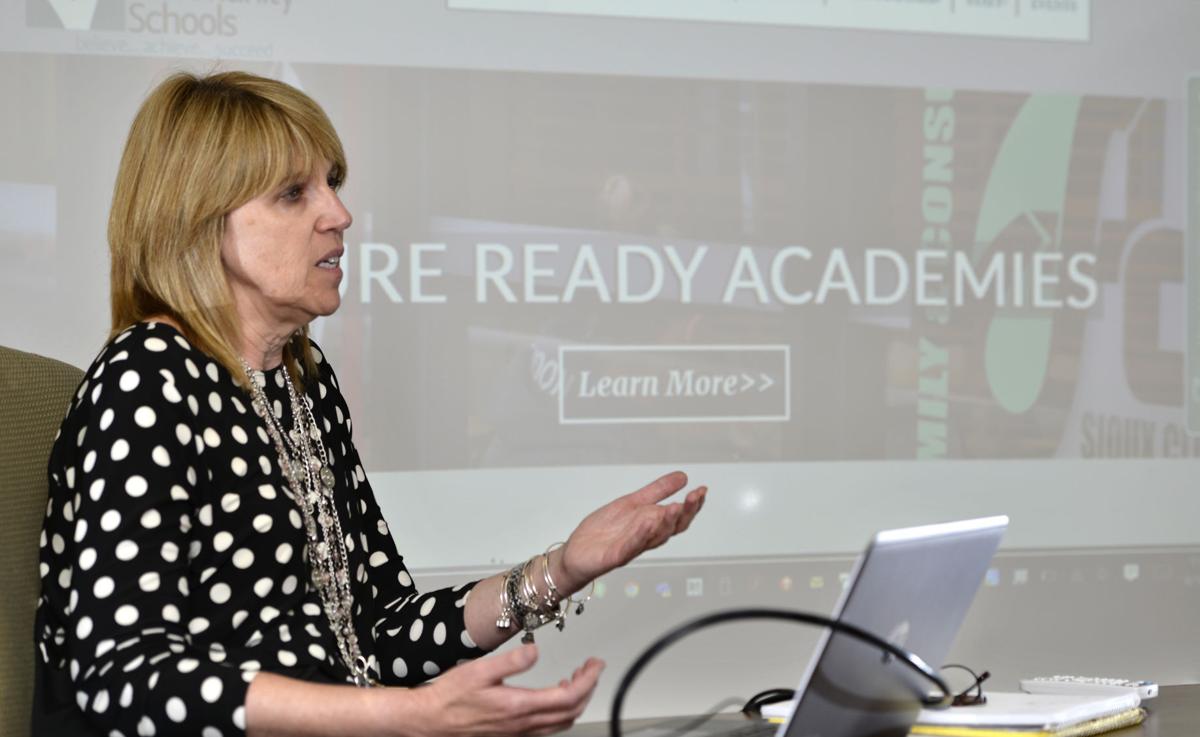 SIOUX CITY | Gone are the days of waiting for a report card or a parent-teacher conference to find out how your elementary, middle or high schooler is doing in their classes.
Four years ago, Infinite Campus, a tool that combines student information, learning management, school notifications and more, debuted in the Sioux City Community School District. Infinite Campus was founded in 1993 in an effort to streamline educational processes, promote stakeholder collaboration and personalize learning. It now serves 7.8 million students in 2,000 school districts across 45 states.
Parents of students enrolled in pre-kindergarten through 12th-grade, can access information, such as grades and schedules, and also update their household contact information at any time by logging onto the Infinite Campus parent portal, which can be found on the district's websit+e, siouxcityschools.org.
"It's sort of the central nervous system of what students do and how we keep track of it," said Kathy Bottaro, director of technology for the district.
Six or seven years ago, Bottaro said, the district introduced a learning management system called Canvas, which is used at the college level to manage courses, to high school students. The technology, which is now also being used in the district's middle schools, makes teaching and learning easier by connecting all the digital tools teachers use in one place.
"When we went One-to-One, we really needed a learning management system to house the courses and give a launch pad for students," Bottaro said.
Through the One-to-One computing initiative, all high school students receive a laptop at the beginning of the year. Devices, such as tablets, are also making their ways into fifth-grade classrooms this school year as part of the Future Ready Initiative.
The district is reaching out to parents about the high-tech tools that are available to them at parent-teacher conferences through newsletters, internal communications and Let's Talk, a submission feature on its website.
"What we're really looking at now is helping parents understand the parent portal of both Canvas and Infinite Campus and the data about their student that's stored there and the power of the real-time access to the data," Bottaro said.
You have free articles remaining.
After creating an account and logging into Canvas via the district's website or Canvas' downloadable mobile app, parents can set up notifications, which they receive when their child's assignments are due and when their child turns in an assignment. They can view the classes their child is taking, see due dates for assignments and open PDFs of assignments their child has turned in. Grades appear on Canvas as soon as the teacher enters them.
"You don't have to wait for a report card to come home. You don't have to wait for a teacher to call you," Bottaro said. "This is just 24/7 how is my student doing?"
In the past, Bottaro said, school registrars spent up to two months inputing home addresses, emergency contact numbers and other demographic information parents had filled out on two-sided yellow cards. Last year, she said parents started verifying and updating their phone numbers and addresses in Infinite Campus, which also houses standardized test scores, grades, immunization data and more.
Mandie Mayo, spokesperson for the district, said keeping contact information up-to-date is important because the district uses it to send text messages and make calls about early dismissals and closings.
"It's incredibly important that they maintain current content in Infinite Campus. They have the access to make those updates themselves. They don't always have to call the registrar, which is something I'm not sure all parents know," Mayo said.
Like Canvas, Infinite Campus also has a downloadable app.
In addition to these new tools, some teachers are using their own district-approved technology to keep parents connected to and informed about their classrooms. ClassDojo is one of them. The communication app allows teachers, parents and students who use it to share photos, videos and messages through the school day.
"Technology is ever-evolving and you have young teachers coming into the district and invigorating new ideas," Mayo said. "We have people experiencing multiple apps and each one has served its individual purpose and the next teacher may not see that same value. Ultimately they have to achieve the same goal, but they can teach slightly differently."
Bottaro said parents and guardians who don't have computers, smartphones or internet access are welcome to use school computers to log in to Infinite Campus or Canvas.
"I've worked with grandmothers and sometimes the students will help. Almost every building will have an online registration day," she said. "I think we're always mindful of people who don't have access to wi-fi and really try to work around it."