ELK POINT, S.D. -- Seventeen years ago, when Stacy and Angie Taylor drove up to a light beige ranch-style home with white shutters at 123 Green Court Drive, they thought the home looked small for their needs from the outside.
Inside, the Taylors were surprised to find a very spacious home -- more than 3,500 square feet of living space -- close to the Elk Point Swimming Pool and The Pointe Golf Course.
"The house is very deceiving. When you just see it from the outside it looks very small. We almost didn't come," Angie Taylor said. "But we came in, and my oldest just started running and would run from room to room. We were amazed at how large it was upstairs and then we came downstairs, and again, it was just amazing how much room."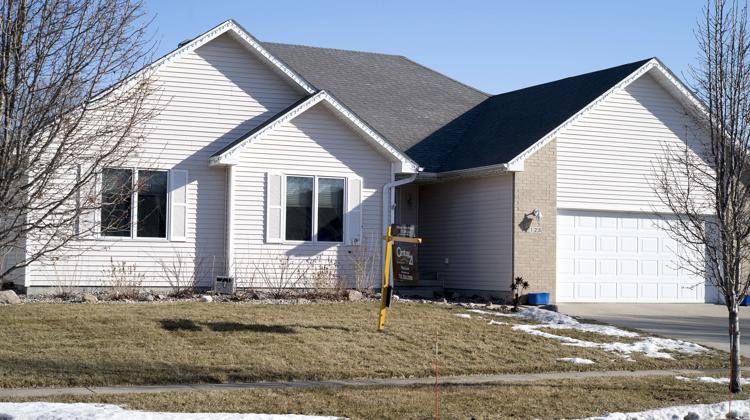 Angie Taylor said it will be difficult to leave the house and the community, when she and her husband, who works as an IT director, relocate to Austin, Texas, for his job in May. Their two sons, Connor and Austin, will stay in South Dakota as they serve in the Air National Guard.
"We really like the community, so it's really hard to leave here," Taylor said. "There will be things to bring us back."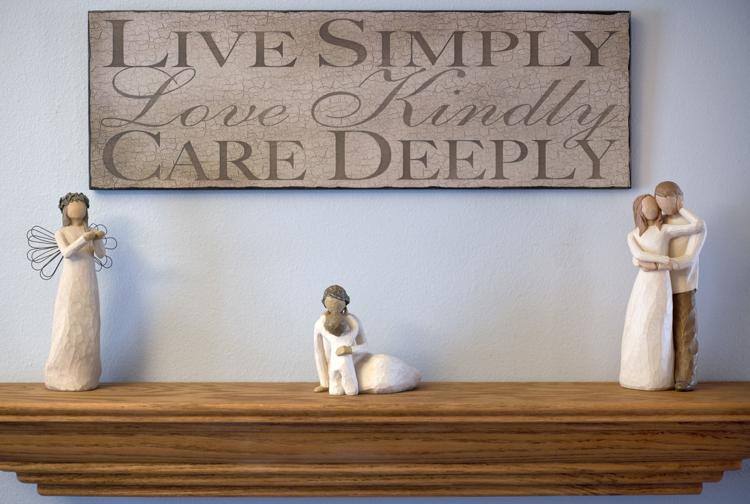 The foyer of the four-bedroom, three-bathroom home opens to a roomy living room with a vaulted ceiling and bank of windows. The rich hardwood floors continue into adjoining library and open concept kitchen/dining area.
"Because we have different colored wood tones in our furniture and then there was the light wood from all the trim, we wanted a floor that wasn't just a solid color. This was just perfect because it has the light and dark. I really like it," Taylor said. "It was like we just put it down and then he got this new job. We're not going to be able to enjoy it that long."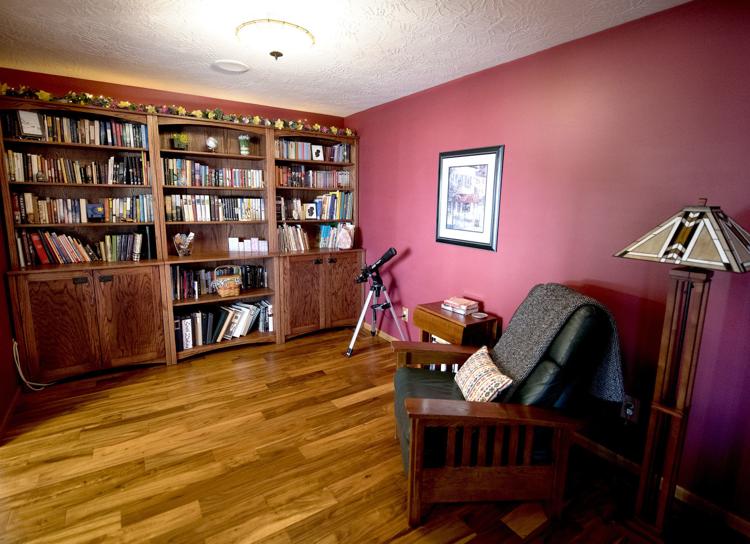 Taylor, who works as a school library aide, said the library was actually formerly used a dining room.
"My husband and his father built the book cases that are in there. That's probably my favorite space," she said, motioning to the oak bookcases. "The favorite space for the kids would be downstairs in the playroom."
The kitchen features custom cabinetry, a built-in wine rack and ample counter space. A window over the stainless steel sink offers a view of the backyard. A sliding door off the dining area opens to to a deck with a custom pergola and built-in seating.
You have free articles remaining.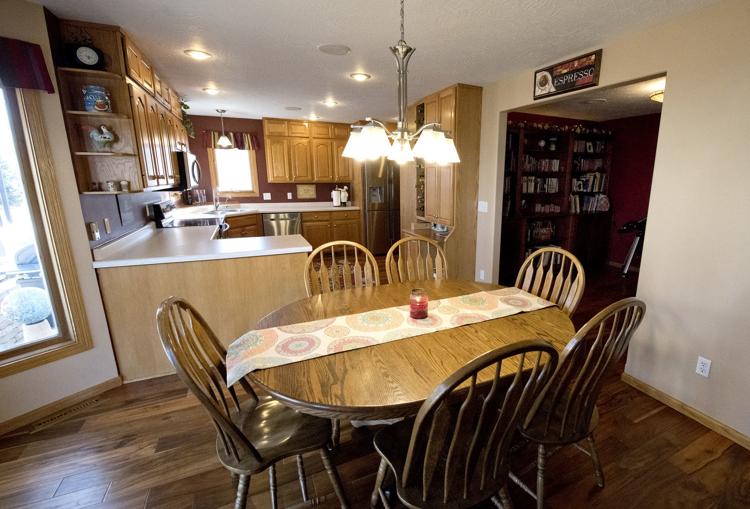 Taylor loves the size of the master bedroom, which has carpet, a tray ceiling, two banks of windows that let in natural light and a full bath with a double sink vanity, Jacuzzi tub and separate shower. The master also has a walk-in closet.
"When the kids were little, this would be their pool in the winter," Taylor said of the Jacuzzi tub with a chuckle. "We'd turn the jets on, put some bubble bath in there. That was fun."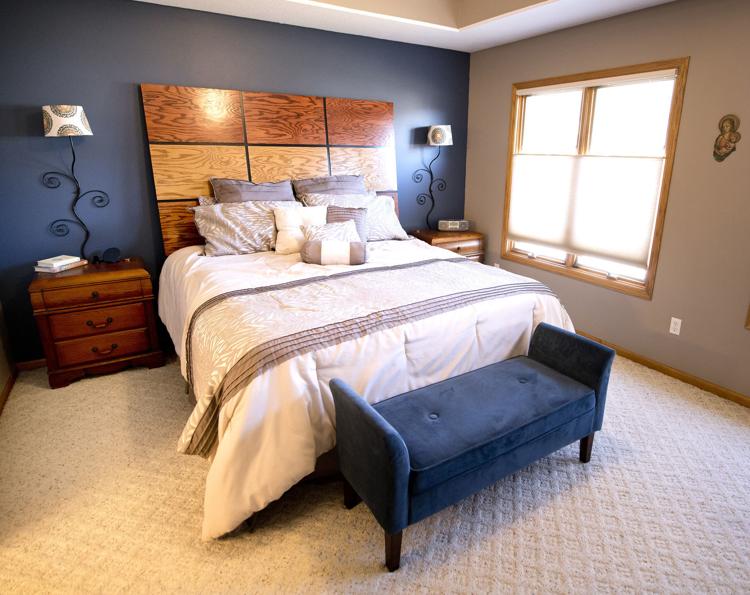 Down the hallway from the master, you'll find another full bathroom and two more bedrooms at the front of the house. One has a wood floor, while the other is carpeted.
"They're good-sized rooms. Our intention was that when the youngest went to school that this would become my husband's office," Taylor said of the bedroom that has a wood floor. 
The downstairs includes a family room with a wet bar, a large theater room another full bath, a craft room, office area and a fourth bedroom with a walk-in closet. The family room, Taylor said, has always been a playroom.
"It started out with like Thomas the Tank Engine and Little People and has now grown up into gaming central," she of the space, which has three flat-screen TVs side by side along a wall.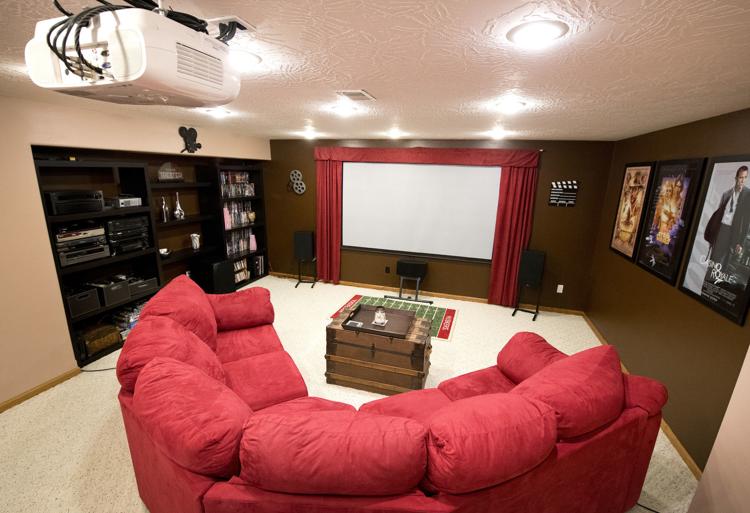 On the other side of the stairway is the theater room, where the family watches football games and movies on a large projector screen. The space also includes built-in storage.
Down the hall, between the playroom and theater room, you'll find a utility room, quaint room that Taylor uses for scrapbooking, cardmaking and painting; another full bathroom, more closet space, an office and a fourth bedroom.
"I think we really love is the huge closet. You can pack a lot of stuff in and it's all the way through," Taylor said of the hallway closet space. "(Stacy) has a big family, so when they all come, there's a lot of room for everyone."
Other notable features of the home include a WiFi-enabled sprinkler system, large side parking area for an RV with a 220 hookup and an over-sized garage with cabinetry and a work bench.
Copyright 2019 The Sioux City Journal. All rights reserved. This material may not be published, broadcast, rewritten or redistributed.