STORM LAKE, Iowa | Eight days after beginning his tenure as Buena Vista University's 18th president, Dr. Joshua Merchant gathered his family and a couple of dozen BVU students and staff members and hit the street.
Lakeshore Drive, to be exact.
Merchant and his band of Beavers walked and skipped along the parade route, one of 100-some entries in the July Fourth Star Spangled Spectacular's Big Parade, the largest Independence Day parade in Siouxland.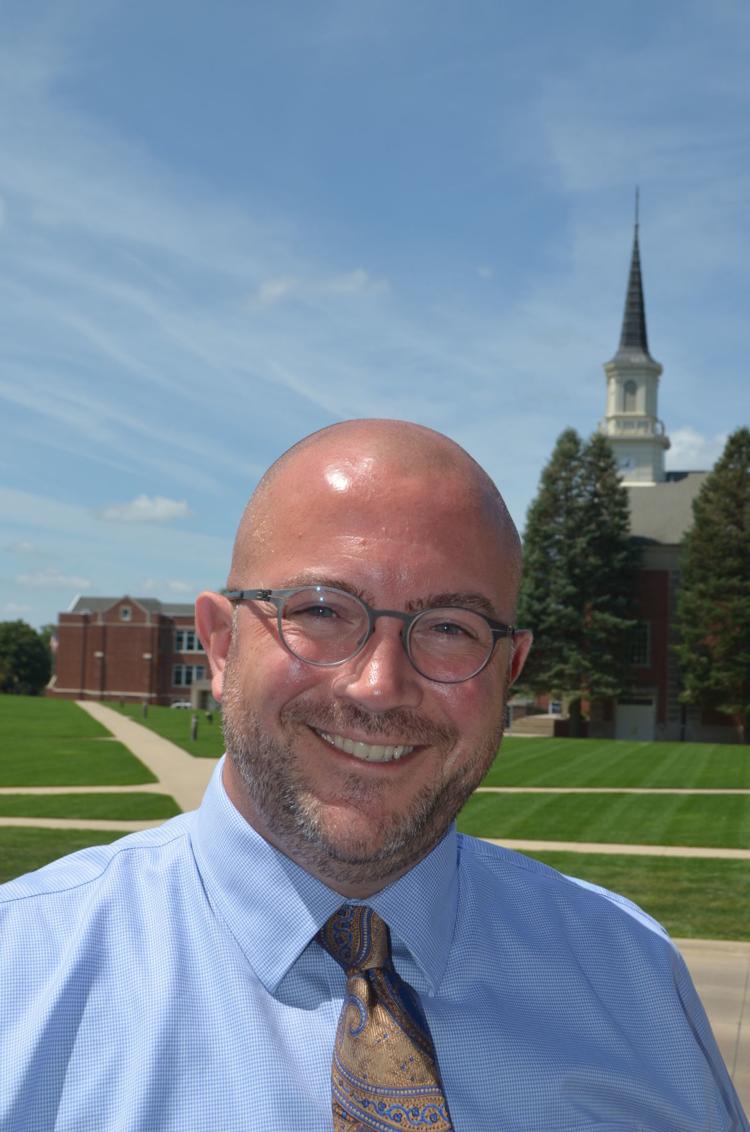 "It's huge!" said Merchant, who had never seen this parade before. "I handed out all my candy pretty early because the crowd was something like 10 deep along the side of the street."
It created a bit of a presidential pickle: What could he give to parade-watchers who cheered BV's entry in this parade. "I just started giving out high-fives and people seemed to enjoy it," he said. "They were pretty excited for Buena Vista."
Merchant's "one-small step" approach illustrates the tact he's taking as he settles into a sprint of sorts leading the small university on the shores of Storm Lake. A few nights later, he threw out the first pitch to begin a Storm Lake Whitecaps baseball game at Memorial Field.
At the press conference to introduce himself in March, the 43-year-old Albion (Michigan) College graduate, promised to join his wife, Carrie, and their sons, Elijah and Griffin, in partaking in all things Storm Lake, from 4-H activities to youth league football to spaghetti suppers that raise funds for the local booster club.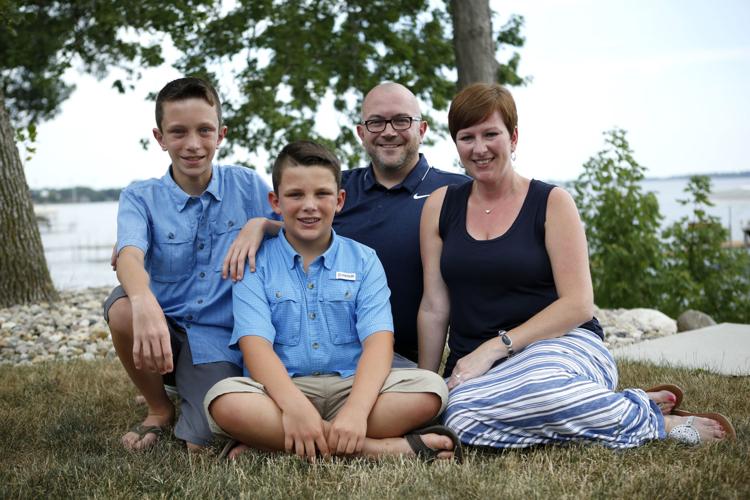 Buena Vista, he said, works in concert with Storm Lake. And vice versa. A better BVU leads to a stronger Storm Lake, which emboldens Northwest Iowa and strengthens the state.
Merchant has been at the epicenter of growth and, well, some decline during a 19-year career in enrollment, fundraising, development and more. He brings pieces of each stop along the way to his place as Buena Vista's new president.
Merchant, who was raised on a family farm in Michigan, attended Albion College, the first of his immediate family to do so. The speech communications and theater major landed his first job in marketing, working for the Farm Bureau in Michigan. He then landed a position with American Agrisurance, which was based in Council Bluffs, Iowa.
"I managed crop insurance and crop insurance sales from home in Michigan," he recalled. "Looking back, I'd say it was a job, not necessarily a career. I hadn't found my passion yet."
A friend mentioned to Merchant that the Future Farmers of America in Michigan was seeking a foundation director to lead fundraising and development efforts. Merchant took the job and was soon promoted to work in the College of Agriculture and Natural Resources at Michigan State University, whereupon he was encouraged to tackle a master's degree in ag extension education.
Fundraising and development posts would follow in the Department of Veterinary Education at Michigan State and at the School of Business at Central Michigan University.
"Our (fundraising) goal was $6.1 million at Central Michigan and I think we finished at around $12 million," Merchant said.
While working at Central Michigan, he earned a doctorate in educational leadership from Western Michigan University.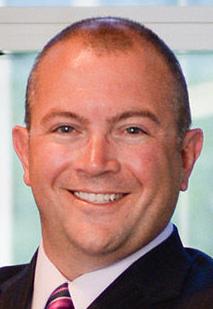 And that's when the Interlochen Center for the Arts near Traverse City, Michigan, recruited him for a leadership position, serving a place he knew much about as Interlochen's reputation for arts programming was second to none in the Upper Midwest.
You have free articles remaining.
"As a high schooler, I played saxophone and French horn (concert band) and mellaphone (marching band). I was big into band and musical theater," he said.
At Interlochen, his first cabin was one last used by pianist Van Cliburn. And while working one day, actor Robin Williams stopped by to seek directions to the president's office.
Merchant would have stayed longer, but his alma mater came calling, seeking him, the president of the alumni board, to become vice president of advancement, the administrator to oversee alumni and marketing.
"I worked at Albion for six years and it was both rewarding and difficult," he said.
Rewarding, as Albion gave him and his three brothers a launching point for their careers. It's a place he loved for what it did for him.
The difficulty came in navigating the waters of change, change brought about as Michigan weaved and wobbled and struggled through the Great Recession. Enrollment declined from about 430 students per class to 330. The public school district in Albion closed. The automobile industry in the state had to be bailed out by the federal government. Residents fled their $1 million homes in the Detroit area. The endowment at Albion in this time went from around $200 million to $124 million.
"It was a bit of a romantic curse," he said. "It's hard to make decisions involving the sands of my heart. It's horribly difficult to manage cuts."
Albion held on. And Merchant's proud as ever when looking back and considering how its donors, alumni and community stepped up as times got tough.
"The experience helped hone my belief in community and how a university is connected to where it is located," he said.
Another challenge arose virtually out of the blue when a former coworker directed Merchant to the University of North Florida, which sought a vice president of development and alumni engagement. The 16,000-student university, a virtual newbie founded in 1984, would give Merchant the chance to work at an NCAA Division I institution in the metropolis of Jacksonville, Florida.
"I had a great experience there," said Merchant, who also toiled as executive director and CEO for the UNF Foundation, Inc. "We raised $11.4 million when I began and in our first year we grew to $17.8 million. In the second year, we raised $24 million and then $31 million my third year."
Toward the end of his third year, Buena Vista reached out, seeking a president to replace Dr. Frederick Moore, who, ironically, was heading to Florida after 22 years in Storm Lake.
"I met the search committee and we talked for an hour and 15 minutes," Merchant said. "I remember calling Carrie and saying, 'Darn it, I like them!'"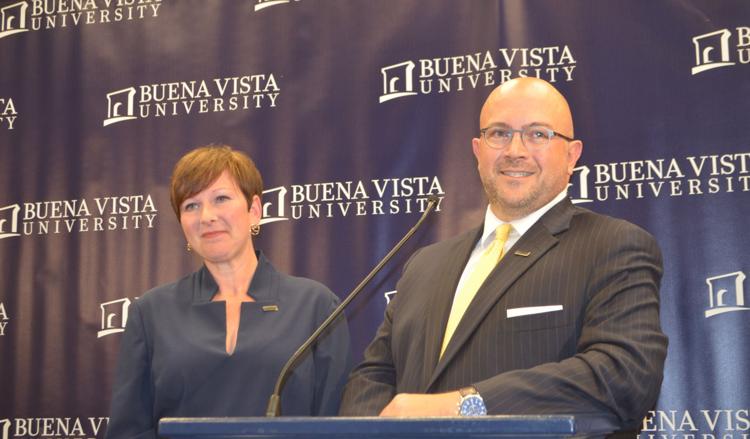 BVU invited the couple to spend 2 1/2 days on campus in January, of all months. The Merchants came away with the belief that Storm Lake was a place they could raise Elijah, a freshman, and Griffin, a sixth-grader.
"The weather in January didn't scare us," he said with a laugh.
In February, Merchant met BVU's Board of Trustees and BVU extended the job offer, which he and Carrie accepted two days later.
"It was hard leaving North Florida as I had a great connection with my team of 40," he said. "I think I pushed them and we had fun doing it."
He sees himself doing some of the same as president at Buena Vista, presiding over an institution that has seen on-campus full-time enrollment settle to around 800-900 students. Merchant, who noted that the incoming freshman class already represents a year-over-year bump of 14 percent, will keep running, tinkering and internally debating what courses to take while listening to and working with others to shape BV's future.
"Fred (Moore) gave me some great advice," Merchant said. "He said you'll go at a speed you've not seen before. Make sure you find time to be a dad, a husband and Josh."
In exchanging high-fives with hundreds of community members along Lakeshore Drive that July 4 holiday, Merchant was being "Josh," a husband, father and brand new Beaver leader seeking to connect his family, his workplace and himself with his new community.