ORANGE CITY, Iowa -- Greg and Michelle Christy had more than 100 guests in their home for a Christmas celebration one year ago.
"It didn't even feel like it," said Greg, the president of Northwestern College, who spoke of the spaciousness and inviting feeling one gets in the home at 106 Martin Dr. NE, just off No. 10 fairway at Landsmeer Golf Club.
"We had 70 women here for a retreat in January," Michelle Christy added. "And they all slept here. We'll host 70 again this year."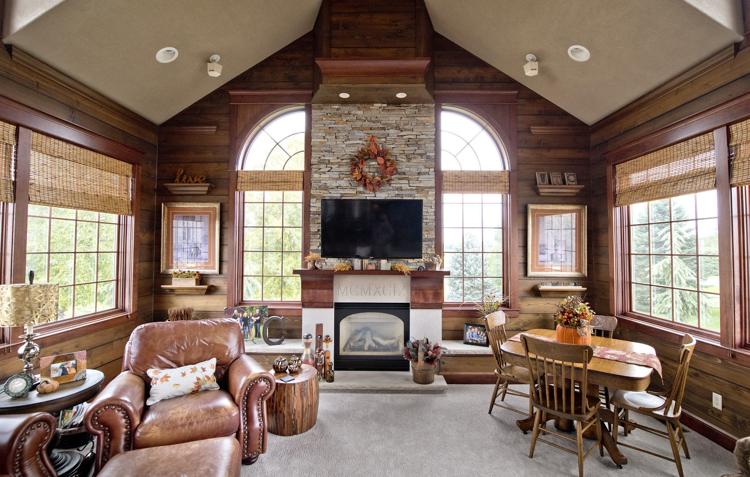 That wouldn't have been possible up until two years ago. At least not for the First Couple of all things Northwestern College. It wouldn't have been possible were it not for the generosity of Drew and Jean Vogel, Orange City residents who GAVE Northwestern their home and its 8,500 square feet of hosting ability.
Greg and Michelle Christy came to Orange City with their children when Greg was hired as president in 2008. The family took up residence at the former President's Home at 701 Juno Ave., not far from MOC-FV High School.
A few years later, Drew and Jean Vogel approached Christy, saying they (the Vogels) were considering downsizing a tad in their residential plans. They wondered if the college might be interested in having their home as a place to entertain visitors, NWC students, the NWC Board of Trustees and more.
The donation, one worth several hundred thousand dollars, formally took place on Dec. 30, 2016. It is duly noted on a plaque just inside the front door of this gorgeous 19-year-old residence.
"Northwestern College gratefully acknowledges the generous gift of this home on Dec. 30, 2016, by Drew and Jean Vogel.
"Drew attended Northwestern for one year before earning a degree from Iowa State University, and Jean earned an art education degree from Northwestern in 1975. The Vogels returned to Orange City when Drew became president of Vogel Paint in 1987. Together they have generously invested their time, talent and treasure in their community's organizations, including Northwestern College.
"The Vogels' Christian commitment inspired them to donate their home to Northwestern to serve as the president's home and continue the college's long tradition of presidential hospitality," the plaque reads.
Greg and Michelle Christy echo those sentiments, noting their gratitude to the Vogels for this incredible gift.
"Few colleges are so blessed to have a couple as generous as Drew and Jean who would give a home of that nature to the college," Greg Christy noted. "Their vision and sense of stewardship is greatly appreciated by Northwestern College and provides the college with an ideal location for college functions and other forms of ministry."
As an example, Christy disclosed how Words of Hope, which takes the Gospel of Christ to places like Iran, Turkey and South Sudan, had 35 to 40 guests at an event in the home in early October. Michelle Christy serves on the board for Words of Hope. The Vogels, by the way, attended that event in their old home.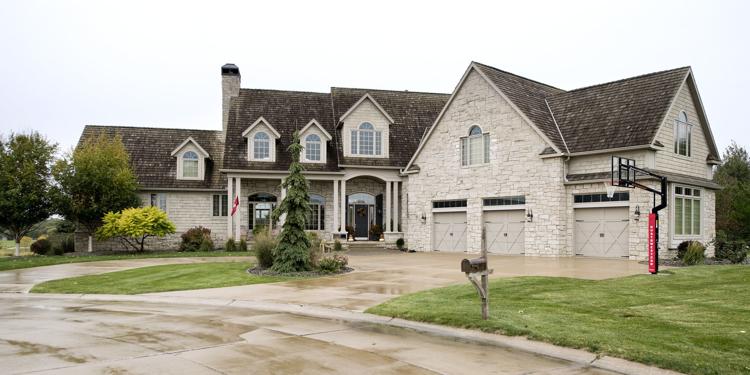 The home, built by Dave Goslinga of Bouma Construction, was constructed in 1999 and 2000, years that show on a pair of fireplaces bearing the Roman numerals MM (for 2000) and MCMXCIX (for 1999).
Moving past the entryway, Michelle Christy shows the formal dinning room, a table that can be set for 12, if not more. And while it isn't often the place the Christy family dines (youngest son Kyle, a junior at MOC-FV High School is the only child still living at home), the dining room serves NWC's Board of Trustees, for example, when the group commences in Orange City.
"We also use the dining room each spring as we host Northwestern seniors in groups of 12 to 24 at a time," Greg said, adding how those groups cover career topics and NWC memories in their gathering while also diving into tips on etiquette that new grads will need in the working world.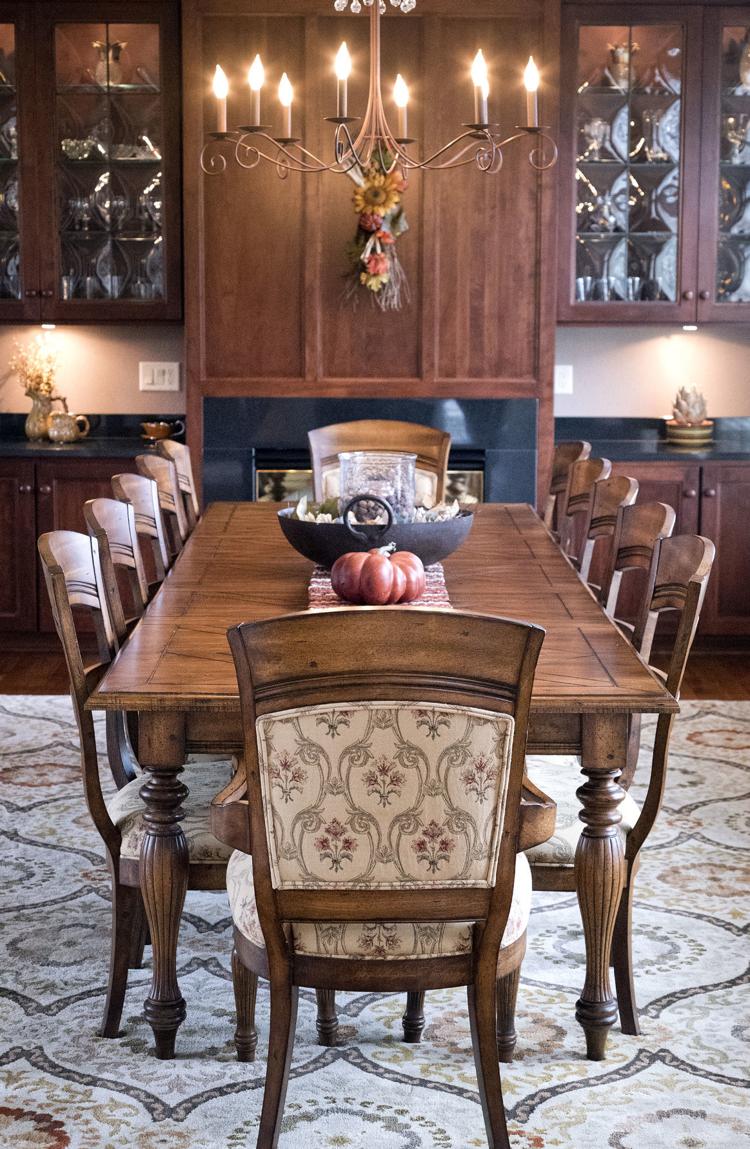 Each fall, the NWC freshman class reports to the President's Home for a backyard meal, a collection of some 350 to 400 students who fan out across the 1.65 acres that extends to the eastern edge of the No. 10 fairway at Landsmeer Golf Club, which borders the yard west of the home.
The home boasts five fireplaces and seven bathrooms. Each of the five bedrooms has a bathroom.
"The kitchen and family room (on the main floor) is where we spend 80 percent of our time," Greg said, pointing to a rock wall beneath the TV in the family room, which is an addition post-Vogels.
"It's timeless in its construction," said Michelle. "There was some wallpaper in the kitchen, the pantry and the laundry, but the paint color is all original."
When Terry Branstad decided to run for governor again, he came here, hosted by the Vogels, for a reception. The late Sen. George McGovern, of South Dakota, also stayed here, with the Vogels, when he ventured to Orange City to be a special guest for Greg Christy at his inauguration as NWC president. When a representative of the Rose Bowl Parade from Pasadena, California, came to check out MOC-FV's Pride of the Dutchmen Marching Band during a recent Tulip Festival, she also stayed here.
Even Greg and Michelle Christy stayed here as guests more than a decade ago, spending time with the Vogels as the interview process for the next NWC president played out. Little did they know, they'd be living here in time, making memories as their oldest son, Ryan, invited his wedding party to stay here on the eve of his wedding. Johnny Venegas, a 2016 NWC graduate who works as a worship leader in Omaha, entertained that gathering by playing the Baby Grand piano on the second level room, a perch overlooking the dining room and entryway, an area Michelle shares as her office space.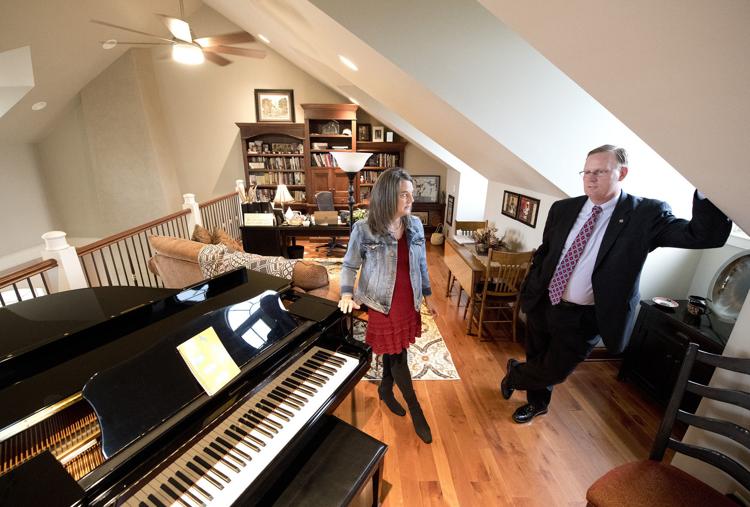 "The roof wasn't done when the piano was moved in," Greg said.
The piano, which Michelle can play, was donated in honor of Jean Vogel's mother, Corinne Tallman. The piano is also played by various NWC music students during dozens of events hosted by the Christys at the President's Residence, a gathering place and a place of worship, work, recreation and friendship to serve Northwestern College.
That's the aim for Greg and Michelle Christy, ever-thankful for this gorgeous place of warmth for their family. They'll continue to pay it forward for the NWC family and a host of other organizations and people, rolling out the Red Raider carpet and using the home in ways the Vogels likely envisioned: As a gift that keeps on giving.