GRANVILLE, Iowa | Beth and Jeff Bunkers may set the alarm for a few wacky times this month.
It happens when a nephew competes halfway around the world, crossing a multitude of time zones, to get to the Olympic Games in Pyeongchang, South Korea.
The Bunkers, through, have been there before. Literally, they've been there before. Beth and Jeff attended the 2014 Olympic Games in Sochi, Russia, the last time nephew Brian Hansen competed on the world's biggest stage. They also attended the 2010 Olympic Games in Vancouver, British Columbia, when Brian, then 19, won a silver medal as part of the team pursuit competition for the U.S. Olympic Long Track Speedskating Team.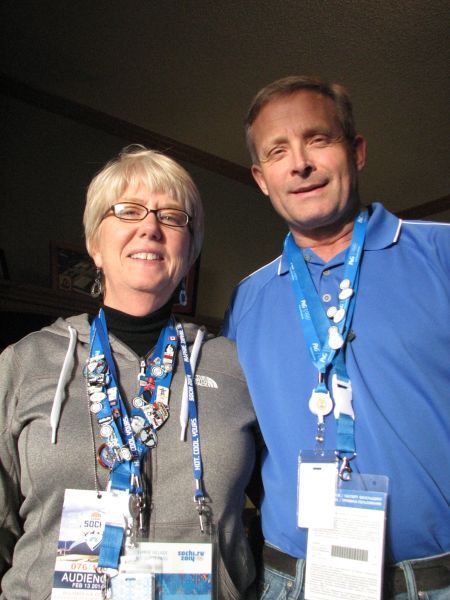 "We upset the Dutch team in the 2010 Olympics and earned the silver medal," Hansen said. "That's my Olympic highlight to this point."
Hansen, who resides in Milwaukee, Wisconsin, keeps the silver medal in a bag, getting it out every once in a while to show someone who asks.
With ardent supporters in family members who reside in Sioux County, Hansen may represent one of the closest ties Northwest Iowa has to the 2018 Olympic Games. Jeff and Beth Bunkers, who supported him at the last two Olympic venues, chose this year to attend races in Salt Lake City, Utah, precursors to the Olympic Trials. Getting all the way to South Korea, Beth Bunkers said, wouldn't work with their schedules this time around.
"We'll be up watching him compete when that happens," said Beth Bunkers, a three-time Olympic Games spectator, who witnessed her first Olympics in person when they were held in Montreal, Canada, in 1976. Bunkers has a collection of Olympic pins she added to during subsequent visits while cheering on Hansen.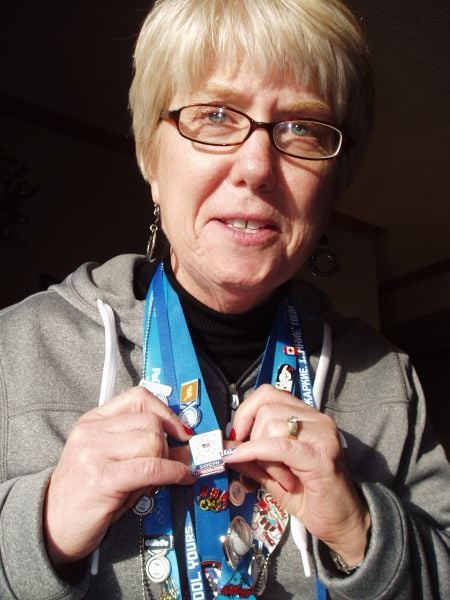 Will he get a pin or two from Pyeongchang for her? "I hope so," she said.
Jeff Bunkers, incidentally, began preparing for their 2014 trip to Sochi by studying Russian some four years earlier. He learned enough to be able to read signs and ask for directions. The couple spent one week there and got to pal around with Hansen as he showed them the Olympic Village. Jeff and Beth met U.S. speed skating legend Bonnie Blair on that trip.
"We had our picture taken a few times by Russians just because we were American," she recalled.
This time around, though, they'll be home and glued to their computer or TV screen, hoping to catch one of Hansen's races. The 27-year-old said he's feeling fine, physically, and is quite excited for his first competition, one that takes place four or five days following the opening ceremonies.
Hansen's training regimen is robust, as one would expect. The University of Colorado graduate trains 10.5 months per year for this sport. When he's not working out on the ice, or lifting, he can be found doing additional core work and physical therapy. Away from training, Hansen likes to cycle and surf on Lake Michigan. He's even done some winter surfing on the lake.
"I've also cycled all over Wisconsin in the summer and we did a five-day camp in Yellowstone (National Park)," Hansen said. "I think I've done 2,500 to 3,000 miles on the bike over a five-month period."
Hansen earned second place in the Olympic Trials to secure a berth in his third straight Winter Olympics. The team fields three 1,500-meter competitors, so his landing a spot in the team came without a lot of suspense.
"There's always some pressure with the Olympic Trials," he said. "But, going into the 1,500 meters, it was looking like I could be the favorite. However, there were two other guys who were really skating well."
Hansen finished second, touching off a family celebration that included his aunt and uncle, his biggest Northwest Iowa fans.
"We can't wait to watch," said Beth Bunkers. "It's very exciting for Brian and the whole family."
Brian Hansen said the Olympic venue won't take much getting used to as he skated there one year ago in World Cup competition.