STORM LAKE, Iowa | Three years ago, Kathy Sorbe, proprietor of Storm Lake design firm The Elements by K. Sorbe, boasted an impressive design feat -- a 9-foot Christmas tree decorated in three-and-a-half minutes.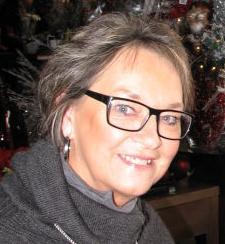 While it's probably not a world record, it does illustrate one point: Sorbe and her design team know a thing or two about decking the halls with boughs of holly. 
Q: What colors and themes are going to be big this Christmas season? 
A: Red-and-green has always been the biggest decorating color. There's so many people that have traditional ornaments and family, sentimental pieces that they bring out every year, and they go back quite a few years. So red and green are still really popular with a lot of people.
Secondary, though, people are tending to do something that will last a little bit longer. Red-and-green is always very festive, and very traditional, and very bright and colorful, and kind of exciting -- but there are trends now to do things that are just a little bit softer, and a little bit more wintry. And so, the in-trend colors right now are very soft grays, and very neutral colors. The homes are decorating tone-on-tone, keeping the same colors throughout the house.
In a lot of those homes, we're seeing more of a wintry look, with lots of white, snowy evergreen, for the greenery, and then soft golds and silvers mixed together a lot, or just by themselves. But something that lasts a little bit longer through the holiday season and into January. 
A lot of people are decorating earlier, because they have permanent Christmas trees, which don't get dry and, you know, dangerous. So they put them up earlier and they enjoy that season a little bit longer. But a lot of evergreen is, certainly wintry for many months. 
So they're going softer, a little bit more of a quiet, more of -- not quite so exciting, a little bit quieter -- lots of light. There are a whole bunch of different little mini-lights that are on timers, and either you need to plug them in or you can use battery-operated. But they come in probably 50 different kinds -- you have snowflakes that are little lights, icicles, snowballs, star shapes. Some look like little pieces of ice. So I can't even tell you how many there are.
But that enables the people to put them in places where, especially if they're on a timer, where they don't have to worry about them, they can come on a 6 o'clock at night, stay on until 10, then shut themselves off. 
There was a trend about 10 years ago toward really rich, earthy colors -- bronze and brushed and deep gold... those things are still very popular. 
Christmas decorating, I think it's about the only time of year where we really use bows and ribbons, that kind of thing. We probably don't do a lot of that during the rest of the year, but it's still very popular at Christmas. The plaids are still very popular, and the metallics are really popular still.
I think it's probably the beginning of the time when people are using a lot of throws that are fur. Anything that pulls in kind of a natural, organic feel in the wintertime goes all the way through the holiday season. Very cozy and warm, and very natural. 
Q: So red-and-green is still strong at Christmastime -- is that a perennial thing, or are traditional holiday decorating elements making a comeback this year? 
A: Those colors are always in. That doesn't mean they're the most popular, that just means that a lot of people still use those colors at Christmastime, and that's what first comes to mind when they first think of Christmas. 
Probably another thing that's very popular right now and has been for quite a few years are mercury glass ornaments. They're beautiful, and a lot of people buy a few every year, because they're a bit more expensive. 
But they're ornaments that -- you could actually fill a bowl with these ornaments, because they're that beautiful -- you don't have to hang them on a tree. 
Birch has been popular, year round, for about eight years now. So you'll see a lot of porch pots that are filled with stems of birch and evergreen and red berries. 
That's a little bit of mother nature that's never going to be out of style. 
Q: Mercury glass ornaments are pretty old-school -- are people going to thrift stores or flea markets to look for Christmas decorations of yesteryear? 
A: Not so much. A lot of our collections that were really popular 10, 15, 20 years ago, like all the (miniature decorative) houses that were so popular for such a long time -- they were the rage for a good 20 or 25 years. People have kind of gotten away from that a little bit. 
I'm sure there are lots of people who still bring them out every year and put them around their house. But some of the people who collected have gone through that stage -- it's kind of hard to say that -- but they're smoothing out a little bit. They're keeping their decorations a little bit simpler, especially in the house, so it's not quite so overwhelming. A little bit easier to keep under control, but still gives the feeling of the season. 
Q: Does The Elements by K. Sorbe do Christmas interior design for clients? 
A: We do. We have a team that comes in and does it while you're at work. We try to use what we can of the client's own materials, and then we usually add some new because they need to be updated. 
Q: Where should Siouxland people go to look for Christmas decoration inspiration? 
A: We're in Sioux City about twice a week, so we're very available for discussion on what they might need, and where they can use the pieces. We have a regular decorating seminar every year (in October), and we have a lot of people from Sioux City that come. We have actually people come from all over the Midwest for our decorating seminars.