SIOUX CITY -- Riley Doehoefer has enough credits to have earned a college associate's degree.
Which is amazing since she is still a junior at Siouxland Christian School.
However, Riley isn't the only student combining college credits while going to high school. Her classmates, Rachel Pirrie and Mikellie Grant, both Siouxland Christian School seniors, have amassed enough credits to be considered sophomores. 
According to Kim Pirrie, secondary English teacher and Rachel's mom, the girls follow in a growing line of Siouxland Christian students who combine collegiate classes with high school ones.
"We're a small school and it is sometimes difficult to meet the needs of every student," Pirrie said. "Fortunately, we've been blessed with high-achieving students who want to get a head start on their post-high school education."
The majority of these (free of charge) colleges classes are through local schools like Western Iowa Tech Community College. Some require attendance on a college campus while others may be taken online.
While most classes are geared toward juniors and seniors, Riley, 17, began taking college courses as a high school freshman.
"I started talking classes for fun as something to do," she said. "It didn't occur until after that I was really making a dent in the courses required at college."
Rachel Pirrie, 17, nodded her head in agreement.
"I began taking these classes to challenge myself," she said. "Now, I realize I'm saving myself a lot of time and money."
Even more than that, Rachel said college coursework  made her up her game in high school.
"In college, you're constantly writing," she explained. "A one- or two-page high school paper isn't very daunting if you're used to writing more in your college classes."
According to Riley, effective time management is crucial when juggling both high school and college classes.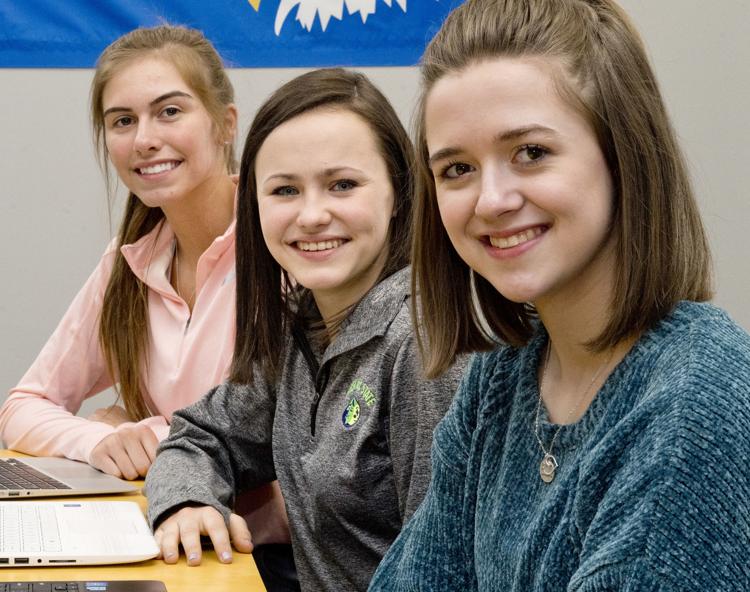 "You're working nights, weekends, all the time," she said with a shrug. "You learn to pace yourself. If you know an assignment can be completed on a certain  day, that is when you complete it."
This is a concept that Mikellie isn't entirely on board with.
"I'm one of those people who can't do that," the 17-year-old said. "If I have homework, I have to do it right away."
Pirrie said Mikellie's not alone in that sentiment.
"These girls and many of the other students are top achievers," she said. "Not only do they excel academically, they're involved in everything the school has to offer."
Like theater, sports, music or student government?
"Yes, all of the above," Mikellie said. 
"And maybe more," Rachel interjected. "We want to stay active in school."
She wants to become an elementary school teacher.
This is a similar goal for Mikellie, except she wants to teach history or English in middle or high school.
"My favorite time periods are World War II or the 1920s," she said. "I find both periods fascinating."
And what about Riley, the high school junior who already has enough college credits for an associate's degree?
"I used to think I'd like to become a surgeon but I also want to have a family," she said. "So, I'm weighing my options of either going into surgery or becoming a family physician.
"Either way, I want to become a doctor."