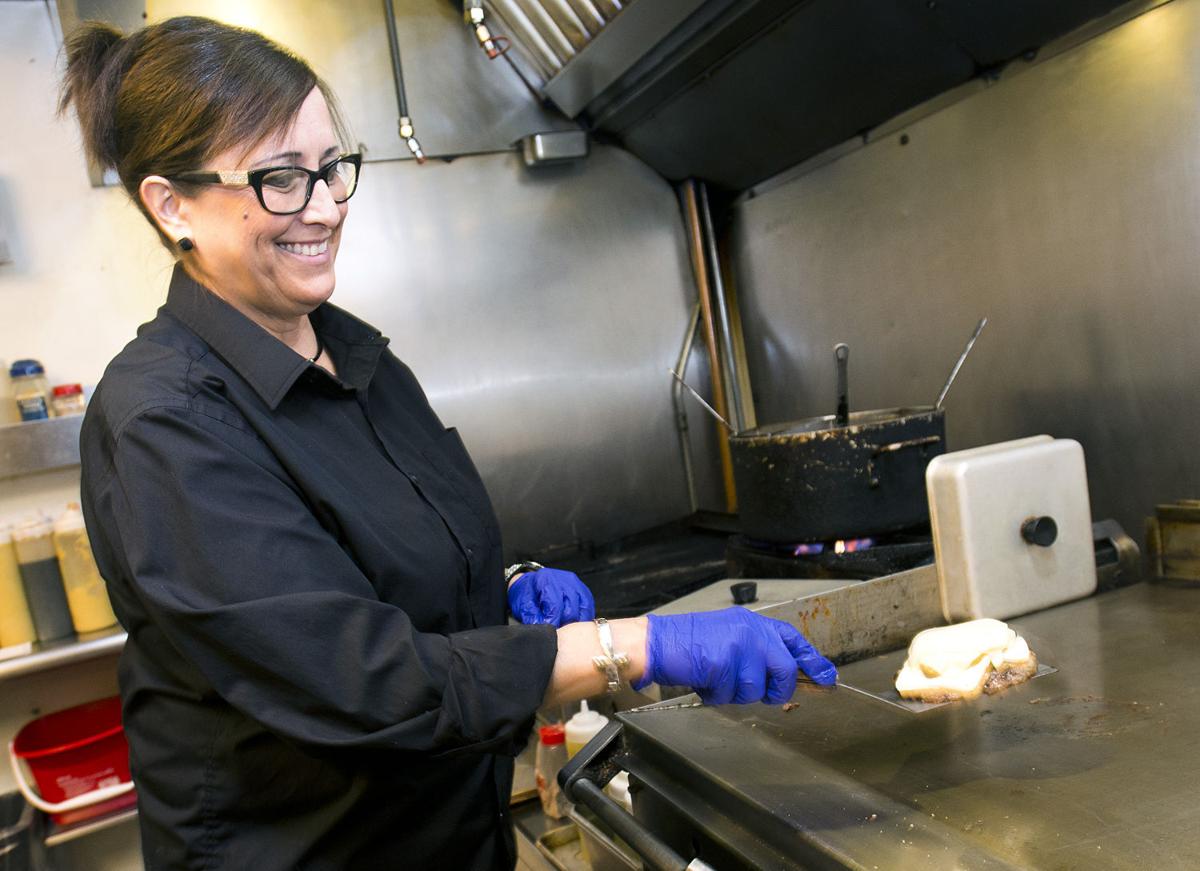 Julie Schoenherr wanted to be many things. At one point, she saw herself cutting and styling hair. At another, putting on a uniform and patrolling the streets. What really happened is that she became a farmer's wife and later entered the banking business, finding a new love and place to learn.
When she began looking for her next challenge, it was her husband, the farmer, who looked at her and saw how her face lights up when she talks about food.
At his urging, she opened SoHo Kitchen & Bar on Historic Fourth Street a little more than four years ago. On a recent morning, before the doors opened, Schoenherr had already been at work for a couple hours cutting lettuce, roasting chicken and making meatloaf and a homemade tomato bisque while strips of bacon popped and sizzled on the stove.
Beyond the kitchen doors, it's quiet in the restaurant, save for the brief shuffle of chairs being removed from tabletops and set on the wood floor, ready to welcome the lunch crowd that day.
People ask her from time to time, "Has it always been your dream to own a restaurant?"
"It's always been my dream to be an entrepreneur and be successful at it," she said.
Out of high school, she worked for Country Kitchen International, where she had a boss who believed in her. She was hired as a server, but over the next three years, moved on to prep cooking and line cooking. Schoenherr's work ethic and willingness to try new things earned her a position as an operations manager.
She soaked up everything she could about running a restaurant. But she didn't see how the long hours spilling over into dinner time and late into the night could work with raising two children out on the farm. When she reentered the workforce, she got into the banking sector.
Historically, women have been told their place is in the kitchen – as long as it's in the home. To this day, women only make up about 21 percent of head cooks and chefs, according to the U.S. Bureau of Labor Statistics.
You have free articles remaining.
Schoenherr is one of them now living this hectic but satisfying life after 30 years away from a professional kitchen.
For anyone, man or woman, the hours and lifestyle can be demanding, to say the least.
Schoenherr is an empty nester now but, even so, she sees to it that her husband doesn't have to scrounge through the fridge to find something to eat at night when she's cooking at the restaurant. Her customers get to eat well and he does, too.
Just the other day, when she went home for that precious hour-long break in the afternoon, she didn't prop her feet up on the sofa but, instead, stood by the stove making penne served in a vodka cream sauce. Pasta is her quick and easy go-to meal.
As the chef at SoHo, she places an emphasis on using the freshest ingredients and not letting food go to waste. It pains her to throw anything away.
At 54, a part of her has never forgotten the frugality she practiced out on the farm with a young family of four when interest rates were high, corn prices were low and Pizza Rolls were a treat.
Sometimes, they had $25 a week to buy groceries and that meant getting creative to get by.
When they were first married, occasionally her husband would show up for mid-morning coffee with a few hungry friends.
Schoenherr prided herself on being able to whip up something in a pinch. She'd crack open a tube of biscuits and make them into doughnuts, fried and tossed in sugar. The men were none the wiser. For all they knew, these heavenly treats took hours to make instead of minutes.
Today, she's concocting new foods for the menu at SoHo, which serves American cuisine made from scratch.
The compliments she receives from customers, the full house, the silence that sets in over a table when everyone's got a mouthful of delicious food or the simple sentiment satisfied diners let out between bites of a gourmet burger, groaning, "Mmm! That's good," it's all a testament to the successful business she has built.
Even though she works unspeakably long hours at the restaurant, that same glimmer of passion shines bright in her eyes – the same one her husband saw years ago.
"There is nothing better than someone telling you that they loved that food," she said. "It's almost as good as getting paid."