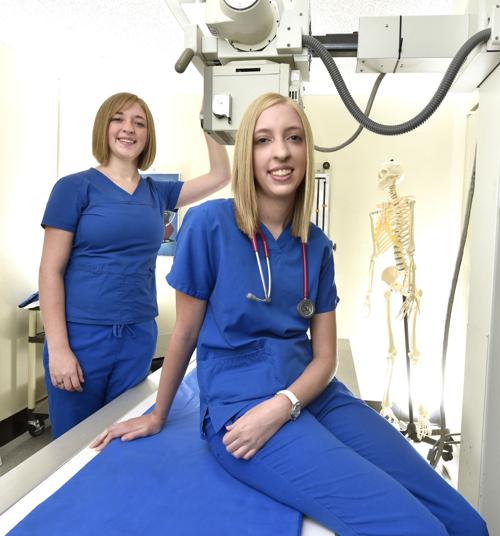 SIOUX CITY | When she was younger, Kayla Cooper wasn't grossed out by the medical shows she watched on TV, but fascinated by the sometimes stomach-churning procedures.
Still, the Orange City, Iowa, native didn't see herself pursuing a career in the profession until one of her aunts encouraged her and her twin sister, Kelsey, to work in a nursing home. It didn't take long for Kayla to fall in love with patient care.
"It's really nice to see how (patients) can improve so fast and that you've made an impact," said the 22-year-old, who graduated with an associate degree in nursing from St. Luke's College in May and is pursing her bachelor of science in nursing degree online through the Sioux City college.
Unlike her sister, Kelsey Cooper said she always knew she wanted to work in the medical field, but she said she didn't know what sub-specialty would be right for her until she learned more about radiology.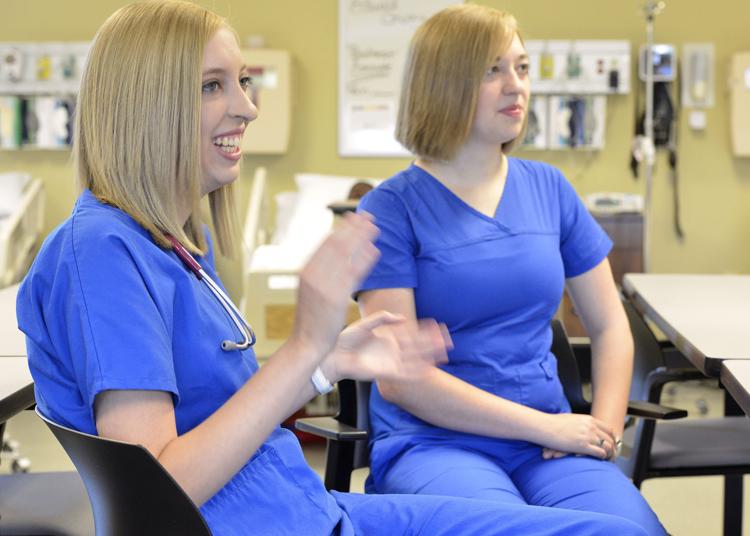 "That sounded really interesting and fun to me," said Kelsey, who also received her associate degree in the spring. "You do shadow days where you just go in and watch them and I ended up really loving it once I got to see everything they actually do in the X-ray department."
After graduating from Unity Christian High School in May 2015, the twins opted to enroll in classes at St. Luke's College in Sioux City, which two of their aunts had attended. The college, located on UnityPoint Health-St. Luke's campus, offers bachelor of science degrees in nursing and health science; associate degrees in nursing, radiologic technology and respiratory care and certificate programs in medical laboratory science and phlebotomy.
"It was one of those things where it was last-minute," Kayla said of her and her twin's decisions. "We grew up doing everything together, so it's almost that little security that you have -- if you have a bad day, she's going to be there."
Although the twins went to the same college and pursued medical careers, the sisters have different likes. Kayla prefers being outdoors, active and traveling, while Kelsey is more into books and movies.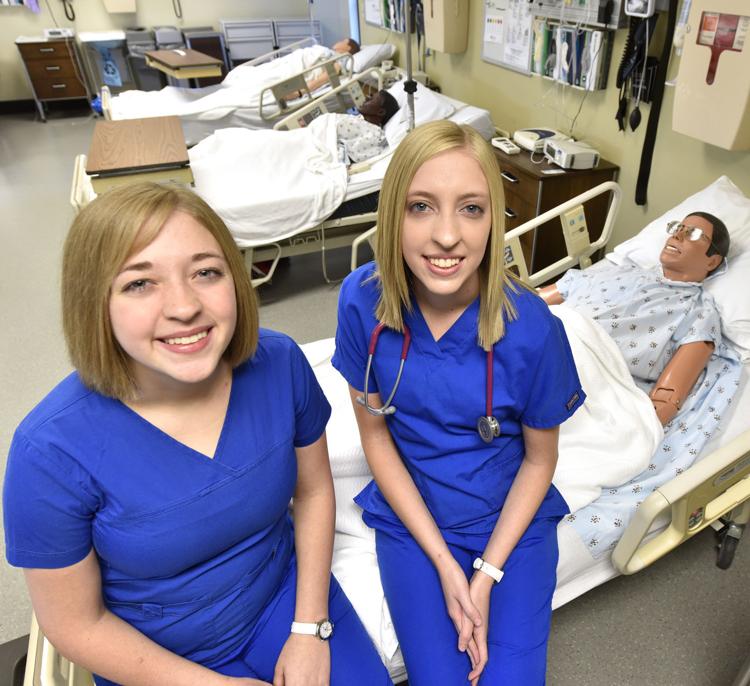 You have free articles remaining.
Kayla said the two saw being able to live together as a definite perk, but she said it wasn't the main reason why they decided to attend the same college.
"I ended up really liking the instructors and really liking the facility. We're right across from the hospital," Kayla said of St. Luke's College.
Kelsey said she liked the way the radiologic technology program allowed her to get hands-on experience early on in the hospital setting.
"Some programs don't really do clinicals until the end," she said. "We got to actually take X-rays the whole two years we were actually here."
While in school at the same time, Kelsey said she and Kayla went their separate ways as they pursued two different educational tracks.
"We weren't always around each other, because she was always busy with her nursing stuff and I was always busy with my radiology stuff," she said.
Sherry McCarthy, enrollment management and marketing coordinator for St. Luke's College, said seven sets of siblings are currently attending the college. While having a set of twins as students is unique, she said it's not unusual for family members to attend at the same time. Some are in the same programs, while others pursue different educational tracks.
"I don't think we've ever had twins before, not at least at the same time," she said.
Kayla and Kelsey aren't the only twins in the family. They have sisters who are also twins.
There's a chance that their younger sister Ashley could eventually wind up at the college. She and her twin sister Amber will be attending Western Iowa Tech Community College in the fall. Kayla says Ashley is torn between becoming a paramedic or a nurse, while Amber wants to get into law enforcement.
After graduation, Kelsey decided to study cardiac ultrasound full-time at Southeast Tech in Sioux Falls, South Dakota. Not surprisingly, Kayla agreed to live with her sister again, after landing a nursing job at Avera McKennan Hospital & University Health Center.
"I was really debating whether I wanted to stay here or move up to Sioux Falls with her. She wasn't sure what she was going to do for room and living situation up there, so I was like, 'I can come there. That's fine,'" Kayla said. "For me, nursing's hard, so it's super nice to have her with me. She's a huge support."