ORANGE CITY, Iowa | Randy Van Peursem lives in a climate-controlled setting just 117 steps from his office at Northwestern College. The 48-year-old makes all but five meals per year for himself from scratch. He eats primarily organic foods and cannot drink milk.
And yet, his battle with dysautonomia, a dysfunction of the autonomic nervous system that makes him practically allergic to everything, won't stop Van Peursem from flinging open the doors to his home to allow visitors to delight in the massive "Star Wars" collection he's amassed.
The collection, featuring some 6,000 action figures alone, helped Van Peursem keep his sanity as health woes wreaked havoc on his body more a quarter-century ago. "My faith in God kept me grounded," he says. "This collection kept my sanity."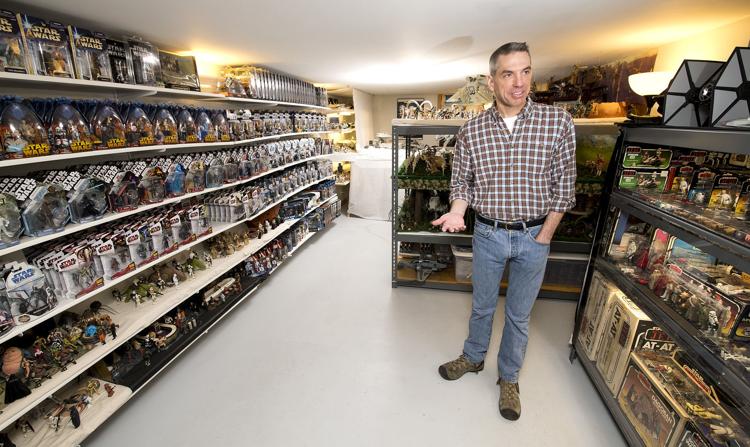 Van Peursem's assessment comes with a giggle, a laugh that complements more than a kernel of truth. Consider what he went through as a 20-something chasing his dream while enrolled in medical school at the University of Iowa, an earnest student intent on one day becoming a family practice physician or, get this, an allergist.
"I graduated from Northwestern in 1992 and went to medical school at the University of Iowa," Van Peursem says. "But then I began having health problems. I'd black out and dry-heave up to 60 times per day."
Ultimately, his health woes forced him to drop out of medical school on Sept. 17, 1994. Trying to ascertain what was wrong, he ended up seeing 20 specialists at the University of Iowa and the Mayo Clinic in Rochester, Minnesota. A breakthrough came when a local doctor referred Van Peursem to Allergy Associates of La Crosse, Wisconsin. A leading allergist, Dr. George Kroker, who had a months-long waiting list, agreed to see Van Peursem immediately.
"I'd been having nausea 24 hours per day and they couldn't find the cause," Van Peursem remembers.
Kroker sent Van Peursem through a battery of allergy tests. In an extreme rarity, he tested positive for allergies to everything.
"Dr. Kroker told me mine was the worst case he'd ever seen," Van Peursem says.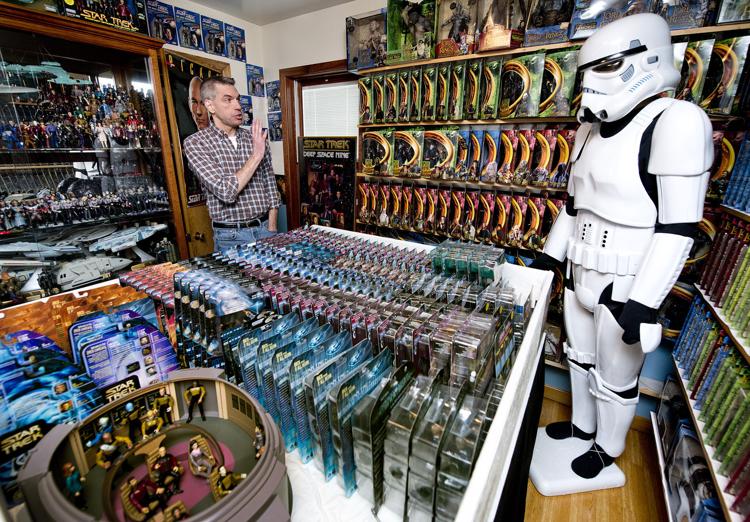 How bad was it? Van Peursem was even allergic to the metal in three fillings in his teeth. He had to eventually go through a chelation process to expel the mercury from his mouth.
In January 1995, Kroker had Van Peursem go "cold turkey" from his diet, cutting off all meat, milk, eggs, wheat and more. He quickly went into convulsions because his body was addicted to the very items that had harmed it.
"I got an organic pork chop about this time and didn't get nauseated within the first 20 minutes after eating it," he remembers. "I about cried."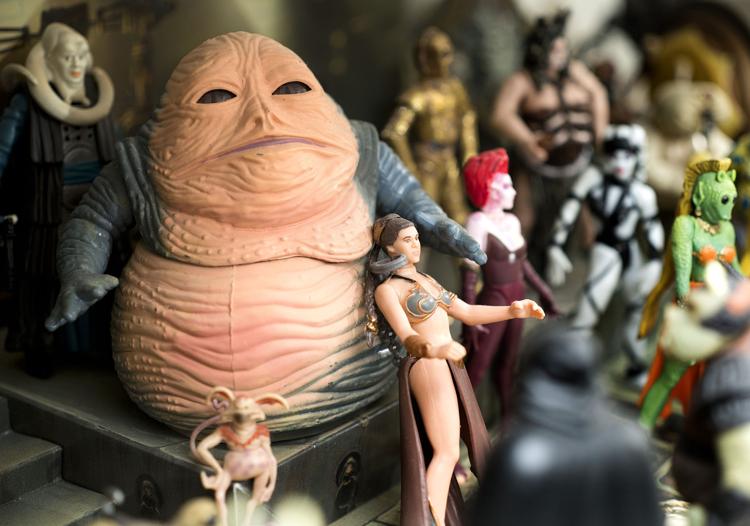 Slowly, he began eating organic forms of lamb, chicken, fish and beef. He helped scrub his parents' residence clean and did all he could to protect himself from dust and outside environmental changes. Slowly, he began to stabilize.
Along the way, he picked up a hobby: Collecting "Star Wars" figures. It began in 1993 as Van Peursem visited in a flea market in Iowa City that had vintage "Star Wars" figures. He reflected on his childhood and the six "Star Wars" figures he played with as a boy. 
Soon after, Van Peursem noticed more "Star Wars" figures in an edition of Toy Shop magazine. And that's when the collecting bug bit.
"I started to go through Toy Shop magazine and whenever I'd come home from Iowa City, I'd use an atlas and hit various Wal-Mart stores, Walgreens and other stores to help complete a certain collection," he remembers.
You have free articles remaining.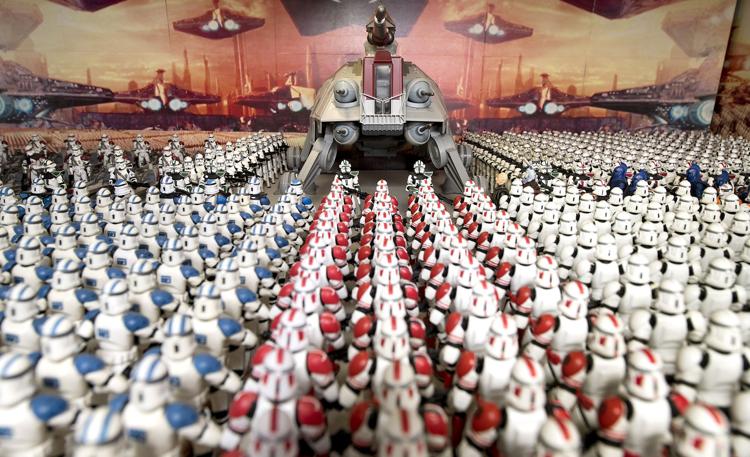 In 1999, Van Peursem stumbled on to eBay just before the market took off. His discoveries there allowed him to buy larger lots of action figures while selling off his extras, a means by which he funded additional purchases.
Ultimately, he ended up with 6,000 figures from "Star Wars," "Star Trek" and "Lord of the Rings," all coming from his favorite science-fiction movie franchises.
In 1996, Van Peursem's health improved to the point where he could work minimally at his alma mater, Northwestern College. Four year later, he moved to half-time status. In 2002, he bought a home adjacent to campus and went three-quarters time. And, in 2005, he began spreading out work on his 10-month contract over 12 months. It is where Van Peursem continues work today, advising all incoming biology and chemistry majors while helping to run the Science Center, an entity that offers tutoring assistance and more to students in science, math, accounting, computer science, Spanish and more.
"I absolutely love what I do," he says with a wide smile. "And if I live within my confines, I'm good. The Lord has been faithful."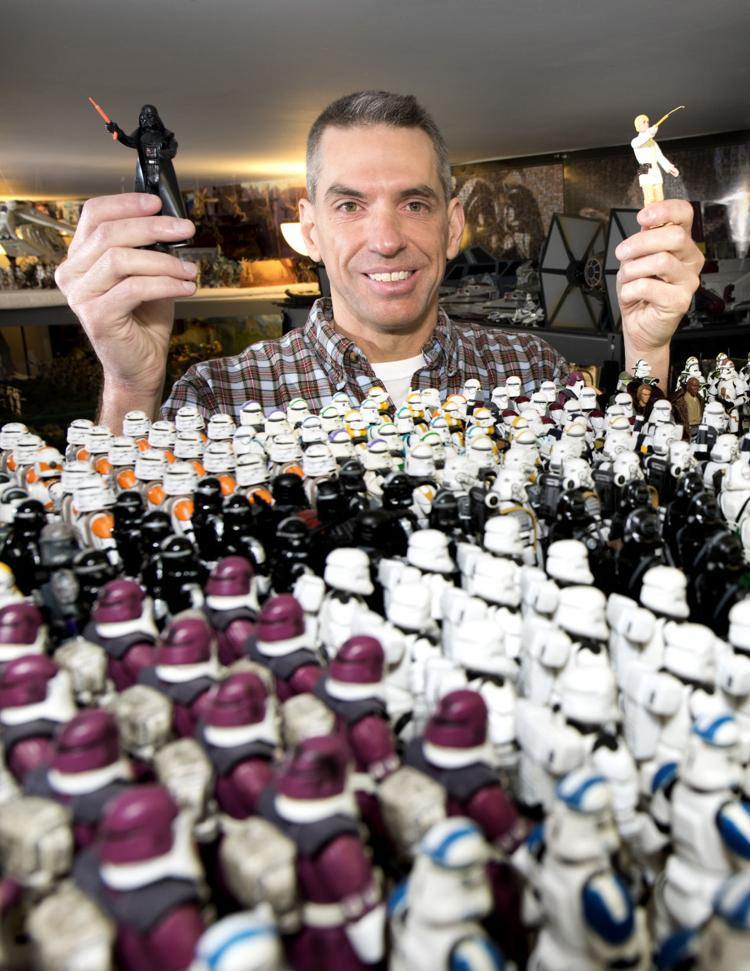 Van Peursem shows his gratitude, in one way, by opening his home -- and his collection -- to those who want to see it. The thrill for him comes in seeing eyes widen and mouths dropping open when visitors step into an upstairs bedroom filled neatly from corner to corner with "Star Trek" action figures. The same happens when visitors turn the corner to enter his basement, a virtual "Star Wars" Hall-of-Fame facility.
The "Star Wars" figures are 3.75 inches, each affixed with magnets below their feet, so as to avoid a catastrophe where one figure falls and, like dominoes, sends all the others toppling.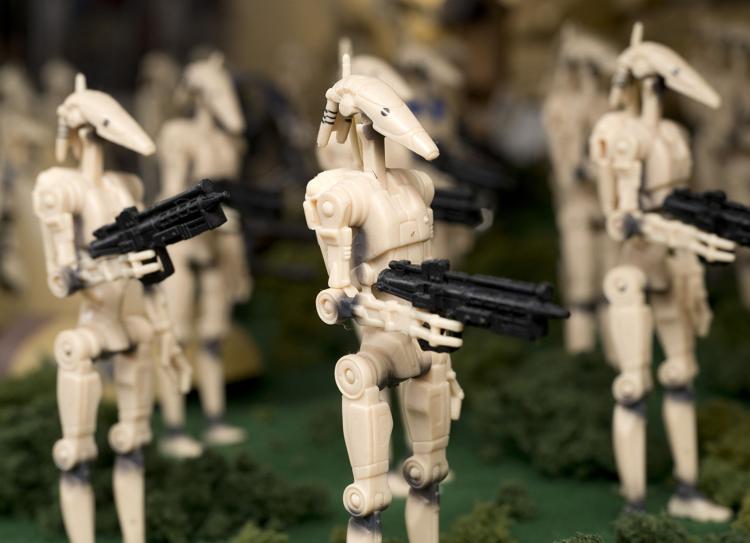 "I've gotten figures from people in China, Great Britain and Australia," he says, mentioning the origin of just a few of his figures. "And I've shipped throughout the world. I've made friends in the Philippines, Brazil and Indonesia, and have helped people there fill out their collections as they didn't have all the access I do."
Interestingly, Van Peursem didn't see the original "Star Wars" 40 years ago. His first brush with "The Force," came in 1980, when visiting family in Chicago, he saw "The Empire Strikes Back."
"I was hooked," Van Peursem says about the movie series that changed everything in the industry. "I've probably seen 'The Empire' eight to 10 times."
With each new movie, including "The Last Jedi," which debuted Dec. 15, Van Peursem purchases at least a couple of action figures, his way of keeping his collection moving forward. Those recent purchases also help him illustrate how packaging and technologies have changed.
"The vintage action figures (from 1977) have four points of articulation," Van Peursem says as he moves the arms and legs of an old Luke Skywalker. "Now, there are 16 to 32 points of articulation."
Two decades ago, an action figure cost $3.95. These days, they run $9 to $10 each, another reason why Van Peursem doesn't go head-over-heels for the new toys.
"I'll wait a couple of years to when prices drop because of a glut on the market," he says with a laugh. "You know, I am Dutch."
So, while he proceeds with caution on an incredible collection he describes as "mid-size" for fans of these movies, Van Peursem always has an eye out for a key figure to add to his orderly assembly of dioramas and more. And when he's not tutoring students or making a piece for another diorama, Van Peursem has his ear to the ground for fans of these movie empires that remain a positive force for this Sioux County native.
"This helps me keep my sanity," Randy Van Peursem says with a smile. "This is something I can share with others."