SIOUX CITY -- In downtown Holstein, Iowa, there's one vault atop another, both serving CornerHaus 101, a sharp coffee shop that's perked up the 1896 Holstein Savings Bank.
A safe for the old Mines Jewelry store serves as a display cabinet and a centerpiece at Swans for Men, a clothing store at 204 Main St. in downtown Wayne, Neb. The hulking contraption shows ties, dress pants and jeans offered for sale.
Security National Bank in downtown Sioux City, meantime, has a pair of vaults still working in the way builders envisioned: One on the main floor for collecting, counting and distributing bills and coins and branch banks; and one in the basement, teeming with safe deposit boxes of a half-dozen sizes and prices, protecting just about anything a customer deems valuable.
It could be coins, savings bonds, stamps, stock certificates an abstract or deed for property you own. It might also have baseball cards, family letters, photos, jewelry, a passport, marriage license or birth certificate; something a little different for each of 4,461 boxes filling a secure bunker of sorts at Security National Bank. Some homeowners store a videotape of all their possessions in the safe deposit box, a good idea for insurance purposes.
Did you know that Security National Bank professionals don't know what you keep in your safe deposit box? They are THAT secure.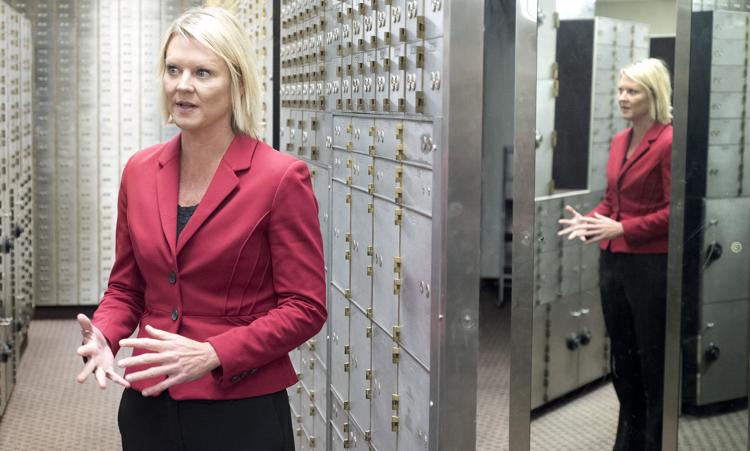 "We aren't with a person when they put items in their safe deposit box," said Mandi Sievers, assistant vice president of retail services and a bank security officer with Security National Bank. "We handle the boxes as little as possible."
When a person opens a safe deposit box at Security National Bank, the customer signs a contract, a signature that is matched to a second signature once the customer signs in to gain access to the box. This is allowed through a secured door maintained by officials with the bank at its downtown location.
"You don't get buzzed in until we verify their signature," said Monica Waldon, assistant customer service representative.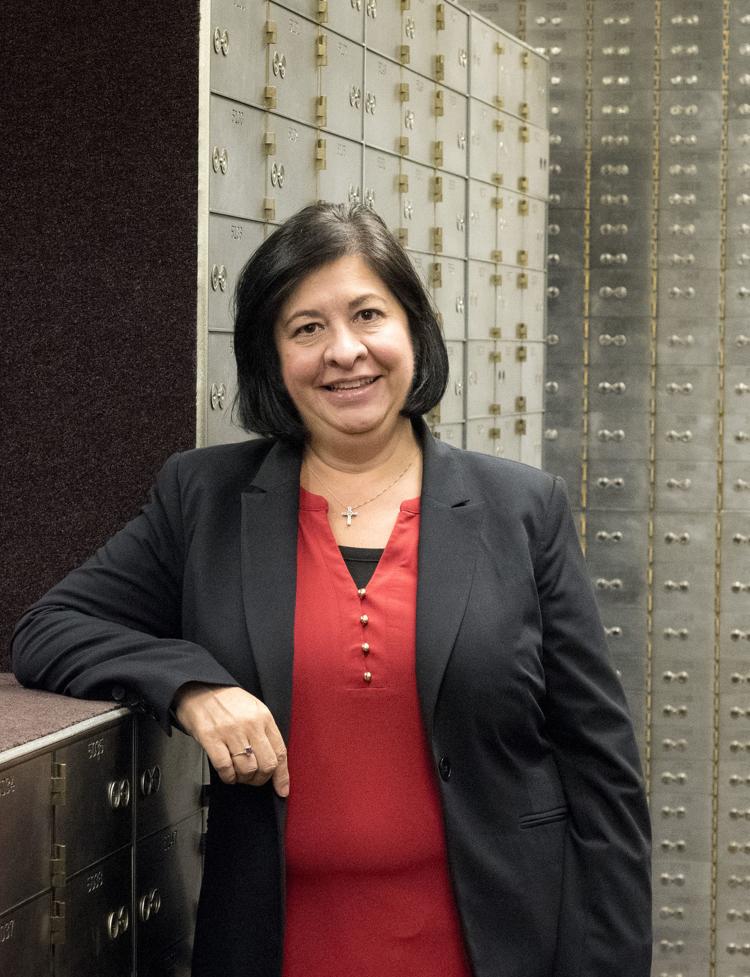 "The boxes have dual control access," Sievers continued. "The customer has a key and the safe deposit clerk also maintains a key. It (the box) is entered under dual control with both keys."
After gaining possession of the box in that scenario, the customer is granted time in a separate private room to go over its contents.
"The customer gets two keys and no one has access to or can replicate those keys," Sievers said.
What happens if a customer loses a key to their safe deposit box? The box must be re-drilled for a new key at the renter's expense as there are no other copies of the customer's key. Law prohibits the bank from keeping a key for both locks. If the renter's keys are lost, a locksmith must drill out the renter's locks (at his/her expense).
Boxes come in different sizes, ranging from 5 inches by 3 inches to 20.5 inches by 21.5 inches. All boxes are 22 inches in length. They must have a fireproof rating and can be accessed during business hours.
Security National Bank's safe deposit box vault in the basement is adjacent to a basement meeting room and a kitchen/lunchroom area employees affectionately refer to as the Vault Cafe.
Upstairs, the vault contains money, mostly, as employee Sonya Krosch works each day to move coinage through counting machines on one side of the vault, bills on the other side. Krosch handles transactions for branches served by Security National Bank. Her work area, which, like the basement vault, is highly secure, is a favorite stop for children on school field trips.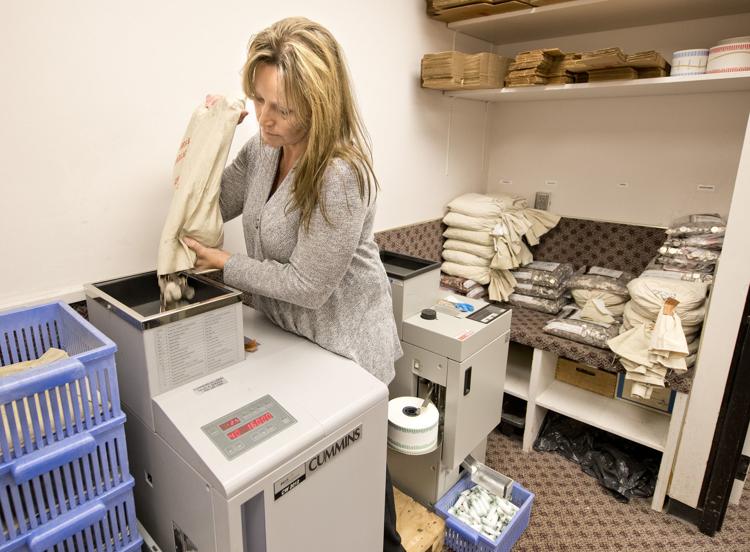 Krosch, who lifts 72-pound boxes of change on a regular basis, smiled while noting how she must remind elementary school children to place their hands at their sides while peeking into the upstairs vault at the bank.
"We host a number of school field trips and advise young students on the steps they'll need to take to save for college," Sievers said.