SIOUX CITY | There are days in which Darrell Langley doesn't know if he's coming or going.
"Let's see, I'm at Perry Creek Elementary School three days a week, Riverside one-and-a-half-days and Clark for the remaining day," he said, counting on his fingers. "That adds up to five days, right?"
If Langley seems a bit frenetic, it's simply because he is a traveling elementary school counselor with the Sioux City Community School District.
"I began my career as a teacher before becoming a counselor," he explained. "Then, I became an assistant principal and a principal before becoming a counselor for three elementaries."
"I counsel around 1,100 kids and I love every minute of it," Langley said with a smile.
Like Langley, Gail Haight taught before becoming a counselor.
"I was a special education teacher for 10 years before becoming an elementary school counselor," she said. "I've been a counselor at East Middle for the past 15 years."
"They used to say that the smaller the child, the smaller the problem," Haight said, outside her office door. "That's not always the case."
During her 42-year career in education, North High School counselor Audrey Netley said she became interested in counseling after securing one of first teaching jobs.
"At one time, I was a high school drivers ed teacher," she said. "That was actually good training because kids really open up in close quarters."
Since then, Netley has been informing students that the choices they make in high school can influence their entire lives.
"When I began counseling at North High School, the big thing was about bullying," she noted. "Nowadays, it's all about cyber-bullying and that's even worse."
Darrell Langley was busy conducting a special seminar at the the Sioux City Community School District's 2017-18 school year.
"I'm teaching school bus driver and lunch personnel about signs they should be on the lookout for regarding children in trouble," he said. "Everybody needs to be on the same page and speak a common language when it comes to the kids."
This is especially important for Langley since he's counseling so many elementary school students.
"It's usually teachers and parents who alert to possible problems," he said. "But other support staff may see another side of a student."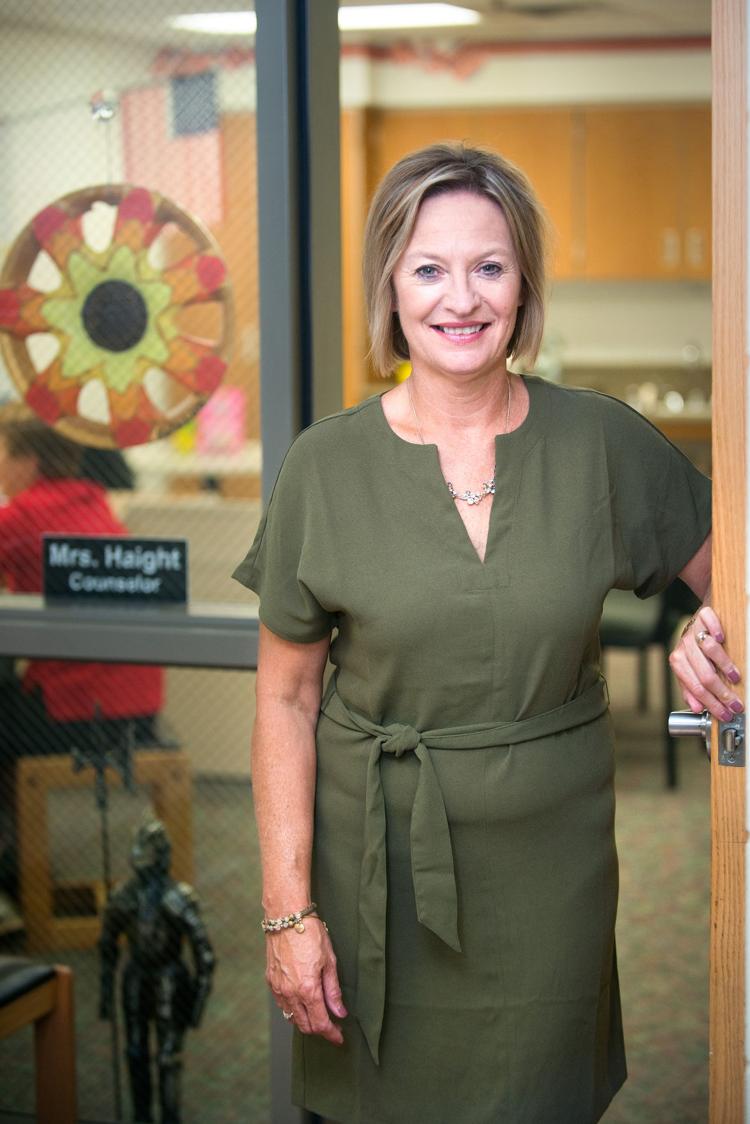 While Langley is acclimating a young child to the rigors of education, he's also preparing that child for the future.
By the time elementary school students graduate to the middle school, they should be ready for tougher classes and more responsibilities.
Or at least that's the goal, according to East Middle School's Haight.
"I'll never discount that change is scary," she said. "In middle schools, you'll have multiple teachers, lockers with locks and lunches with a lot of strange kids," she said. "Those things can be daunting when you're trying to fit in."
SOME LIGHT IN THE SHADOWS 
Haight said one of the best things about middle school is that counselors shadow the same students from sixth to eighth grade.
You have free articles remaining.
"That's really important because I get to see the kids and chart their progress," she explained. "A child can be an entirely different person on his first day of middle school and his last day."
For instance, middle-schoolers are given more independence to explore interests like sports, music and hobbies. Still, they also need to hone up on their time management skills while satisfying their academic goals.
In other words, kids are being prepared to become high school kids.
"It may sound overly dramatic but the decisions as a high school freshman can impact everything after that," said North High School's Netley.
EDUCATION AS AN EQUALIZER
Netley said education is a way out for some students and an equalizer for others.
"You have to start thinking about your post-high school life while you're 14 or 15 years old," she said. "You need to make sure your grades are where they should be and that you're saving money."
Having said that, Netley is aware there are more temptations than ever for students.
"Technology is wonderful because it gives everyone access to a world of information at our fingertips," she allowed. "Still, kids do not realize that there is a very steep learning curve when it comes the Internet."
This is why Netley and her fellow school counselors spend considerable time on hit button topic like cyber-bullying and, even, sexting.
"The Internet is forever," she said. "So don't put anything online that you'd have to worry that a prospective college, employer or family member will see."
Despite that, Netley admitted it takes a village to raise a child.
"I know it may sound simple," she said. "It's also true."
BUILDING A SUCCESSFUL TEAM
Netley said she wouldn't be an effective high school counselor without input from teachers, administrators, support staff and the families of students
"They're with the students more than the counselors," she said. "They're more likely to see a change in a student's demeanor than we are." 
Sometimes, a counselor is able to discuss an issue with a child. Sometimes, outside help might be recommended.
"We may know of resources that can be helpful for parents," Netley said. 
In addition, parent scan stay current by utilizing online tools like the Sioux City Community School's Infinite Campus.
"This allows parents to chart test grades, homework assignments and, even, absences," Netley said. "It's a great tool to have because it keeps parents in the know."
Haight nodded her head in agreement.
"Infinite Campus can prevent a small problem from becoming a big one," she suggested. 
Langley knows even small students can have big problems.
He knows it's a counselor job to to help make the scholastic experience a positive one.
"We're here for the whole child," Langley said. "We're giving them the confidence that will serve them for the rest of their lives."