STORM LAKE, Iowa -- Joe Kelly, lead copywriter and marketing consultant for Kaleidoscope Marketing & Design, has a flair for the visual and for words.
His merging of the two led to this description: "Bought the house in November of 2012, and it was move-in ready. Promptly gutted it...just to add the challenge of getting it livable in 30 days, which I didn't."
This is the story of Kelly's home in Storm Lake, how it's been gutted and redesigned, and how he worked with Kathy Sorbe, owner and lead designer of The Elements in Storm Lake and Ankeny, to get his residence just so, creepy mannequin and all.
The home was built in 1950, Kelly noted, and featured a floor-plan typical of that era: Three bedrooms, 2.5 baths and a large family room in the basement. A second garage was added to the front of the existing garage in the 1990s. Nearly a decade ago, the owners constructed a two-story addition on the back of the home and added a walk-out basement, creating a master suite on the upper level with a second-story deck. The room under the master remained unfinished until 2017, when Kelly finished it for his home office.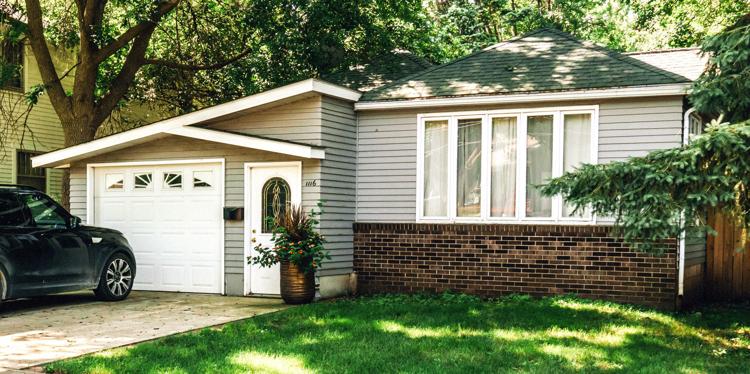 Last December, Kelly had Ross Parcel Landscapes, which also does contracting and construction work in the winter, frame, drywall and install the fireplace. The concrete floor was left bare and sealed. Zone Home Entertainment in Storm Lake wired the space for communication.
"The designers opted to leave the duct work exposed and add a linear fireplace," Kelly wrote. "I really gravitate toward mid-century modern styling, so that's the sort of style they approached for the office. The desk is an 8-foot dining table; simple top with a stylized base. The furniture is covered in white, faux ostrich skin...again, very mid-century. Dan Lullman from Albert City (Iowa) created the floating credenza, wired and designed to hide and minimize technology like routers and printers."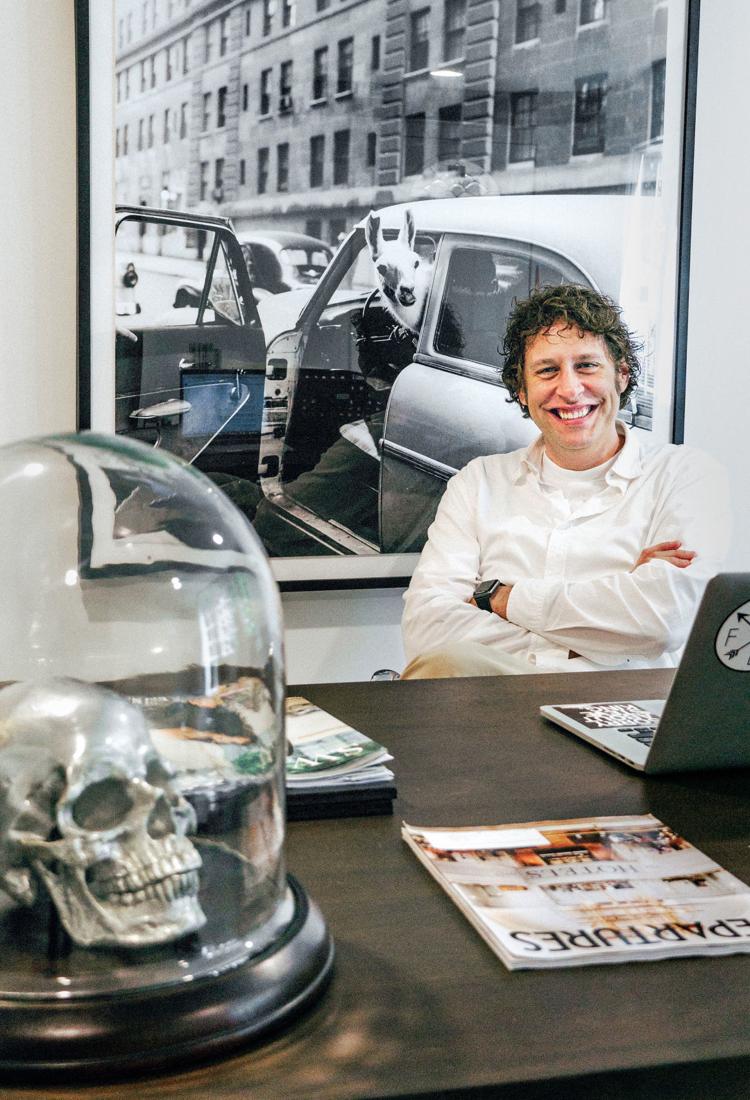 Kelly, who partners with Sara Casey at Kaleidoscope Marketing, said the agency strives to be paperless, so he deliberately limited paper storage. There are no file cabinets as everything they do is digitally archived.
Backing up, Kelly shared an anecdote about how the best-laid plans sometimes go asunder. The custom vanity he sought wouldn't make the corner into the bathroom, so it had to enter through the window. The night before he swapped out old vanity for new, Storm Lake received 10 inches of snow, which made the move impossible for weeks.
"I had already torn out the (perfectly good) vanity, so I brushed my teeth for most of the 2012-13 winter in the kitchen," he wrote.
Kelly had all the carpet in the home stripped and added an engineered wood throughout the main level. The double vanity in the bathroom went out, traded for a custom-built piece topped with vessel sinks. Designers, he noted, chose an interesting material -- wood -- for the top. A low-gloss polyurethane protects the material from water.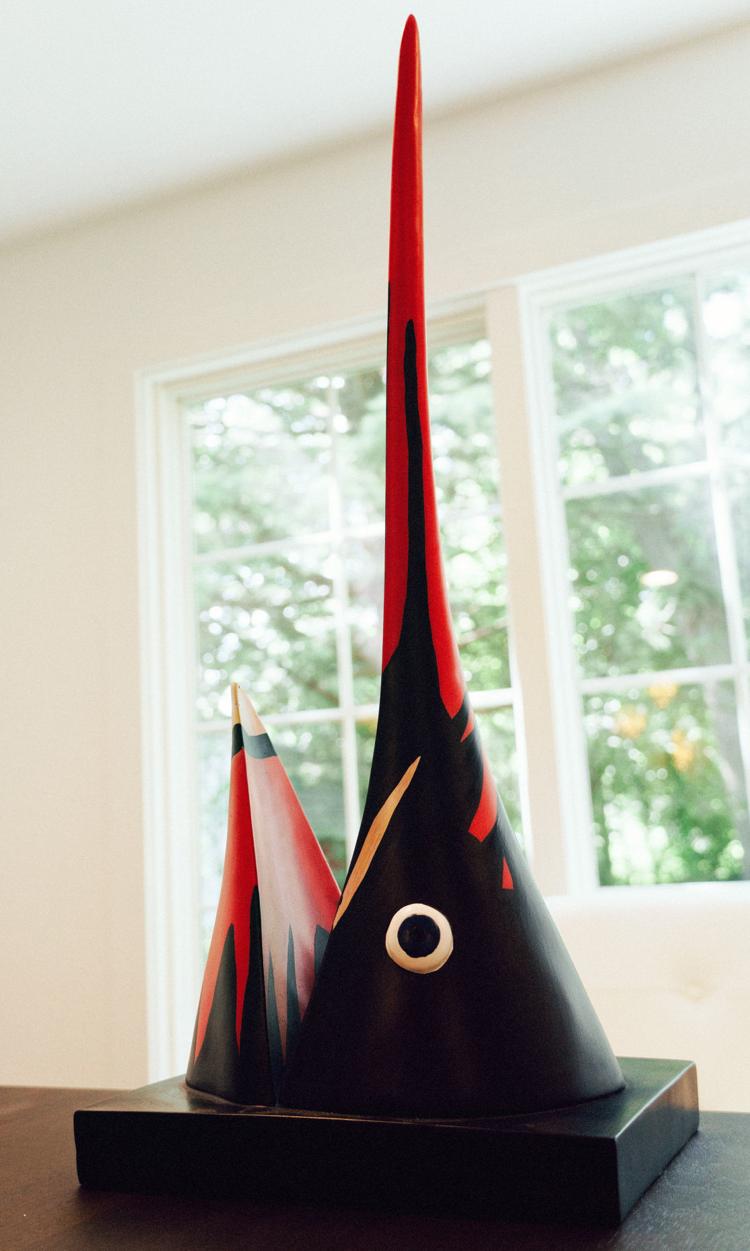 "I don't like a lot of stuff around," Kelly commented, adding that he has accumulated several interesting pieces through the years, pieces that The Elements' designers have contained with a custom shelf unit they designed.
"Joe's a world traveler, accumulating some really interesting pieces, and appreciates about the biggest extremes in styles that we've encountered," noted Kathy Sorbe, owner and lead designer of The Elements in Storm Lake and Ankeny, Iowa. "We have bones and skulls, religious artifacts, original artwork, antique family photos, taxidermy, books and one creepy mannequin he insisted we use. He truly has an eclectic style and it was so fun to work with these treasures.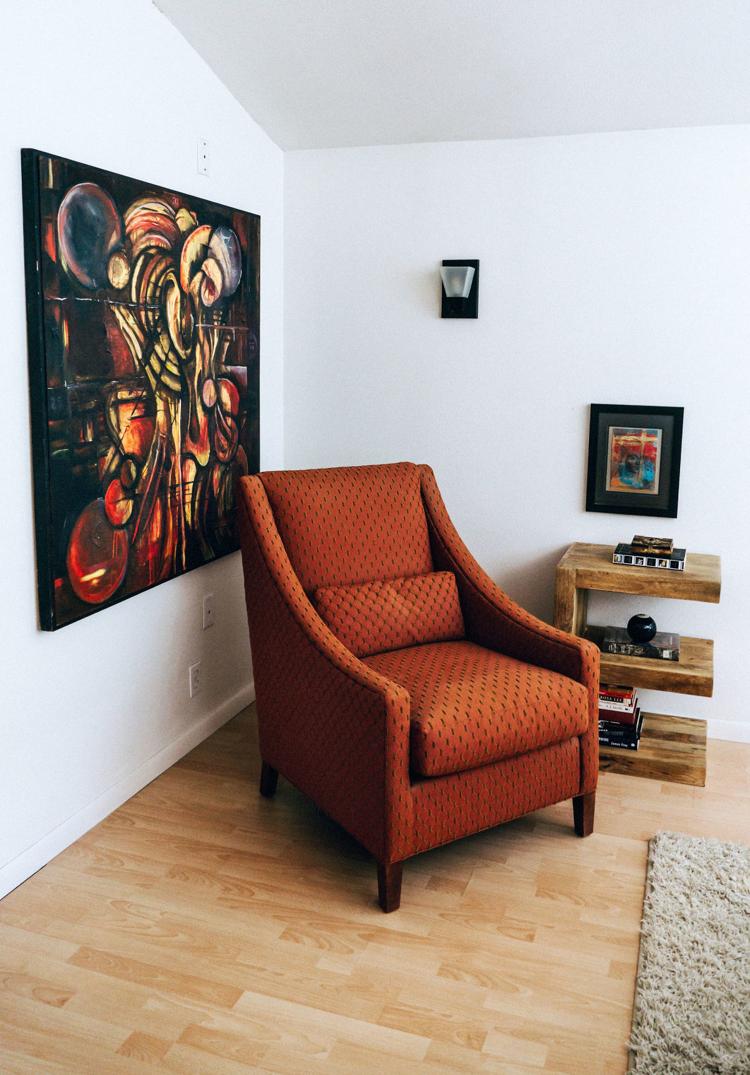 "The key is putting it together in controlled fashion," she added, "which we accomplished with the two shelves we installed."
"There's an argument that any size collection of skulls and skeletons would be considered somewhat large," Kelly explained. "But I find them sort of fascinating, the fundamental framework of everything we do, sort of dark, but very interesting."
As Kelly moves his home toward original artwork exclusively, he's showing several pieces from artist Frank Salazar, of Sioux City, local artist Matt Doebel, and Gail Place and Gary Wilson, both of Des Moines. "Probably my favorite piece is Gail Pace's Buddhist monk; his robes are actually made from a wasp's nest," he wrote.
Sorbe added that even though Kelly had worked with The Elements for years, he was a bit on the nervous side when it came to design. Kelly, she said, voiced definitive opinions of what he wanted and didn't want.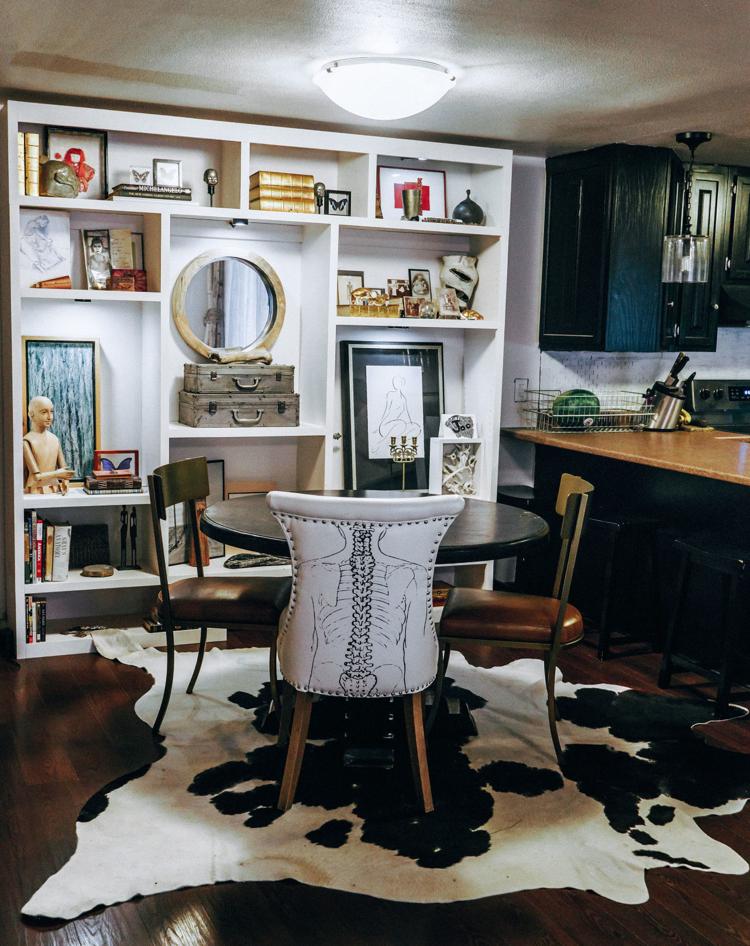 "Joe has a great eye for original art and has a great collection," Sorbe noted. "When we designed the space, we used all his art and added some large, classic photographs. I knew instantly that he'd love the llama, stretching its neck out of a car in Times Square from about 1950."
On other aspects, Sorbe offered this:
"We encouraged him to remove the bank of cabinets between the kitchen and dining area, opening up the entire main floor," Sorbe wrote. "It's a good-sized room, but this really makes it feel bigger."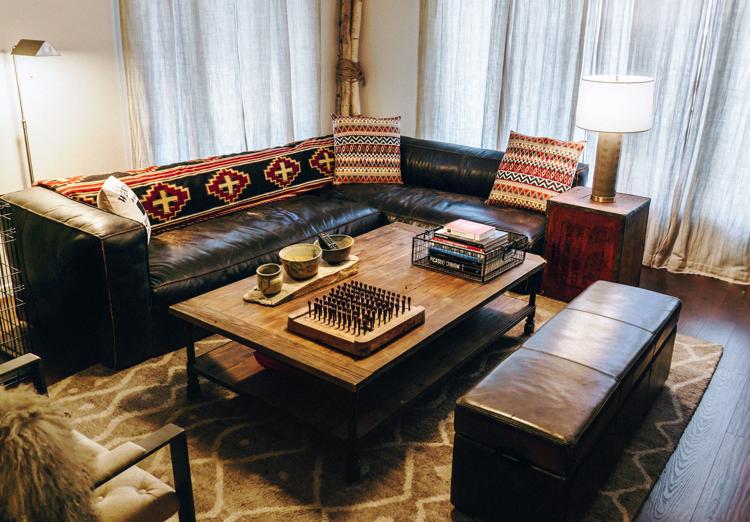 The Elements opted for a leather sectional for Kelly as his great dogs, Hazel and Poe, required that material for durability. "We added a kilim runner rug, which really makes this interesting," Sorbe noted.
Sorbe went on to say that Kelly has worked with West End Architectural Salvage from Des Moines, so The Elements had them build a barn-track door. "It was originally a sacristy door from a church in the Altoona (Iowa) area," she wrote. "They added the copper and antique tin-ceiling detail to the middle, which had been warped by water. The unique entryway to this home allowed us to use this door as a great piece of art.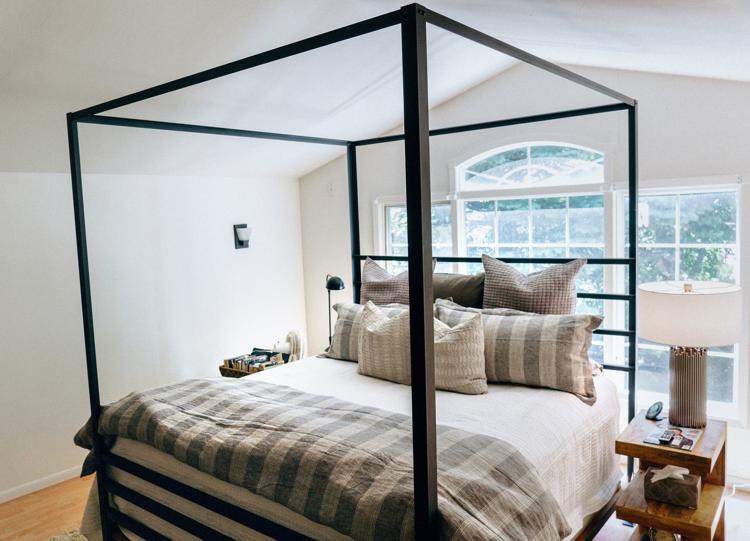 "We designed and built the metal framed bed for a seminar a few years ago," Sorbe continued. "It's 8 feet tall so there aren't a lot of rooms that will accommodate. The high, peaked ceilings in Joe's master were perfect so he bought that bed after the seminar. It's like it was built for that room!"
Sorbe concluded that The Elements designers enjoyed the challenges and spirit Joe Kelly brought to rebuilding and reshaping his home in Storm Lake, skulls and vanities and a wasp's nest and all.