VERMILLION, S.D. | A secret door in the kitchen of Nate and Krista Welch at Vermillion leads to quite a surprise.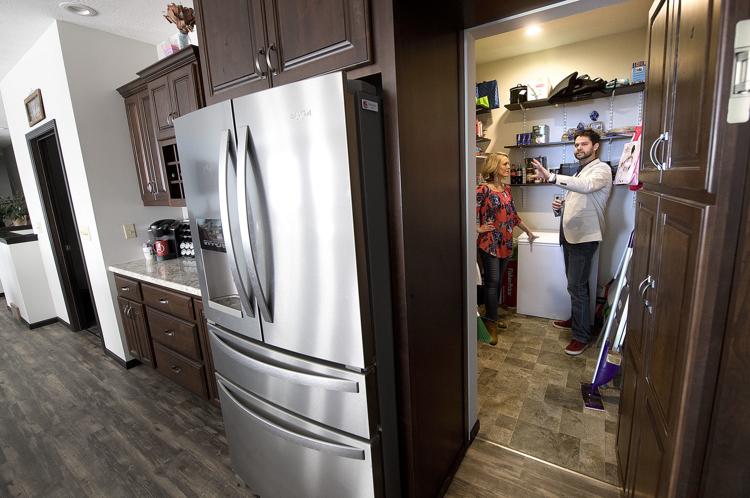 That's right. The portion of a wall that looks to contain several cabinet doors has no cabinets at all. Push the section just slightly and you find yourself standing in a pantry boasting shelves, supplies and more. It's literally tucked inches past the refrigerator/freezer, unseen to the untrained eye.
It's part Scooby-Doo, part Batman. And yet oh-so useful.
"We'd done a parade of homes and saw this secret door idea," Nate Welch said. "I loved that all the materials could be accessible here, rather than being stored in our garage or basement."
Nobody that has visited the Welch home on the west side of Vermillion have known that this section of cabinetry is actually a door. The general contractor for the home even brought his wife to see the home, just to show her this design wrinkle, one that allows the couple to keep clutter from their kitchen.
The area is a hit, of course, with the two older Welch children (ages 8 and 5) and other kids who have a natural "hide-and-seek" spot.
"The cabinet isn't a cabinet, it's a door," Krista Welch said with a laugh, referencing the hidden Bat Cave from "Batman and Robin" superhero lore. "Nate couldn't just put in a bat pole."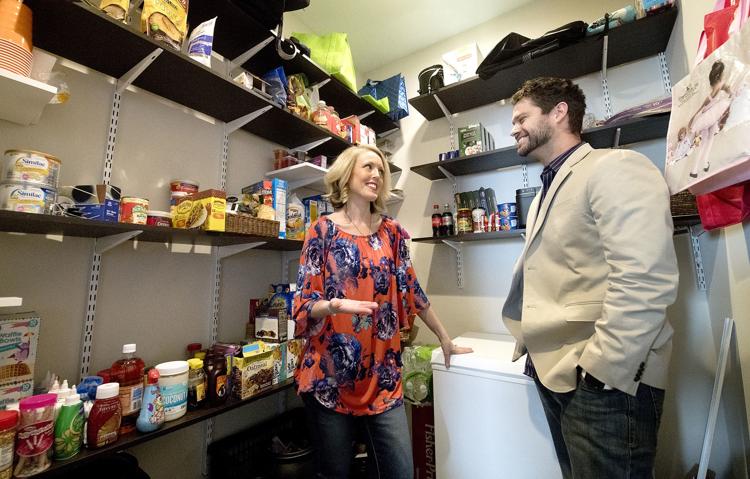 While that's it for the secret compartments portion of the Welch's home at Bliss Pointe, a housing development helping create growth in Vermillion, there are other fun components to a home built by Peterson Construction of Viborg, South Dakota, a home that measures 2,100 square feet on both levels.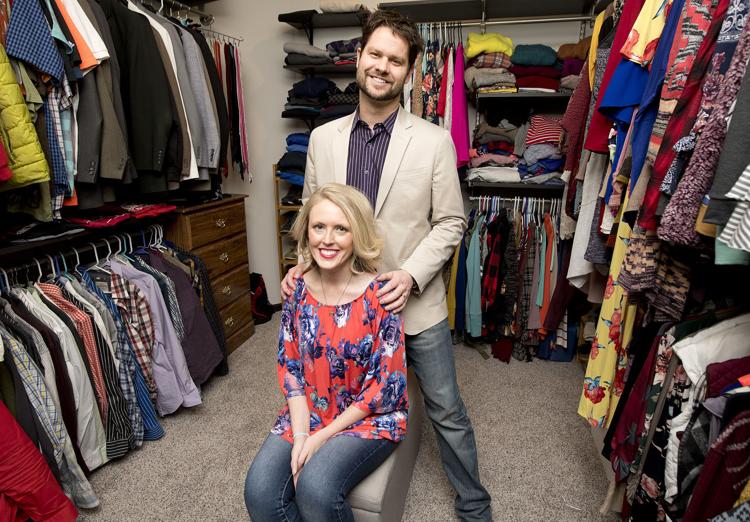 "My favorite room would be the master closet," said Krista, again offering a smile. She walked in and stood, surrounded on all sides by neatly hanging and folded clothing items, ensembles she maybe had trouble keeping track of in their previous residence. "I do some work for a clothing company. Now, I can see what I've got."
Additional fun features include a children's bedroom that the two older Welch children helped design themselves. There's also future plans, or at least the possibility, for a covered porch on the west/southwest side of the home that will allow the family even more access to an incredible vista that stretches out toward the Vermillion River and the Missouri River, which winds its way three miles from this tract.
You have free articles remaining.
"We chose to build here because we always liked this area," Krista said, remembering walks or drives through Bliss Pointe as the neighborhood sprouted. "Even in winter colors, the sunsets are amazing."
The Welches also rave about a garage that has separate doors facing two different directions. One of the doors, when opened, allows the couple to keep an eye on the kids when they're in the adjacent lot playing on playground equipment set in place for the Bliss Pointe neighborhood.
Nate and Krista Welch bought this lot not long after Nate began his employment with the Vermillion Area Chamber & Development Company, at a time when Gov. Dennis Daugaard named Vermillion the state's Community of the Year. A site called CollegeRanker.com has also hailed the home of the University of South Dakota as one of the top 45 college towns to live in forever.
The Welches agree with the assessment.
After purchasing the lot at Bliss Pointe, for example, they sold their home and relocated into an apartment -- with two kids, mind you -- in downtown Vermillion.
"Living downtown as a family was a great experience," said Nate, who disclosed their apartment was above the popular Red's in Vermillion. "We walked and ate downtown. We had great coffee and every Saturday we'd go have breakfast at Cafe Brule. It was fun, something I'd always wanted to do, live in an urban, but small-town setting like Vermillion."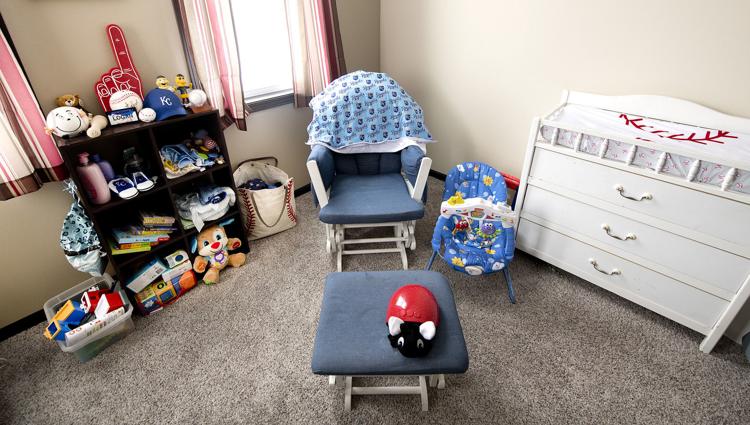 That living arrangement came to a close when the couple, expecting their third child, saw their home completed at Bliss Pointe last September. It took Peterson Contracting less than four months to complete the 3-bedroom structure. The basement, while unfinished at this point (it will be someday), has a workout room to suit the couple's needs.
"The basement eventually will have two bedrooms and a nice, big family space," Nate said.
A "nice, big family space" is what the main floor boasts now, per the couple's wishes. The kitchen blends seamlessly into the dining room, which follows the open-air concept all the way through to the far side of the living room.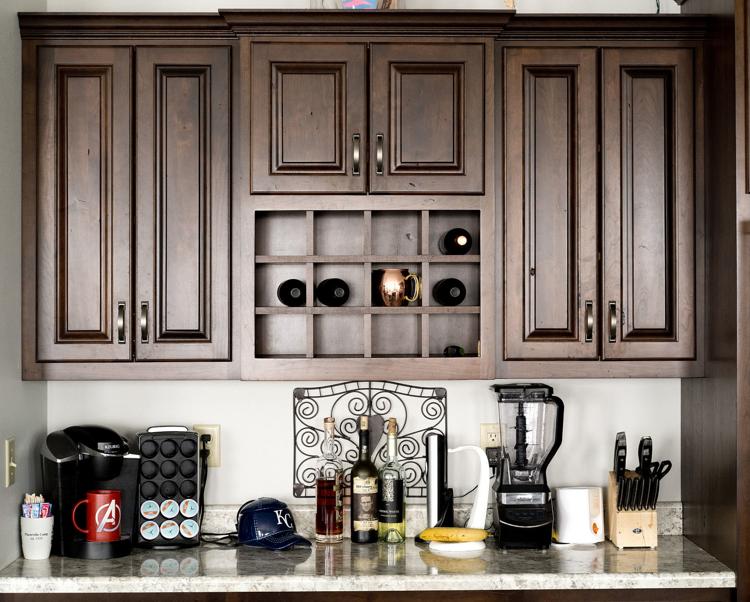 "No. 1, family is our center, our purpose," Nate said. "We wanted an open floor-plan. We didn't want someone stuck in the kitchen while other family members were out in the living room."
The room they saved on bedroom space was devoted to this open space on the main floor.

"Our bedrooms are small," Nate continued, "because we don't spend a ton of time in there. The bulk of our time is out here, in this big room."
A family enjoying the view, the blissfulness, and one another, together, growing in Vermillion, the college-town community they've adopted as their own.