SIOUX CITY — 88 total runs. 22 homers. 75 base hits. A second baseman with 11 RBI.
It has been a spring unlike any other for the Northwestern football team. 
Two bounces, and Morningside freshman Jackson Sitzmann knew that it went in. 
It's baseball season again. 
CEDAR RAPIDS, Iowa - Coe pitchers Zach Kammin and TJ Deaddroff combined to shut out Buena Vista on five hits as the Kohawks opened the teams w…
SIOUX CITY – Drew Kasperbauer's sacrifice fly plated Levi Davidson with the winning run in the bottom of the eighth inning, giving Morningside…
TUCSON, Ariz. | Dillon Branderhorst rapped a three-run double to highlight a seven-run third inning and Dordt went on to post a 14-8 victory o…
TUCSON, Ariz. | Sam Huska was 3-for-5 with two RBIs as Morningside College's baseball rallied for a 5-4 win over Mayville State Monday afternoon.
HAWKINS, Texas | Briar Cliff's baseball team avenged a defeat from the previous day following Sunday's 6-5 victory over Baker, held at Jarvis …
HAWKINS, Texas | Sawyer Olson was 2-for-4 with three RBIs Saturday afternoon as Briar Cliff's baseball team opened the season with an 8-1 win …
O'FALLON, Mo. | Dordt's baseball team is off to a 1-2 start following a tripleheader against Hannibal-La Grange Thursday.
TAHLEQUAH, Okla. | Wayne State's baseball team opened their season by winning two of three games against Northeastern State.
SIOUX CITY -- Turnovers continue to plague the Briar Cliff women's basketball team. Sometimes the Chargers are able to overcome their turnover…
VERMILLION, S.D. – The South Dakota men's basketball team has added 6-foot-4 guard Nathan Robinson to its roster for the 2018-19 season.
SIOUX CITY – A sizeable contingent from Remsen, Iowa, will make the trek to TD Ameritrade Park in Omaha Sunday for the opening round of the Co…
IOWA CITY -- University of Iowa senior Tyler Cropley has been named a second-team Mideast-American Baseball Coaches Association/Rawlings Secon…
SIOUX CITY -- Morningside College's Nathan DeChaine, a senior third baseman from Brainerd, Minn., was named a 2018 NAIA Baseball Honorable Men…
IOWA CITY – Robert Neustrom and Tyler Cropley are all about living their dreams.
IOWA CITY -- University of Iowa senior Tyler Cropley has been named an NCAA Division I second-team All-American by Collegiate Baseball.
SIOUX CITY -- You didn't need to be Isaac Newton to realize the Sioux City Explorers' bullpen couldn't keep dominating the way they had in the…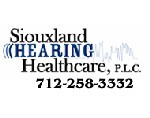 Siouxland Hearing Healthcare P.L.C.
OMAHA -- Four University of Iowa baseball players -- Nick Allgeyer, Tyler Cropley, Robert Neustrom, and Chris Whelan -- were named All-Big Ten…
IOWA CITY – At this point, there is only one guarantee for the Iowa baseball team.
IOWA CITY | Former Sioux City North baseball standout Robert Neustrom hit a two-run single in a five-run second inning as Iowa's baseball comp…
VERMILLION, S.D. | Four University of South Dakota athletic programs – volleyball, softball, women's golf and men's cross country – were recog…
IOWA CITY | Former Sioux City Bishop Heelan High School athlete Tyler Cropley was 2-for-5 with five RBIs Friday while leading the University o…
UPLAND, Ind. | Jordan Hunt's grand slam home run in the bottom of the eighth inning lifted third-seeded Cumberland to an 8-7 win over Northwes…
MACOMB, Ill. | Tyler Cropley was 2-for-4 with two RBIs while helping Iowa's baseball team rally for a 5-4 non-conference win over Western Illi…