ORANGE CITY, Iowa – The remarkable turnaround is complete.
Northwestern scored a run in the bottom of the eighth inning to slip past Midland 2-1 and win the Great Plains Athletic Conference baseball tournament championship here Wednesday.
After finishing 8-20 in the league last season, the Red Raiders won both the GPAC regular season and tournament titles. They now await their opponent in an NAIA Baseball Championship Opening Round, which begins on Monday.
"We knew coming in we had a really good team despite how we finished last year," Northwestern Coach Brian Wede said. "So we just kind of wanted to get back to the basics and do the little things well and these guys have really bought in and done that to a level that has allowed them to be champions."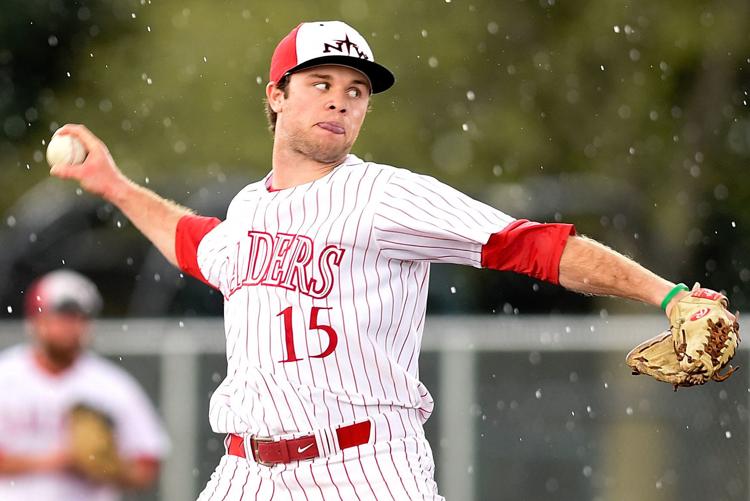 In reality, Wednesday's swiftly played contest (two hours) meant little since both Northwestern (30-18) and Midland (32-20) had clinched Opening Round berths.
You couldn't tell that, though, when the game concluded and Red Raider players rushed to the pitcher's mound for the traditional "dog pile."
"It was fun, we were all out here doing what we do, just keep playing and put the ball in play," senior second baseman Matt Martin said. "We wanted to win this one in a big way. Hats off to Midland, they played great. We were just out here playing baseball and that's what it's all about."
Martin's two-out single in the bottom of the eighth plated Christian Stekl with the go-ahead run. Then it was up to Mitchell Kresnik, who closed out his sixth complete game of the season.
Stekl allowed a two-out infield hit, but retired Billy Brand on a fly ball to right field for the final out. Kresnik has had his own bounce back season, fashioning a 7-2 record after not pitching at all last season.
Kresnik spaced six hits, struck out three and walked three. He even had to sit out a short rain delay as a shower rolled through the area in the top of the seventh inning.
"It feels awesome, one thing about this team is we love each other so much," said Kresnik, a senior righthander from Omaha. "I rely on my defense a lot, they make plays for me all the time. Our community is really strong behind us, too, and that's the biggest difference between this year and last."
Midland, which brought an 11-game win streak into the game, scored an unearned run in the top of the first inning, but got nothing else. The Warriors had major threats in the sixth and eighth, only to come up empty.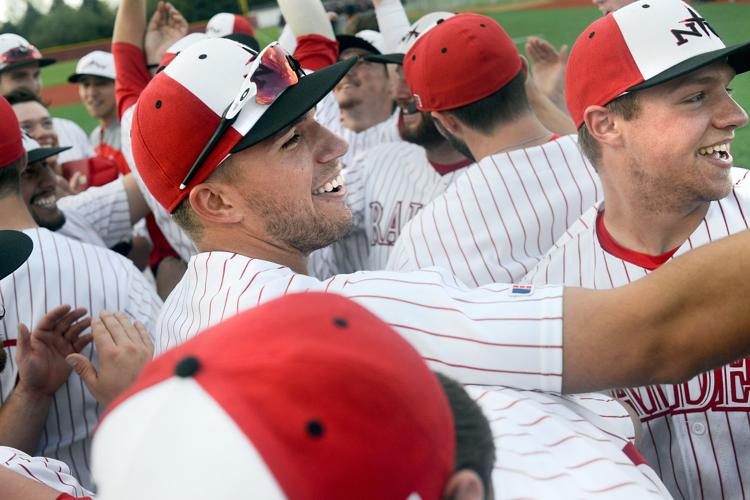 Kresnik walked Nolan Luzzi to start the game before first baseman Michael Callahan misplayed a ground ball, putting runners at first and third. Luzzi scored the first run on a ground out by Matt Abdelnour.
The Warriors had runners on first and second with one out in the sixth, but Kresnik retired the next two hitters on a fly out and grounder back to the mound. Then, in the eighth, he gave up back-to-back hits with one out before Abdelnour – the cleanup hitter – hit a grounder to third baseman Ben DeBoer, who stepped on the bag and fired to first for a double play.
Northwestern drew even in the bottom of the sixth. Lawton-Bronson High School product A.J. Nitzschke led off with a triple to the gap in right-center and eventually came home on an RBI ground out by Callahan.
Torrey Escamilla replaced starter Daylon Owens after the rain delay and after an uneventful seventh, walked Reed Smith to start the bottom of the eighth.
Smith was forced out at second on a grounder back to the mound, but Billy Brand, who replaced Escamilla, hit Callahan with a pitch, setting the table for Martin, who hit a sharp single into right field, plating Christian Stekl.
Pinch-runner Britton Yoder also tried to score on the play after the throw from right field wound up close to the Northwestern dugout, but he was retired at the plate on an impressive hustle play by Midland catcher Andrew Brooks, who threw to Brand for the putout.
"I saw a fastball inside so I just turned on it and put my best swing on it," Martin said. "You put the ball in play and good things happen."
Northwestern won its third GPAC tournament title and swept both championships for the second time, the other coming in 2013. Midland was the defending tournament champion and has won has played for the postseason title each of the last six seasons.