KANSAS CITY, Kan. -- Will this finally be the year for the Sioux City Explorers to win their first league championship?
The answer to that question begins unfolding here Tuesday night at CommunityAmerica Ballpark, where the Kansas City T-Bones host the first two games of a best-of-five American Association semifinal playoff series.
"It's a race to six,'' said Explorers Manager Steve Montgomery, referring to the six wins necessary to win both this series and next week's best-of-five finals. "The first team to get six wins it all. It would definitely be special.''
The fifth-year Sioux City skipper has delivered playoff teams three times in the last four years for a franchise that had postseason appearances in just four of its previous 22 seasons.
This is the second of Montgomery's teams to get here with the league's best regular season record. And, his most fervent wish is to orchestrate a better result than the fate that befell a record-setting 2015 team.
That juggernaut of three years ago posted a remarkable 75-25 record, the best percentage ever for any independent professional baseball league playing at least an 80-game schedule. After winning in four games over a St. Paul team right behind them at 74-26, the X's were shocked in the finals by the Laredo Lemurs, winning a wild card that is no longer part of the playoff structure.
Other than a 73-27 Wichita team from 2014, this year's X's became the only other team in the 13-year history of the league to reach 70 wins, winding up 71-29 after a meaningless 4-1 loss Monday afternoon in Wichita.
Nearest to Sioux City's South Division champions was Kansas City, the South runner-up, all of 8.5 games behind the X's with a 62-37 record. Nonetheless, this has been all but a coin flip the whole season long for two teams that faced one another more times -- 15 in all -- than any other team in the league.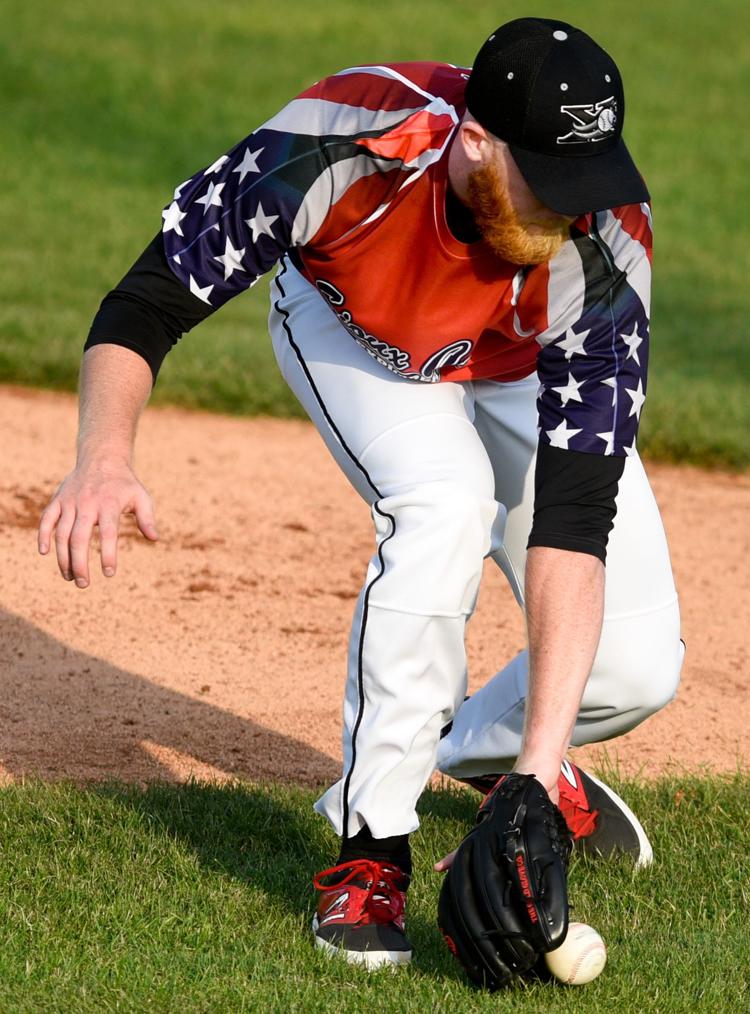 The Explorers hold a slender 8-7 edge and have outscored the T-Bones by a mere two runs, 96 to 94, in a rivalry that has seen seven of the 15 encounters decided by a single run.
"They're a hard matchup,'' said Montgomery. "They can switch you around. I think they have five switch-hitters. What they do is they can really opposite hand you.''
Sioux City righthander James Dykstra, 9-4 with a 3.49 ERA, will get the ball for Game 1 at 7:05 p.m. He's 2-0 against the T-Bones this season and his team has won all three of his starts between the two heavy hitting rivals.
Montgomery expects Kansas City to counter with its ace, Tommy Collier, who is 12-3 with a 3.11 ERA and a league-leading 140 strikeouts in 133 innings.
"Collier is, in my opinion, the pitcher of the year in our league,'' said Montgomery, unaware that Wichita's Tyler Banwart was awarded that honor later on Monday. "He's a very confident kid on the mound and he's only gotten better.''
Collier has pitched twice against the Explorers, turning in a pitching gem Aug. 11 at Lewis and Clark Park, where the guests squeezed out a 2-1 win. He went eight innings, allowing just four hits and one run.
Collier's other start against the X's was a June 13 home game in which he allowed six runs in six innings of a 9-8 loss. He has gone 12-0 in 15 starts since that contest and the T-Bones have won them all.
These were the top two offenses in the league this season with Sioux City hitting .306 and Kansas City next at .296. The Explorers, though, were also first in pitching (3.40 ERA) while the T-Bones ranked sixth (4.12). The division champs have scored a league-high 629 runs while Kansas City ranks a distant second with 563.
Montgomery notes, "We made a concerted effort in the offseason, Bobby (Post, pitching coach) and myself building this, that we were not going to do what we did last year, which was finish almost at the bottom (of the league) in pitching. We were going to sign the best arms we could sign.''
One of those pitchers was major league veteran Taylor Jordan, who was signed in early August by a team from Taiwan's well-funded professional league. Jordan went 10-2 with a 3.29 ERA, but Montgomery and Post quickly plugged his spot in the rotation with former Baltimore Orioles reliever Jason Garcia, who is 3-0 with a 1.57 ERA in three starts.
Rookie righthander Justin Vernia, who will start Game 3 on Friday at Lewis and Clark Park, is tied with Collier for the league lead in wins with a 12-2 record and a 3.32 ERA. The starting options also include Luis Mateo, who is 11-5 after pitching seven shutout innings on Sunday, and lefthander Ian McKinney, a hard-luck 2-2 in nine late-season starts, posting a solid 3.19 ERA.
Then there's the bullpen, which has performed superbly for much of the season. Montgomery has five relievers who have piled up 287 strikeouts in 213 combined innings, a remarkable 12.1 per nine innings. Rookie Ryan Flores has been the workhorse in that group with 70 strikeouts in 61.2 innings. Meanwhile, Parker Markel has fanned 62 in 41.1 frames and closer Eric Karch 61 in 43.2. Also, lefthanders Patrick Schuster, a major league veteran, and Ryan Horstman each have 47 strikeouts in 33 and 32.1 innings, respectively.
A lineup with seven players who have totaled 100 or more hits in a 100-game season is led by veteran shortstop Nate Samson, the league's 2016 player of the year and a likely choice to win that award again. Unofficially, Samson won the Association batting title Monday, winding up at .339, one point ahead of Wichita's Logan Watkins. His 141 hits on the season were three more than the club record he set two years ago.
Joining Samson on the league's all-star team announced Monday were rightfielder Michael Lang, the X's all-time hits leader, and Jose Sermo, the first Explorer to total 20 home runs (he has 22) and 20 stolen bases (24). Sermo is the only player in Association history to have 20 homers, 20 stolen bases and 20 doubles (23).
"It's time for the players to step up,'' said the manager known by his players and staff as "Mongo." "The postseason, there's always somebody that steps up. It's always someone you never expect.''
"This is a reward and it's a reward for what you were able to accomplish during the regular season. Go out and enjoy it. You've gotta like competition is you're in this business. Let's have fun.''
Get the latest baseball news delivered to you!
Sign up to receive professional baseball news in your inbox every week.