SIOUX CITY | The slumping Morningside College women's basketball team has had trouble putting the ball in the hoop lately, which has contributed heavily to three straight losses and four in the last five games.
The shooting woes continued Wednesday at Allee Gym, but the Mustangs still found a way to escape with a 66-59 Great Plains Athletic Conference win over Dordt.
At the halfway point of the GPAC schedule, Morningside, ranked No. 12 in NAIA Division II, is 14-6 overall and 7-3 in the league.
"We couldn't make a perimeter shot and it's kind of been three or four games now that we haven't shot it well," Morningside Coach Jamie Sale said. "I'm proud that we played pretty hard on defense. Sometimes when you don't shoot well your defense suffers because you lose your intensity but I thought we maintained that.
"We just have to get past this. We've had three or four games now where we just can't hit shots. We just have to have some success so we can start feeling some confidence again."
Morningside took 32 more shots (82-51) than Dordt, but shot just 29 percent from the field. The Defenders (8-11, 3-7) were a bit better, making 39 percent, but gave up 27 offensive rebounds and turned the ball over 26 times.
Dordt fought back from a 20-8 deficit near the end of the first quarter to trim it to 31-23 at halftime when both teams shot 29 percent from the floor. It was 44-38 heading into the fourth quarter, but the Defenders erased that deficit and briefly took the lead.
Payton Harmsen made her only basket of the game, a 3-pointer with 2:54 remaining, giving the Defenders a 57-56 advantage, their first lead since the opening basket of the game.
You have free articles remaining.
It was a short-lived lead, however, as Morningside's Madison Braun splashed a 3 and after a missed 3-pointer by Dordt, Sierra Mitchel converted two free throws, making it 61-57.
Dordt scored only one more basket before the game ended, a hoop by Erika Feenstra with 26 seconds remaining. Rachelle Housh came through with a big play late, snagging a rebound off a missed free throw and scoring, converting a conventional 3-point play with 13 seconds left for the game's final points.
Braun had 19 points for the Mustangs, while Housh and Sydney Hupp added 10 points apiece. Hupp posted a double-double with 11 rebounds as the Mustangs held a 50-43 advantage on the boards. Morningside, though, was a chilly 9-for-41 from beyond the arc.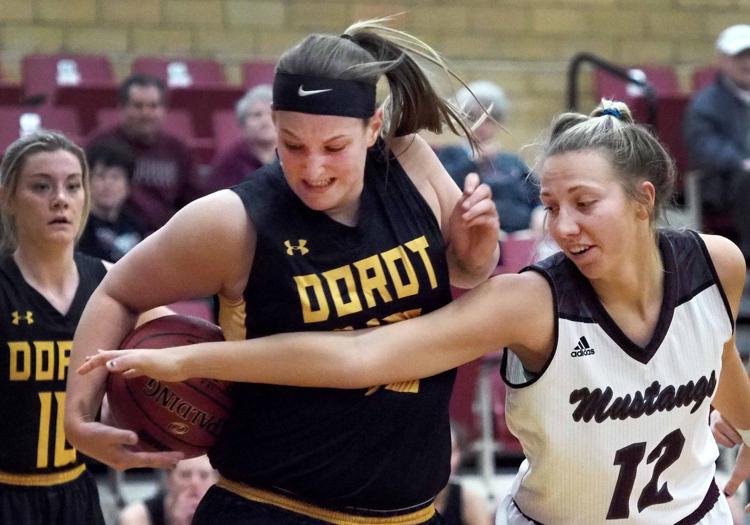 Rachel Evavold had a double-double for Dordt with 16 points and 14 rebounds. Feenstra, a freshman from Hull Western Christian, chipped in 14 points.
"I just told them you have to come into the gym and hit some shots in practice," Sale said. "Once you start seeing them go in again you'll start feeling a little confidence and start making them. Obviously we're going to have to shoot better than that if we're going to win a lot again."
The Mustangs had dropped consecutive games to Jamestown, Dakota Wesleyan and Concordia, each of which is ranked in the national top 10. Five of the six setbacks, in fact, are to top 10 squads.