SIOUX CITY | Basketball of course, is a game of runs and lead changes.
Trailing by double digits during parts of the second half, the sixth-ranked Morningside men's basketball team went on a 19-5 tear in the game's final six minutes, 53 seconds while posting an 80-76 come-from-behind victory over No. 11 Northwestern in the title game of the Great Plains Athletic Conference Tournament Tuesday night at Rosen-Verdoorn Sports Center.
Tyler Borchers scored nine points in the game's decisive run as Coach Jim Sykes' squad battled from a 71-60 deficit, one of several double-digit deficits Morningside faced since late in the first half. The league's regular-season leader in field goal percentage (67.7), the 6-foot-7 sophomore from Le Mars burst inside for a basket with 1:58 left for a 77-76 lead.
It was the first time Morningside (26-6) had led since taking a 17-12 advantage as part of a 9-0 run early in the first half. Borchers finished with 24 points and 16 rebounds for the Mustangs, which for the first time in school history, won both the league's regular season and tournament championship.
"We were down most of the game, but we persevered and really picked up our defense towards the end of the game," said Borchers, who was joined in double-digit scoring by teammates Alex Borchers and Brody Egger, who provided 15 and 14 points, respectively, for a team that now has its sights set on next week's NAIA Division II National Championships at Sioux Falls.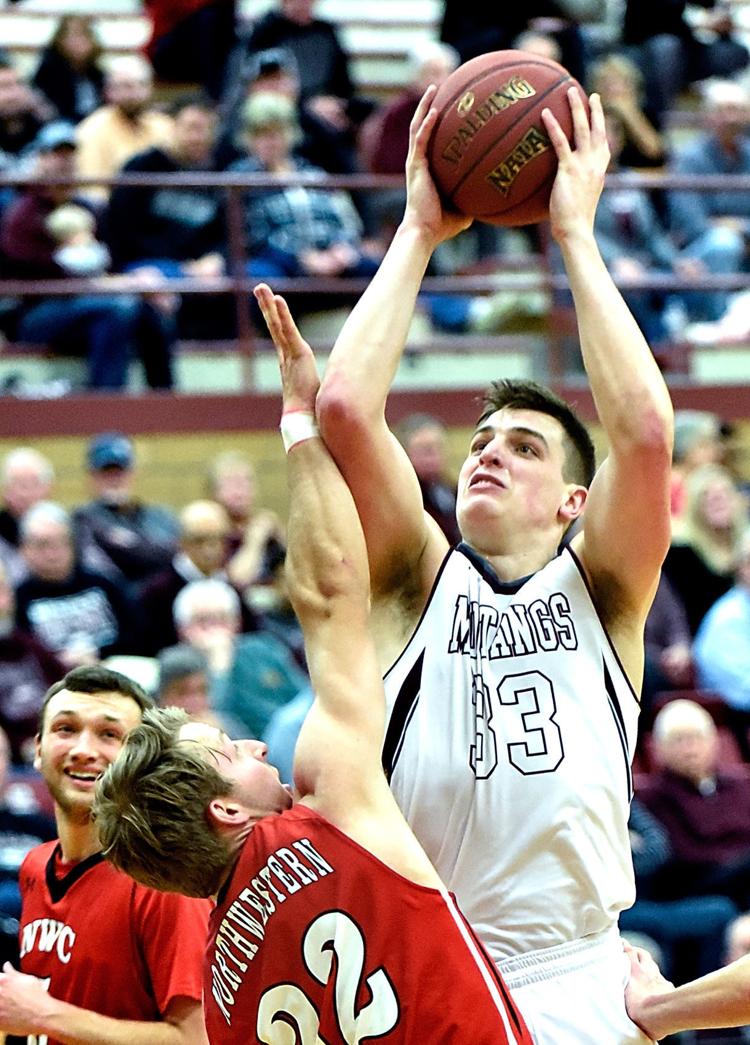 "Much credit to (Northwestern). That's a great basketball team and I'm sure they'll do well in the tournament too. We just played really well at the end of the game. We really picked up the defense in the second half, got into them and took away their easy shots and forced them to be uncomfortable."
Sykes, who has five regular-season GPAC titles, guided Morningside to its third league tournament title. Defense was key for his squad, which held Northwestern (25-5) scoreless in the game's final 3 ½ minutes.
Riley Francis' 14 points for Coach Kris Korver's Red Raiders concluded on a pair of free throws with 3:59 left for a 76-70 lead. Colton Kooima tallied 23 for Northwestern (which automatically qualifies for the NAIA Division II Nationals as the GPAC Tournament runner-up), but concluded his offense on his fourth 3-pointer of the game for a 74-68 lead with 4:34 left.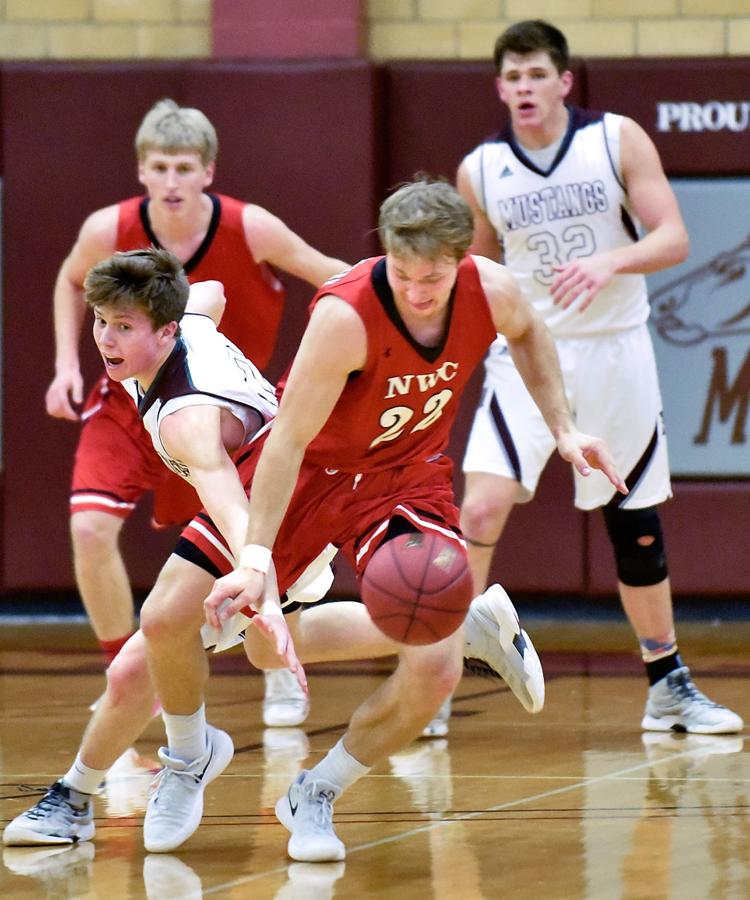 "This reminded me a lot of the game up there where we didn't shoot the ball well," said Sykes. "(Northwestern) was physical and we didn't attack the way we needed to. We talked about it at halftime and our guys responded.
"We switched to a zone and I think that bothered them a little bit. Their shots weren't falling. I don't know if it was our defense or the shots weren't falling for them. They were falling earlier because they got some good looks. But we got it done. Once we took the lead and got the momentum and our crowd back into it, this is a pretty magical place."
Tyler Borchers grabbed three key defensive boards following his eventual game-winning basket. Eggers' shot in the lane with 18 seconds left produced a 79-76 lead and Matthew Hahn's free throw with five seconds remaining rounded off the scoring.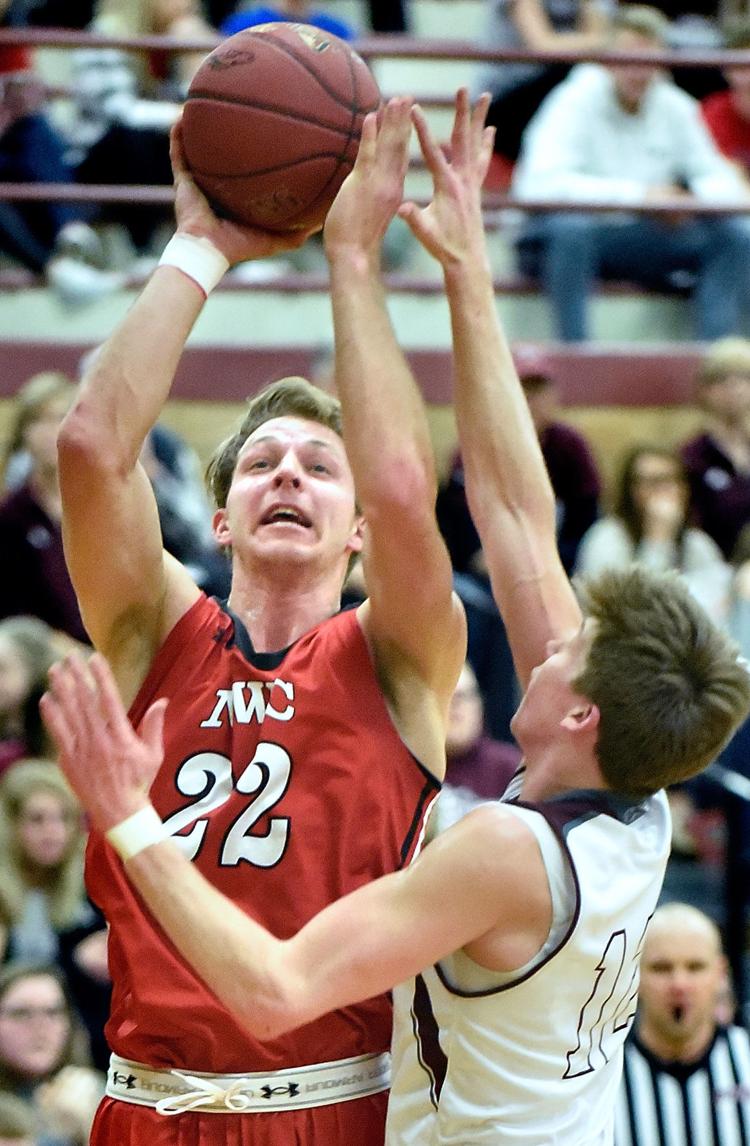 Facing its biggest deficit of the game when it trailed 17-12, Northwestern responded by scoring the game's next 10 points. Consecutive treys 45 seconds apart from GPAC regular-season scoring champion Nathan Wedel (21.5 ppg) and Riley Francis were good for a 22-17 lead.
From there, the Red Raiders never trailed until Borchers' game-winning basket. Wedel's 3-point effort at the buzzer failed and Morningside improved its homecourt record to 14-0.
"We let them crawl back in it," said Kooima. "They went into a 3-2 zone and the last three minutes they box-and-oned me. I don't know, we were kind of out of sorts, we made a couple of bad shots and that got them going. They threw it to Borchers and he got a bunch of easy baskets.
"(Korver) told us our season isn't over. We have to go to Sioux Falls yet. We have the national tournament coming up. Whatever happened tonight doesn't stop us from making a run in Sioux Falls."