SIOUX CITY – Northwestern became the fourth No. 1 seed to advance through the first round of the NAIA Division II Women's Basketball Championship, pulling away in the fourth quarter to outscore Olivet Nazarene (Ill.) 93-80 on Thursday.
The fourth-ranked Red Raiders had five players reach double figures and advanced to the second round at 7 p.m. Friday at the Tyson Events Center.
Northwestern (27-4) joined fellow Great Plains Athletic Conference squads Concordia and Dakota Wesleyan, along with Southeastern (Fla.) as No. 1 seeds moving on.
"It's a unique preparation because you have lots of time and you want to make sure you're preparing yourselves well, you want to have an idea of your opponent, especially in this case in how they play," Northwestern coach Chris Yaw said. "I thought our ladies did a good job. We tried to balance how much time we put in, what we focused on. They did a good job handling this week up to this point. Sometimes it's hard to wait until Thursday afternoon to play, you get a little antsy. I thought we had good focus and weren't too hyped up."
Olivet Nazarene, somewhat of a surprise qualifier although it was making its eighth appearance here, gave the Red Raiders all they wanted, especially through the first three quarters.
Northwestern's experience, though, showed in the final 10 minutes when it pulled away.
All-American Kassidy De Jong (18 points, 10 rebounds) and Darbi Gustafson (14,11) each recorded double-doubles. Anna Kiel just missed, turning in a superb performance off the bench with 18 points and eight rebounds.
Sammy Blum contributed 15 points and eight assists, while Taylor VanderVelde registered 11 points in a reserve role. Northwestern shot 55 percent for the game and held a substantial 46-28 rebound advantage.
Still, unheralded Olivet Nazarene, behind a 32-point, 10-rebound effort from Jess Learned, kept pace until early in the fourth quarter.
"That's a crazy eight seed just the way they play, they're going to pour it in the basket if you don't start to impact percentage with pressure," Yaw said. "I didn't know what number that would be percentage-wise. We kept competing one play at a time because we knew there would be waves of play.
"We talk about chasing the end of every play. We had some big offensive rebounds, we kept some balls alive, defensive rebounded well and finished the game well. I thought out players chased the end of every possession well today and a lot of that comes from experience."
Northwestern had to play catch up early on, trailing 13-5 four minutes into the game. The Red Raiders, though, outscored Olivet Nazarene 15-2 the rest of the quarter, taking a 20-15 lead on a layup at the buzzer by Breanna Schuiteman.
Learned scored 11 points in the second quarter and Olivet erased the five-point deficit, taking a 39-34 lead on a 3-pointer by Learned with 2:47 left in the half. Northwestern scored a conventional 3-point play and nailed two 3-pointers to go back in front by four before a late bucket pulled Olivet within 43-42 at intermission.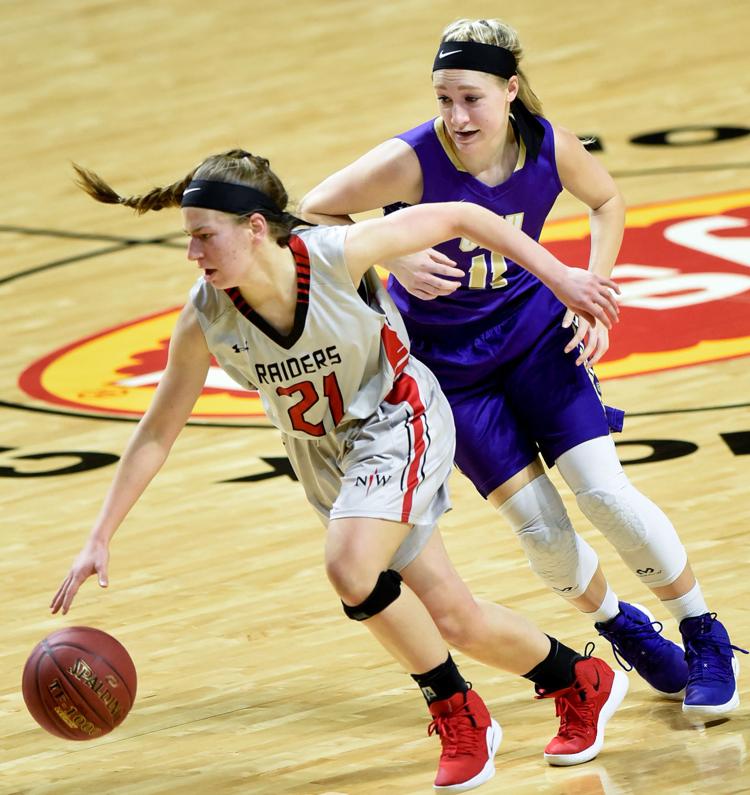 Although it never took the lead in the third quarter, Olivet stayed close, trailing 62-61 before Kiel sandwiched a pair of buckets around a hoop by Blum. The Red Raiders wound up leading 68-63 after three quarters, then opened it up to 78-68 on two baskets by Gustafson and a 3-pointer by De Jong early in the fourth.
"Credit to our players," Yaw said. "They trust each other and care a lot about each other and that's pretty cool."
Kayla Ross chipped in 18 points, seven rebounds and seven assists for Olivet Nazarene, while Sammy Stejskal was also in double figures with 13 points. The Tigers (21-12) made a late charge to get into the national tournament after finishing fourth in the Chicagoland Athletic Conference regular season standings. They avenged two previous losses with a win over national qualifier St. Francis (Ill.) in a league tournament semifinal, then upended Cardinal Stritch (Wis.), another tourney qualifier, in the title game.
Northwestern picked up its 53rd national tournament victory, the most by any school. The Red Raiders have also won five national titles, more than any team in the history of this event.