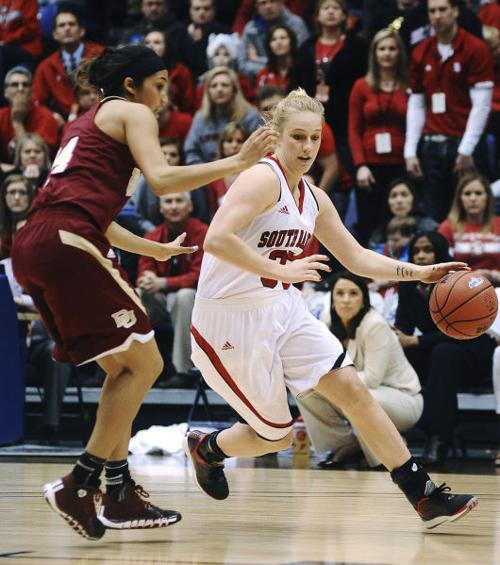 VERMILLION, S.D. | Perhaps it's no coincidence that possibly the final game the University of South Dakota women's basketball team ever plays at the DakotaDome will also mark a farewell for one of the most accomplished players in school history.
When the Coyotes host arch-rival South Dakota State Saturday, it will be the last regular season contest played at the dome, USD's home for 30-plus seasons. A sparkling new arena adjacent to the current facility awaits completion for next season.
She thought it was happening a year ago, but a reprieve from the NCAA allowed Nicole Seekamp another season of eligibility and made last year's Senior Day kind of a trial run.
The real thing takes place this weekend.
"Last year around this time I was, like, this is it and it didn't really feel like it was the end last year and obviously it wasn't," Seekamp said. "Now this really is the last go-around.
"I'll probably just treat it like every other game, I don't think it will set in that this is the last time I'll ever play here and the last time women's basketball is in the dome. It's going to take a little time to set in, probably until next year when the new girls play and I'm not here. But it's going to be exciting to finish out this era in the dome."
Seekamp, an ultra-talented 5-foot-10 guard, left the warm climate of South Australia to come to South Dakota, a place she had never heard of, let alone seen.
The NCAA ruled back then (2011-12) that she had to sit out her freshman season to meet eligibility requirements. Then, after several subsequent applications to restore that lost year, it reversed course last April and granted USD's last chance for a waiver, meaning Seekamp could indeed play a fourth season.
Seekamp had already led the Coyotes to a Summit League regular season title and three straight tournament championship game berths. So, you could imagine the excitement when the news broke that she would return in 2015-16.
As Seekamp nears the end of her spectacular USD career, she has vaulted to second on the all-time scoring list with 1,859 points, an average of 15.5 per game. Her offense, however, is only part of the legacy she'll leave behind.
"She's a special talent that kind of sees her basketball game unfolding before everybody else sees that," USD Coach Amy Williams said. "She is able to make plays offensively and defensively because she knows what is going to happen a lot of times before it happens.
"The best thing about Nicole from my vantage point has been that she's really special in a sense that there's no ego there. It's a great combination of confidence and knowing how important it is to keep everybody involved, really buying into that team concept.
You have free articles remaining.
"Her first focus is really genuinely always been how can I help our team win games and how can I help everybody stay involved. She takes as much pride in getting assists and steals as she does with scoring. Everybody understands she is capable of scoring more points than she does but because of the fact she's bought into us having balanced scoring she's made some sacrifices to her own personal point statistics to be a part of a better team."
Seekamp also has 542 career assists, which ranks third all-time at USD, and 243 steals.
Williams, who took over as head coach the season after Seekamp – originally signed by former Coach Ryun Williams – sat out as a redshirt, wasn't sure that Seekamp would return from Australia for her sophomore season. She did, of course, and set sail on establishing both herself and the Coyotes as legitimate NCAA Division I performers.
Ryan Larsen, then an assistant under Ryun Williams, now the head coach at Colorado State, was primarily in charge of recruiting Seekamp. He traveled to Australia to try and lure Seekamp, who had become one of the top players in each of her age groups in the country.
"We talked for a couple years, I didn't really want to come over for the first year because I wanted to go home for a little bit since I had already lived a ways from home," Seekamp said. "But then I decided to come over here based on the fact that I forged a good relationship with him and I thought the people were really kind.
"I actually didn't look at South Dakota and didn't know what I was getting myself into. But when I got over here I didn't mind it because I'm from a small town about the size of Vermillion so it was an easy transition from that standpoint. But the cold was definitely the worst thing I'd experienced."
Temperatures aside, things have turned out rather nicely for the 23-year-old daughter of Frosty and Charmaine Seekamp from Renmark, a small town about three hours inland from the major coastal city of Adelaide.
"I couldn't have chosen a better place," Seekamp said. "I'm so glad I've gotten to experience this and the five years here were awesome, I met so many great people and the coaches and teammates were the best I could ever have imagined. I'm going to miss it a lot."
South Dakota has won 84 games the past four seasons and Seekamp was only the ninth player ever to be honored as Summit League tournament most valuable player last season. This season, the Coyotes are 20-5 overall and tied for the league lead with an 11-1 mark. They are shooting for their second NCAA tournament berth in the last three seasons.
Seekamp, averaging 16.3 points and 6.3 assists per game, was recently listed as a second-round pick in a mock WNBA draft.
As a youngster, Seekamp commuted to Adelaide on weekends to practice and play with a team there and eventually, as a teenager, moved away from home to live with relatives there. That led to a chance to train at the Australian Institute of Sport.
"I used to play another sport called netball when I was young but decided basketball just because I could experience the world more, go out and represent my country in the Olympics if I wanted to do that or go overseas like I have," Seekamp said. "And my family all played basketball so that was a big influence as well.
"My oldest brother was almost going to come to America when he was growing up and chose not to so when I was thinking about it I wasn't really sure that this is what I wanted but he told me I should try it and if I didn't like it I could always leave. I decided to try it and it was a good decision."