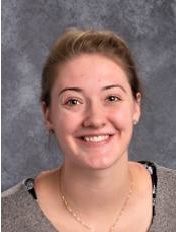 Brobst named Heelan's volleyball coach
SIOUX CITY | Lauren Brobst, a former volleyball player at Bishop Heelan High School and the University of Iowa, has been named Heelan's new volleyball head coach.
Brobst helped Bishop Heelan to four-straight conference titles and three state tournaments including a runner-up finish. She was named first team all-state volleyball by the Des Moines Register.
As a senior at Iowa she appeared in all 32 matches, recorded 1,087 career kills to land at No. 15 in program history, and led the team with 288 kills over 100 sets.
"We are extremely excited that Lauren Brobst will be our next head volleyball coach," said Heelan athletic director Anthony Elias. "Lauren was a great player at Bishop Heelan and she will be a great coach for the Crusaders."
Since graduating from Iowa in 201,7 Brobst has served as an aide at Holy Cross-St. Michaels School, part of the Bishop Heelan school system.
Brobst succeeds Mary Miller, who led Bishop Heelan's volleyball team to eight state tournament berths over 12 seasons.
You have free articles remaining.
"I'm very excited to be a part of this program. It's an honor to be able to coach at my alma mater," Brobst says. "I look forward to bringing my experience and knowledge as a former player into the gym to help these girls grow into outstanding athletes."
Nitz earns Louisiana Sports Hall of Fame honor
SIOUX CITY | Dave Nitz, the voice of the Sioux City Explorers from the 2009 to 2017 seasons, has been selected for the 2019 Distinguished Service Award in Sports Journalism from the Louisiana Sports Writers Association.
Nitz is in his 44th season as the radio voice of Louisiana Tech sports, having called nearly 3,000 football, basketball and baseball events in men's and women's sports. He and sportswriter Philip Timothy will be inducted in the Louisiana Sports Hall of Fame June 8.
Nitz, overall, has 57 seasons as a broadcaster, which includes 36 years of minor league baseball. He was on call for the Sioux City Explorers in 2015, the year when they set a new American Association record with 75 wins.
Nitz retired from the Explorers' play-by-play job following the conclusion of the 2017 season. He entertained many Explorers fans throughout his summers in Sioux City, capping off every Explorers victory with his trademark call, "This one belongs to the Explorers."
Iowa's Barta named to CFP committee
–Bill Hancock, executive director of the College Football Playoff (CFP), announced today that Iowa athletic director Gary Barta has been appointed to the selection committee by the CFP Management Committee. He will begin a three-year term this spring. Barta replaces Ohio State Senior Vice President Gene Smith, who is stepping down after two years of service.
Barta is in his 12th year as the director of athletics at the University of Iowa. Barta was recognized by the National Association of Collegiate Directors of Athletics (NACDA) as a 2015-16 Under Armour Athletics Director of the Year.