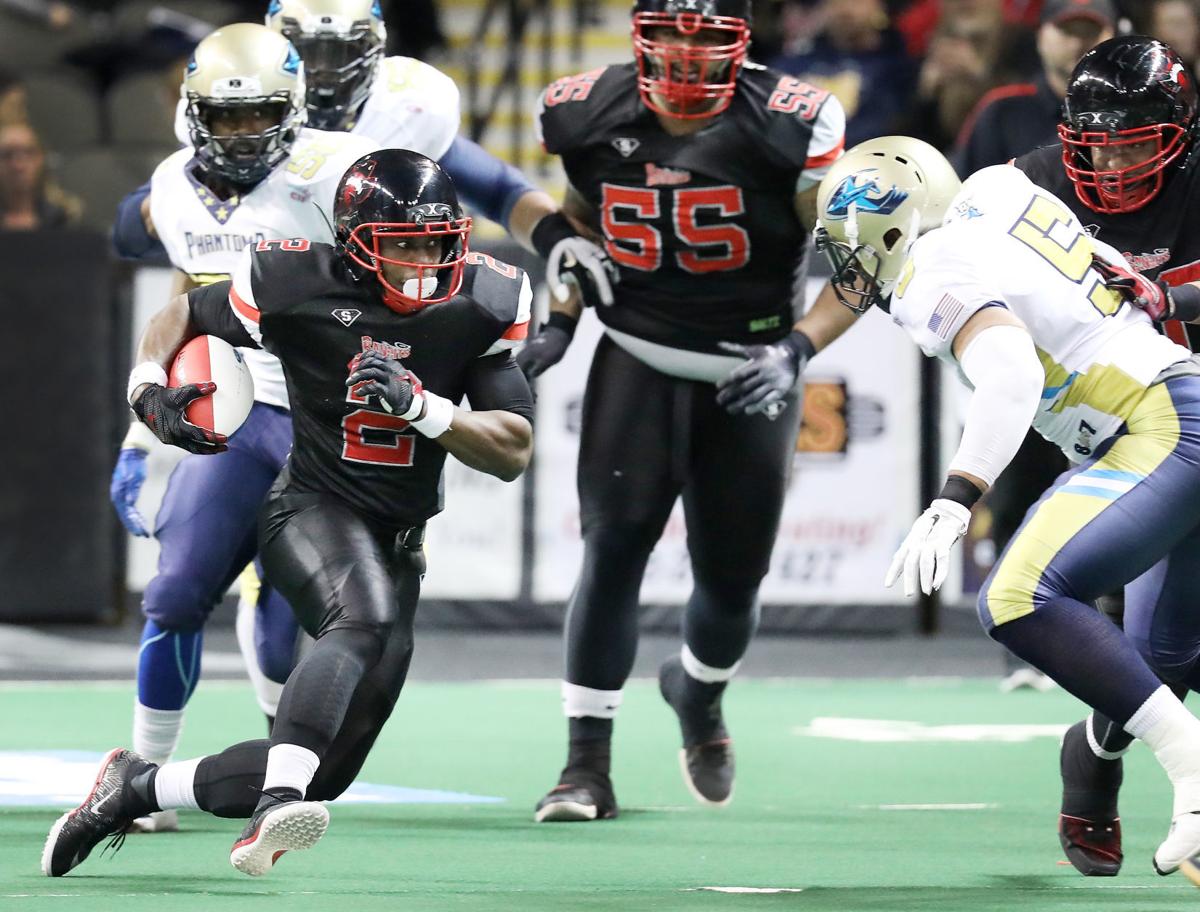 SIOUX CITY – Late in the game, with their season on the line, the Sioux City Bandits dialed up veteran receiver Frederick Bruno.
With 3:10 left in the game and trailing 39-37, Liam Nadler threw a 12-yard touchdown pass to Bruno that ended up being the game-winning score for the Bandits in a 45-39 over the Salina Liberty in the semifinals of the CIF playoffs. It turned out to be the final offensive play of the game for Sioux City (11-3), with the Bandits' defense sealing the win with a goal line stand as time expired.
"The bus ride back is a lot better after a win," said Bruno. "We earned another week together and that's the most important thing. That was a tough game. It wasn't very pretty. We stuck together as a team and we got the job done."
Bruno caught two touchdown passes in the game and finished with 62 yards rushing and receiving in a tough and physical game.
"Those are two huge plays he came up with, to kind of sneak through the back of the coverage and get open," said head coach Erv Strohbeen. "He knows where the holes are in the defense. He knows what routes he needs to run and he's on the same page with his quarterback. He's just the ultimate competitor. Liam put that ball in the air and Bruno's move set him up so he was wide open. I think if he had two or three guys draped on him though, he was still coming down with that ball. It didn't matter at that point. He was going to make a play out there."
Bruno would prefer to praise his teammates instead of hyping up himself, but his coaches spoke glowingly about the veteran receiver.
"He's the ultimate professional," said Strohbeen.
"He's a hardworking man," said current defensive coordinator and former teammate Marlon Lobban. "He's so competitive, it's kind of scary. He is the definition of a Sioux City Bandit."
"He is the ultimate Bandit and one of my favorite guys in the whole world, on and off the field," said offensive coordinator Jarrod DeGeorgia. "He understands the game. He understands what we're trying to accomplish each and every year. He just makes the game a lot easier as an offensive coordinator calling plays."
The versatile Bruno has accounted for 1,127 all-purpose yards this season (473 receiving yards, 223 rushing yards and 431 kickoff return yards) and 16 touchdowns.
Bruno's quarterback also had high praise.
"He's probably the best receiver that I've ever played with in terms of both the mental and the physical side of the game," said Nadler. "Mentally, he reads a defense like a quarterback reads a defense. He's able to feel leverage of safeties and corners guarding him. That's great. Also he can stop on a dime and make people spin around and turn like that. He's a special player and I'm glad to have him."
None of this is new for Bruno. After graduating from Wayne State, Bruno played his first season with the Bandits in 2011, the final season before Strohbeen was promoted from an assistant to the head coach.
In that time, Bruno has played in four championship games with Sioux City. Saturday will be the fifth.
How does this year's team compare to the other four that played in championship games?
"To be honest, I'd say the only difference with this team compared to teams in the past is the amount of new faces that we have this year," said Bruno. "The guys this year came from so many different teams and different places. We all stuck together and got it together as a team. We're getting the job done right now."
The Bandits are currently riding a seven-game winning streak. Their last loss was a 60-58 setback at home against Salina on April 28, a third straight loss that dropped Sioux City to a pedestrian 4-3.
"We had to change our ways and do something different," said Bruno. "We had to look at film and figure out what was wrong. We also had to get together with the coaches and each other and figure out a plan. The plan we're using right now is working for us, we've got a seven-game winning streak."
That winning streak culminates with a chance to win Sioux City's fourth championship in franchise history.
Bruno doesn't try to look at Saturday's Champions Bowl against the Duke City Gladiators any differently than the rest of the games on the schedule though.
"Keep it the same," said Bruno. "I usually try to leave the guys to themselves. Everybody gets ready differently, so I just let them do what they do. It's been working for us, so I wouldn't want to changing anything now."
If Sioux City finds itself needing another big play late in the game, it's nice to know the Bandits have their guy.
Be the first to know
Get local news delivered to your inbox!