SIOUX CITY -- She will not be on the court but Andrea Norton may have the biggest impact for the Briar Cliff volleyball team this season.
The tragedy will have a lasting effect on the team, but the Chargers are trying to turn it into a positive, dedicating the season to Norton's memory.
Trying to find the positive out of such a negative situation is what Norton would've wanted, according to Briar Cliff middle block Grace Whitlaw, who was Norton's roommate for the last three seasons.
Whitlaw said the team can feel Norton's presence during practices.
"It's so different not having her here but I know she's with us still. We just try and keep her as our reason for the season. This one is definitely for her," Whitlaw said. "That's our whole motivation. She'd want us to be close, be successful, be positive and not be sad necessarily that she's gone but to always remember that's she's with us and to continue to stay determined and to keep our eye on the prize."
"It's motivational at this point for us. She's the one that fuels us every day that we step onto the court," Weatherford said. "We want to have a great season because that's what she would've wanted for us."
Norton, a middle blocker, joined the Briar Cliff volleyball program in 2016 after a stellar high school career at Hot Springs, South Dakota. While Norton didn't appear in any varsity contests in the past three seasons for the Chargers, she had a major impact on the team.
"She was a light in everyone's lives. She was honestly the most amazing person," Whitlaw said. "She didn't get that varsity time but she continued to work really hard and to have a great attitude. She was the ultimate teammate. She was so supportive and was always the loudest on the bench. She wanted everybody to be successful and to have a great time. She never wanted anyone to be sad.
Nic Scandrett recalls his track and field days when he got to run the 400-meter dash on an inside lane. That's where he hopes to take the Bria…
"She just always wanted to keep a smile on everyone's face and always cared about them. She was amazing."
Whitlaw, a senior from Fort Calhoun, Nebraska, has worn No. 24 her whole career at Briar Cliff. Norton wore No. 22, which is the number Whitlaw will wear this season to honor her friend.
"I just thought it would be a great idea to have her with me," Whitlaw said. "Victoria Gonzalez was also our roommate so it will be nice to have all three of us on the court. I really truly feel like she is always watching us, always surrounding us.
"These have been probably the hardest months of my life. Definitely a lot of growth for me and accepting that she's not here anymore. I know that she would want me to stay motivated and determined and I really try and think about that every day and do that."
On senior day, Whitlaw will wear No. 24 again; Norton's No. 22 jersey will be on the bench along with Norton's shoes.
"Those that were close to her, they dedicated everything they've done over the summer and offseason work to her memory," Weatherford said. "Everybody knew her and everyone was friends with her. Even the new players have a respect for her and what we are trying to do in her honor."
Weatherford had only been the head coach for a few months when Norton died. Whitlaw said Weatherford has done everything in her power to keep the team together and to give them the support they need.
"God sent Lindsey here for a reason and we are thankful that she's here. She is really bringing this program together and I know that she wants us to be successful and I truly feel we will be," Whitlaw said. "She's truly a blessing. She's made sure that we are always together and were able to go to the funeral and everything.
"She's making sure Dre is remembered at the Cliff. She's incredible and I couldn't have asked for a better coach to come during this time. She's been amazing."
SIOUX CITY, Iowa -- Lindsey Weatherford left quite the impression with Briar Cliff athletic director Nic Nelson the first time the two talked …
The Chargers are coming off an 11-16 2018 season and were 5-11 in the Great Plains Athletic Conference. In the preseason poll, Briar Cliff was picked to finish in 11th place.
Briar Cliff was in a position to make the GPAC tournament last year but went 1-9 in the last month of the season, finishing in a tie for eighth-place. Briar Cliff didn't win the tiebreaker and the Chargers missed the postseason.
Whitlaw feels this team will be an improved squad.
"We have a lot of great competitors. It will be nice to come into this as the underdog. I truly feel like this season will be better than the past few," Whitlaw said. "Last year was a tough season for us and we are trying to not have that again and just stay positive and stay successful. At the end of last season, we really lost that light. Andrea's passing, she has brought that back to us."
Weatherford likes what she's seen out of her team in preseason camp but is looking for a little more consistency.
"Consistency of our athletes, in our defense, in our offense, just with skills in general. Consistency will be a big key for us throughout the season," Weatherford said. "If we can improve our consistency, we can improve our image in the eyes of those in the GPAC."
Weatherford will continue to run a 6-2 offense and the Chargers return both of their setters from last season. Senior Delaney Meyer was All-GPAC honorable mention with 462 assists, 211 digs and 27 aces. Sophomore Maureen Imrie finished with 404 assists, 131 digs and 32 aces.
"We are working on consistency. Consistency with setting, ball-placement, getting our feet there and also consistency with the offense and the players and terminating," Meyer said. "With Lindsey coming in, the new players that we have and the returners, we are really pushing hard this year."
The team did lose Courtney Schafer. She was a second-team All-GPAC selection with 281 kills and 33 blocks.
Gonzalez, a senior, is the top offense option back after putting down 230 kills last season to go along with 32 blocks. Whitlaw was an All-GPAC honorable mention in the middle with 72 kills and 64 blocks. Senior Grace Hanno, a Bishop Heelan graduate, will see more time on the outside after finishing with 97 kills last season.
"Grace and Aubury Coleman are both in Courtney's slot. If one or both of them improve their consistency, we can be really strong in that position," Weatherford. "We are looking for someone to step up consistently, produce for us and score."
Defensively, the Chargers have to replace libero Danielle Coronado. She had 310 digs last season along with 21 aces. Sophomore Cassie Clark is currently sliding into the position. There are nine players vying for the libero spot.
"Cassie played a little defensive specialist last year so she's got some varsity experience. She put in a lot of work in the spring and summer and has been the most consistent," Weatherford said. "There are a lot of options in that spot. Junior transfer Mikayla Castillo is someone we could see get some time in there."
Briar Cliff opens the season on Friday with a tournament at Midland.
Briar Cliff Inauguration Karstens
Briar Cliff Inauguration Karstens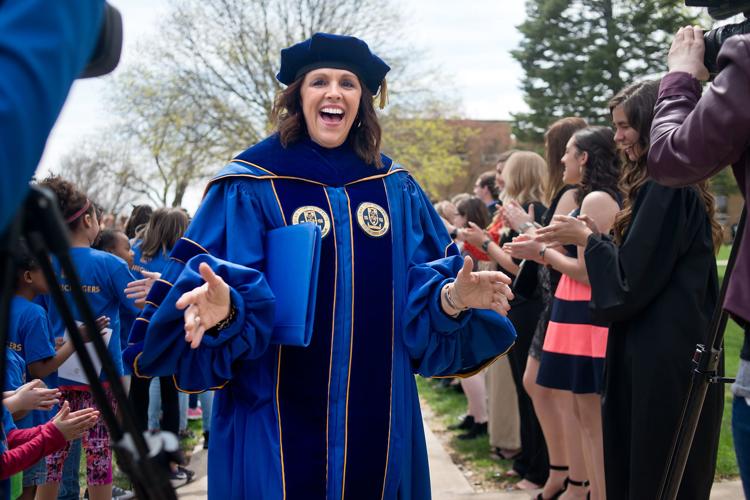 Briar Cliff Inauguration Karstens
Briar Cliff Inauguration Karstens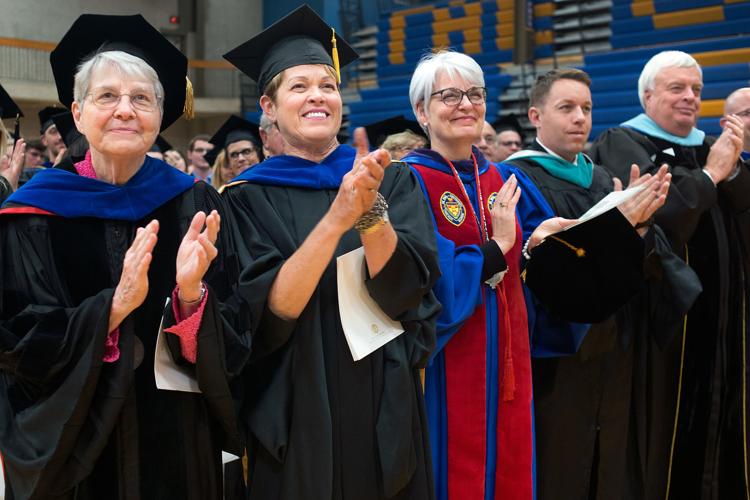 Briar Cliff Inauguration Karstens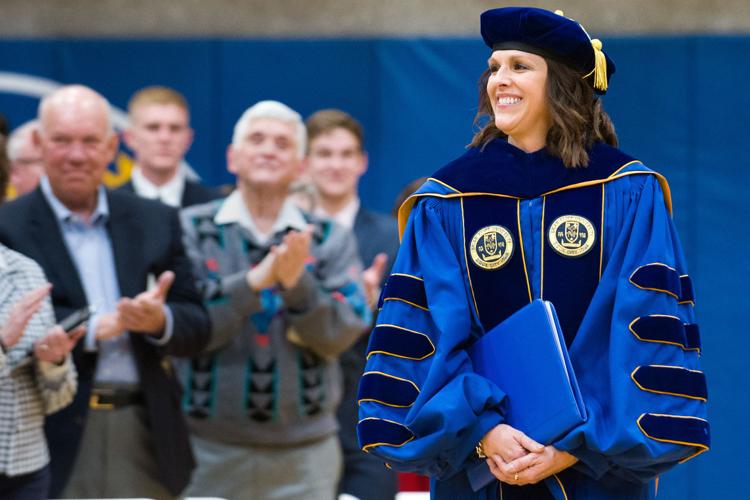 Briar Cliff Inauguration Karstens
Briar Cliff Inauguration Karstens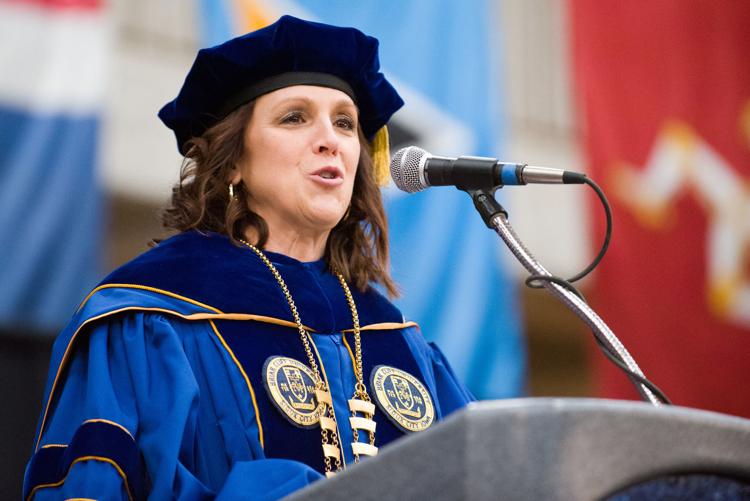 Briar Cliff Inauguration Karstens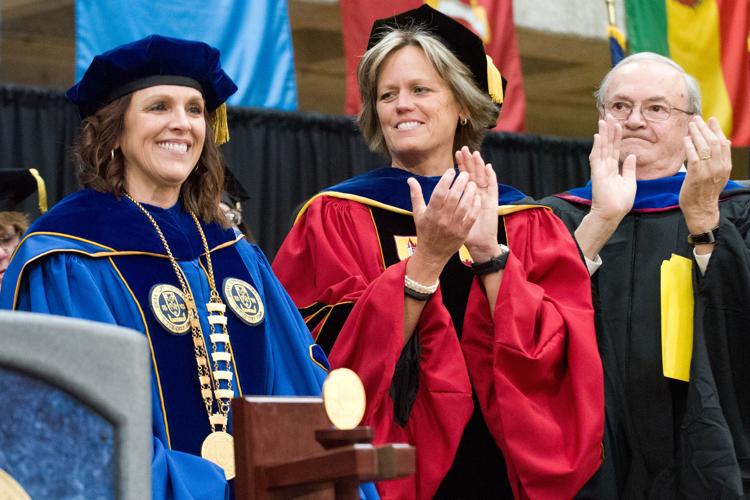 Briar Cliff Inauguration Karstens