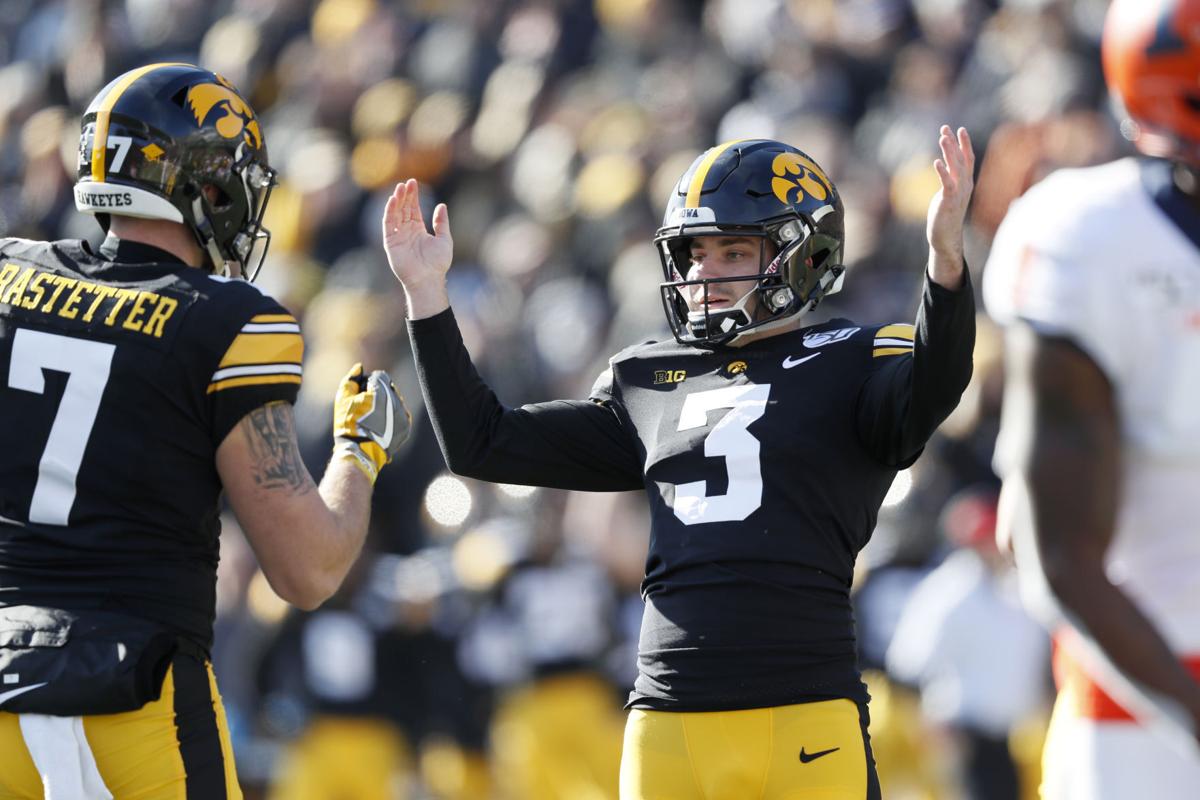 IOWA CITY – Keith Duncan rewrote record books last season for the Iowa football team, but the Hawkeyes' senior kicker isn't a history major.
"That doesn't mean a thing now,'' Duncan said. "I haven't made a field goal this season. I'm 0-for-0 right now, looking for my first opportunity.''
Duncan, who happens to major in sport and recreation management at Iowa, made the most of nearly all of his opportunities a year ago.
He earned consensus all-American honors after setting Iowa and Big Ten single-season records with 29 field goals, a number which ranks sixth all-time in NCAA history.
Duncan converted on 29-of-34 field goal tries, including 14-of-18 attempts from 40 or more yards and 12 of his 13 kicks away from Kinnick Stadium.
Add to that perfection in 32 PAT attempts and Duncan contributed 119 points to helping the Hawkeyes build a 10-3 record last season, third on Iowa's single-season scoring list.
Duncan's work included hitting four field goals at lowa State and at home against Purdue, positioning Iowa for victories in both games, and he hit a 48-yard field goal with one second remaining in the Hawkeyes' 27-24 victory at Nebraska.
He celebrated the game winner against the Cornhuskers by blowing kisses to the crowd at Memorial Stadium.
"I would not have done anything differently,'' Duncan said. "I wish it could have lasted longer. It was a lot of fun, something I will always remember.''
Some Nebraska fans didn't give him a chance to forget.
Duncan said many reached out on Twitter shortly after the game. A few took the time to send hand-written letters, offering their opinions on his antics.
"I think that's really cool,'' Duncan said. "They have a lot of passionate fans. I love playing at Nebraska. We have a lot of respect for their program as well as their fans. I hope we can do it again this year.''
But, it won't be the same.
As the Hawkeyes work toward their 2:30 p.m. season opener on Oct. 24 at Purdue, Iowa is breaking in a new snapper and holder.
Snapper Jackson Subbert and holder Colten Rastetter completed their eligibility last season. Senior Austin Spiewak is listed on top of the preseason depth chart as the team's deep snapper and Ryan Gersonde will likely step into the holder's role after backing up Rastetter last season.
"We're fortunate to have a lot of good people in the program,'' Duncan said. "We're working together well and the open lines of communication have been good.''
Iowa special teams coordinator LeVar Woods describes Iowa's competition throughout special teams as ongoing.
"We have some strong senior leaders in the group and that's always a good place to start,'' Woods said. "… But, our expectations have not changed. We expect our guys to compete at a championship level.''
Duncan said he takes nothing for granted.
Senior Caleb Shudak returns as well after handling Iowa's kickoff duties a year ago during a season when Duncan saw his first action since 2016.
Although Duncan converted on 9-of-11 field goal tries and 38-of-39 PAT kicks as a true freshman that season – including a game-winning 33-yard field goal in a 14-13 victory over second-ranked Michigan as time expired – Miguel Recinos won the starting placekicking job at the start of the 2017 season and held it through the end of the 2018 season.
Duncan said his approach now remains the same as it has throughout his career, starting with a thorough review of each of his kicks from a year ago.
"There is always work to do, some way to get better,'' Duncan said. "That's where my focus is at now.''
Be the first to know
Get local news delivered to your inbox!