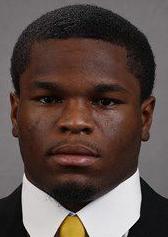 IOWA CITY – When Mekhi Sargent scored what proved to be the game-deciding points in Iowa's 26-20 win over Purdue last weekend, his touchdown celebration was accompanied by a sigh of relief.
Sargent followed a 21-yard run by matching the longest touchdown run of Iowa's 5-2 season, carrying the ball 14 yards into the end zone to extend a 19-13 lead with 2 minutes, 14 seconds left in the game.
Starting and ending that two-play drive capped a 68-yard effort for the Hawkeyes' junior running back, a small drive with big ramifications.
"That was huge for us,'' Sargent said Tuesday. "One of the things we always want to do as an offense is finish strong. To be able to execute those plays the way we did when we did it, that's big for us.''
Sargent considers it to be a step forward for an Iowa offense which had struggled in recent games to gain much traction on the ground.
Offensive guard Landan Paulsen shared that sentiment.
"Everybody is working hard to bring it all together and make everything work and to be able to carry some late-game momentum forward from that, that's big for all of us,'' Paulsen said. "It was something we needed.''
It was something Sargent needed as he works toward Saturday's 11 a.m. game at Northwestern, an opponent that has beaten Iowa in each of the last three years.
His final two carries pushed the Hawkeyes' rushing total over 100 yards for the first time in three games, helping Sargent move beyond his own struggles of the past few weeks.
Sargent fumbled on Iowa's first snap of the game at Michigan, a tone-setting drop in a 10-3 loss which saw Sargent finish with seven carries for 12 yards.
The following week against Penn State, he ran the ball nine times and collected just 18 yards.
"I wasn't the first player to cough the ball up and I won't be the last. It hung with me for a few days, but we're still in season and you don't want to be thinking negatively the whole time,'' Sargent said.
"There's no need to dwell on the past. My thing was to move forward. There's a lot of football left and down the line, I want to continue to be the best football player I can be for our team.''
You have free articles remaining.
Continuing to split time with Toren Young and Tyler Goodson in the Hawkeye backfield, Sargent is averaging 56.7 yards per game.
Coach Kirk Ferentz believes from the line to the backs, Iowa made progress in its ground game last weekend against the Boilermakers.
"I think things looked a little more cohesive with our blocking. It starts there,'' Ferentz said. "There's a lot of moving parts there. Getting (Alaric Jackson) back in the lineup, he looked a little sharper Saturday, just stabilizing that part of the equation will help us.''
Ferentz doesn't believe Iowa has everything figured out just yet.
"I think we gained a little ground Saturday, but we still have work to do and it's going to be that way for a while,'' he said.
So, Ferentz looks for sustained growth, seeking week-to-week improvement from a rushing attack which now averages 149 yards per game and ranks ninth in the Big Ten.
The Hawkeyes expect to continue to rotate three backs, believing that Sargent, Young and Goodson each bring something a little different to the equation and add to the preparations opponents must make as they prepare to face Iowa.
"We're pleased with what we're seeing and we expect them to keep pushing forward,'' Ferentz said.
Sargent expects the same of himself.
He plans to learn from his struggles and build on his successes.
"As a football player, I feel like we all go through adversity at some point,'' Sargent said. "As a team, we were going through some adversity since we'd lost two in a row. It all starts at practice, the basic fundamentals. Just move forward.''
Sargent believes he joined the Hawkeyes in accomplishing that with last week's work against the Boilermakers.
"That series, the way it came together up front, we've seen what we do now,'' Sargent said. "This gives us a chance to grow.''