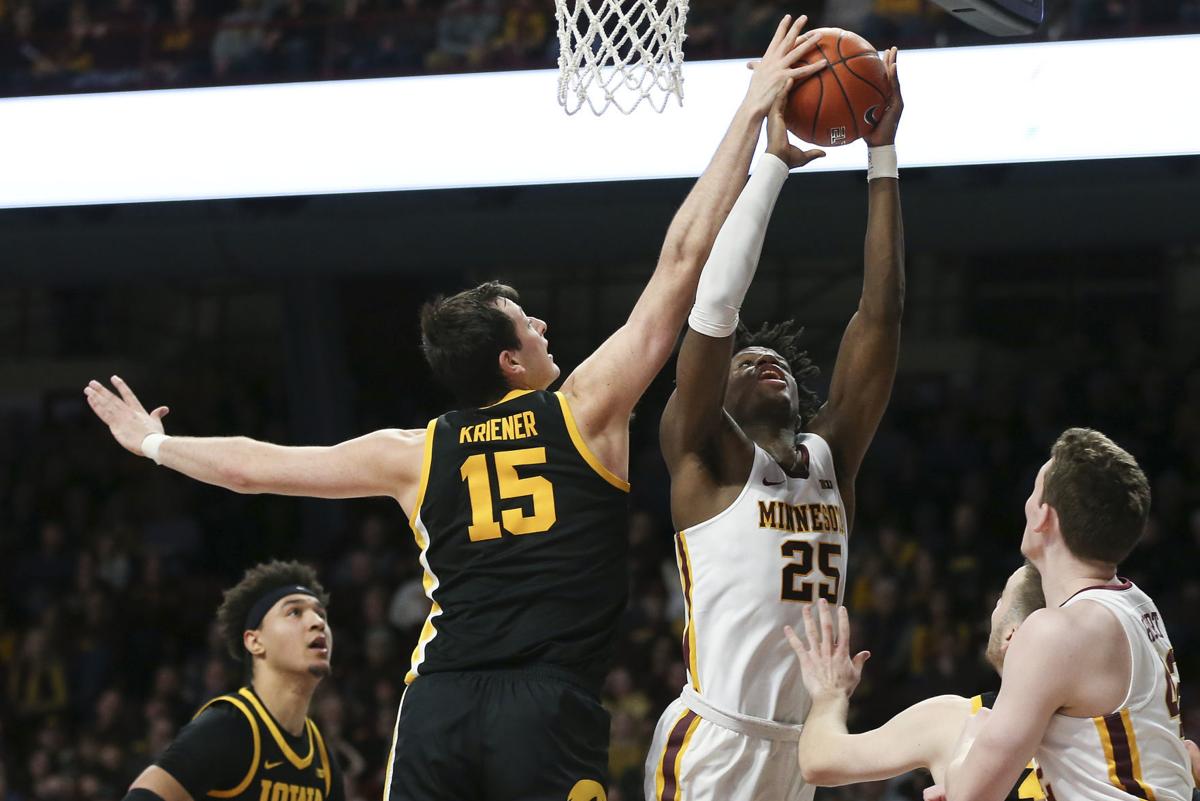 MINNEAPOLIS — It was sort of a perfect storm of adversity for the Iowa basketball team Sunday.
The Hawkeyes' best player — the one who seems to score almost any time he wants to — fouled out. Their second-best player scored two points. Their third-best player didn't even play.
They scored fewer points than they have in any game all season. With five minutes to go, they found themselves trailing one of their most bitter rivals by eight points in one of the Big Ten's most daunting venues.
And they somehow found a way to win the game.
The 21st-ranked Hawkeyes got 24 points from Luka Garza, got major contributions down the stretch from Ryan Kriener, Bakari Evelyn and Connor McCaffery and outscored Minnesota 11-0 in those final five minutes to escape with a 58-55 victory over the Golden Gophers at sold-out Williams Arena.
"I think it was a belief in the huddle within this team that we're going to win this game,'' Iowa coach Fran McCaffery said. "Luka said it, he verbalized it. He said 'We're going to win the game.' There was just never any panic. You cannot go on the road and be down by 8 with five minutes to go and panic.''
The victory was only the Hawkeyes' second on the road in the Big Ten this season and it moved them into a tie for third place — with Michigan State and Rutgers — in the league standings. They are now 18-8, 9-6 in league play.
In view of how badly they have been beaten in a few recent road tests and how poorly they played in some stretches Sunday, it might have been one of their most impressive wins.
"We didn't play our best game and we still won,'' Kriener said.
"It just showed a lot of resiliency and toughness from us, to be honest,'' Connor McCaffery said. "Things really didn't go our way today.''
The victory seemed to have slipped away when the Gophers responded to McCaffery's game-tying 3-point field goal with an eight-point flurry that gave them a 55-47 lead with 5:22 remaining.
Iowa called timeout and Garza, who had been on the bench with four fouls, went back into the game. But before he did, he told his teammates they were going to prevail.
"I had confidence in us and I knew we had enough time to do it,'' he said.
Connor McCaffery said it was a surprisingly upbeat huddle.
You have free articles remaining.
"Everybody was still talking,'' he said. "We were big on what we can't do what we need to do. I still felt good after that because we were all still very engaged and there was no letdown at all.''
The Gophers (12-12, 6-8 Big Ten) never scored again. In fact, they got off only two shots in the last five minutes, mixing in a half-dozen turnovers.
The Hawkeyes played a 3-2 zone defense for much of that stretch but Kriener said it actually "morphed'' into a diamond-and-one alignment with him handling Minnesota star Daniel Oturu and everyone else keeping point guard Marcus Carr out of the lane and closing out on the Gophers' 3-point shooters.
"We were doing a good job defensively the whole game but we really ratcheted it up and made it tough for them to get anything,'' Garza said.
Meanwhile, the Hawkeyes chipped away at the lead. McCaffery made two free throws, Garza flipped in a short hook shot, Garza nailed his only 3-pointer coming out of another timeout and Kriener tied the score at 55 on a free throw with 1:37 to go.
He missed the second shot, but Garza tapped the rebound out and Evelyn was fouled by Payton Willis just as the shot clock expired with 1:15 to go.
With a hostile crowd of 14,625 roaring in his ears, Evelyn calmly swished both shots to give Iowa a 57-55 lead.
"I just tried to think of the hundreds of times in my life I've done that and just stepped up and shot it,'' Evelyn said.
"It's kind of funny but it was so loud that it kind of cancelled each other out. It's like I didn't hear anybody.''
It was just a matter of the Hawkeyes playing 75 more seconds of defense.
Carr threw the ball away with 40 seconds left and when the Gophers got the ball back, Kriener came out to get a hand on Carr's 3-point attempt. The ball landed in the hands of Oturu, who collided with Garza, prompting the Iowa star to be whistled for his fifth foul with 3.8 seconds left.
Oturu missed the front end of the 1-and-1, however. McCaffery made one foul shot with 0:02.9 showing on the clock and Carr missed a desperation 60-footer as time ran out.
Garza matched his season scoring average and grabbed eight rebounds despite playing about 10 minutes less than he normally does. The 6-foot-11 junior started out by scoring the first eight points of the game and making his first five shots before getting into foul trouble.
Kriener added 10 points, seven rebounds and four blocked shots in a starting role, replacing the injured CJ Fredrick. He also was instrumental in holding Oturu to just 15 points.
Joe Wieskamp made just one of seven shot attempts and had a season-low two points although he grabbed eight rebounds.
Be the first to know
Get local news delivered to your inbox!