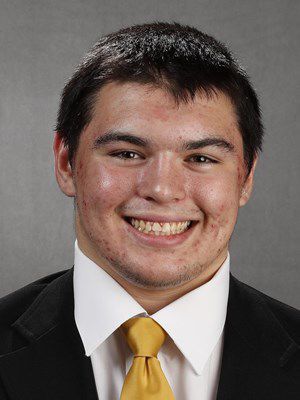 IOWA CITY, Iowa – Michigan's second-ranked Mason Parris wiped the smile off the face of Iowa 285-pounder Tony Cassioppi last weekend.
The Wolverines' sophomore pinned the third-ranked Hawkeye redshirt freshman in 4 minutes, 31 seconds, an eye-opening first loss in 16 matches this season but also an opportunity to learn as the dual season nears an end.
Cassioppi faces another test Saturday when top-ranked Iowa hosts 13th-ranked Minnesota in an 8:30 p.m. dual at Carver-Hawkeye Arena.
As the Hawkeyes look to secure sole possession of the Big Ten regular-season championship, the Golden Gophers' top-ranked Gable Steveson brings a 10-0 record into his expected match against Cassioppi.
Coach Tom Brands expects Cassioppi to be more than ready for his first collegiate match against Steveson.
"He's a competitor,'' Brands said, pointing to Cassioppi's experience in wrestling and boxing as competitive endeavors which allow individuals to self-examine the good and the bad of anything that transpires during a one-on-one match.
"Whenever you are done with a match, you think about how I can get better, what can I do differently, those types of things,'' Brands said. "In his last match, he didn't dominate from the start. All you can do is put him back on the mat and let him go to work.''
You have free articles remaining.
Brands suggested that Parris provided Cassioppi with an opportunity to learn, adding that it is up to Cassioppi to make sure that happens.
"What's done is done. Great job, Michigan, but that's over and done,'' Brands said. "What can we learn from it?''
Iowa 149-pounder Pat Lugo found himself in a similar situation earlier this season, winning his first 13 matches and moving into the number one spot in the national rankings before dropping a 2-1 decision to sixth-ranked Sammy Sasso of Ohio State in a match decided in tiebreaker one.
He picked that match apart, learned from it and has gone on to win his last three matches to take a 16-1 record into a match Minnesota's Brayton Lee, who is 21-3 and ranked as high as fifth.
"You have to move on. You learn from it and do everything you can not to put yourself in that position again,'' Lugo said. "I feel like I'm the best 149 pounder in the country and believing in yourself is where it all starts.''
Lugo and Cassioppi are among five Hawkeyes expected to face Golden Gophers ranked in the top-10 nationally in Iowa's Big Ten finale.
At 125, Iowa's top-ranked Spencer Lee faces Minnesota's 10th-ranked Patrick McKee, while Max Murin or Carter Happel at 141 is expected to meet the Gophers' fourth-ranked Mitch McKee.
Minnesota (9-6, 4-3 Big Ten) is expected to send eighth-ranked Devin Skatzka to the mat at 174 to face Iowa's top-ranked Michael Kemerer, who joins Lee in remaining unbeaten on the season. Kemerer is 11-0 while Lee has a 13-0 record for the Hawkeyes (11-0, 8-0).
Iowa and Minnesota are meeting for the 105th time in the late-starting dual, a series that has seen the Hawkeyes win the last five meetings since the Golden Gophers won 19-15 in Iowa City in 2014.
Be the first to know
Get local news delivered to your inbox!