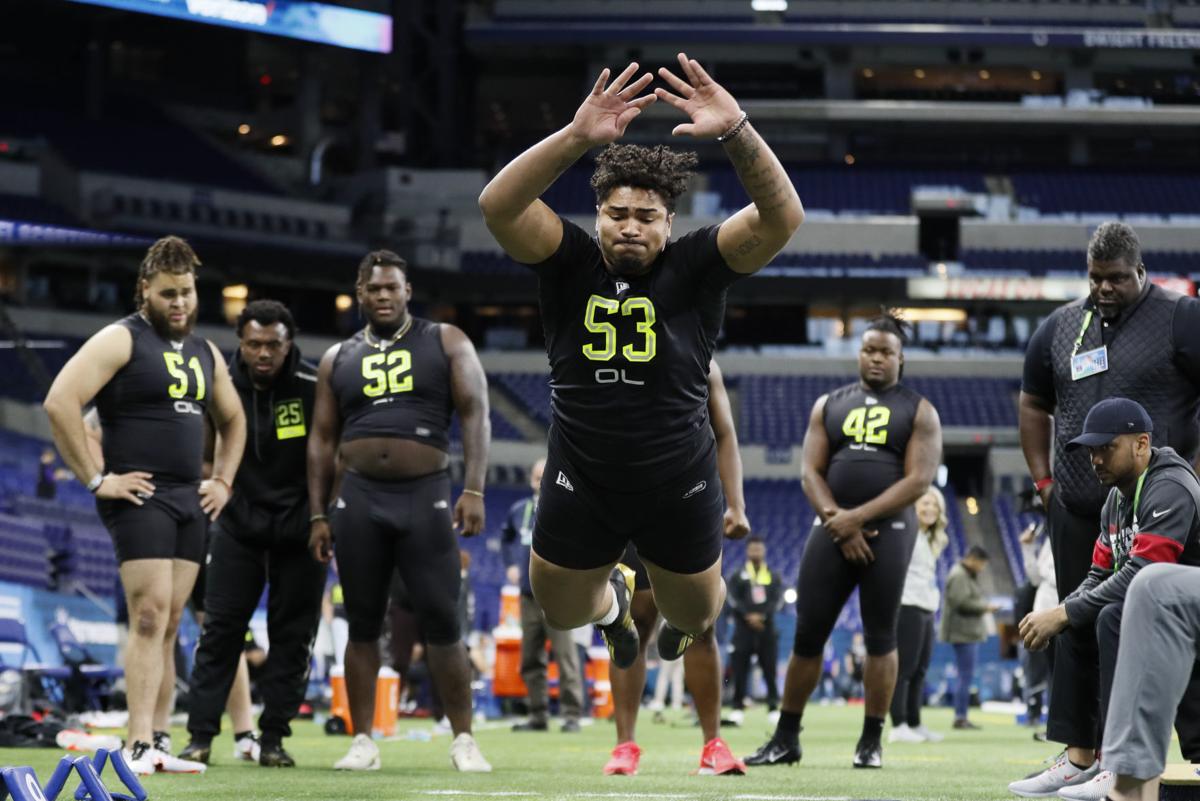 When NFL teams begin drafting a new crop of players four weeks from today, don't expect the wait to be long for Iowa offensive tackle Tristan Wirfs.
Building on a stellar performance at the NFL Combine in February, analysts continue to see the Big Ten offensive lineman of the year solidifying a spot as a top-10 selection.
In the latest version of his mock draft released Tuesday, ESPN draft analyst Mel Kiper Jr. has Wirfs going in the eighth spot in next month's draft to Arizona, moving him into that position after the Cardinals addressed needs at receiver by trading for Houston's DeAndre Hopkins.
"Arizona could use immediate help at right tackle and he could help out right now,'' Kiper said during a teleconference Wednesday.
He said he considers Wirfs to be among the top two or three available tackles in this year's draft class, but positions him with the Cardinals based on feedback from executives around the league.
"It is not just based on what I think, this is what the league thinks,'' Kiper said. "So, it's not me. I don't have Wirfs as the top tackle, but I think for Arizona it would be a good fit as they look for someone to protect Kyler Murray.''
One of four Hawkeyes to leave the program early and declare themselves eligible for this year's draft, the 6-foot-5, 322-pound native of Mount Vernon, Iowa, positioned himself for that kind of opportunity with his effort at the NFL Combine.
He established event records for an offensive lineman with a vertical jump of 36.5 inches and a broad jump of 121 inches. Add to that a 4.85-second time in the 40-yard draft and it is easy to see why ESPN draft analyst Todd McShay has Wirfs going to Jacksonville with the ninth pick in his most recent mock draft.
"Tristan Wirfs had the best Combine I've ever seen from an offensive lineman,'' McShay said in a teleconference earlier this month. "He was off the charts.''
While Wirfs helped himself in Indianapolis, Hawkeye defensive end A.J. Epenesa did not get same type of boost although the 6-6, 280-pound end from Glen Carbon, Ill., left the NFL Combine projected as a late-first or early-second round selection.
Kiper lists him as the second of Minnesota's two first-round selections, seeing him as a fit for the 25th pick of the draft and addressing Vikings' needs created by the departure of Everson Griffen in free agency.
"Epenesa, he's dropped a bit. When you talk about a 40 time (of 5.04 seconds), that usually conveys to a pass rusher in the NFL,'' Kiper said, referencing a 40 time that was in the middle of the pack among Combine participants.
"The great thing about Epenesa is you can kick him inside on third down. He has an inside presence. He has versatility. He had great production against some pretty good offensive tackles late in the year.''
Kiper said he cannot envision Epenesa falling too far in this year's draft class.
You have free articles remaining.
"I'd say at worst early second,'' Kiper said.
McShay said Epenesa's game tape illustrates why.
"He didn't have a great workout at the Combine, but he's a better football player than a tester. We knew that going in,'' McShay said.
"We knew that going in. He reminds me of Trey Flowers, the former pass rusher out of Arkansas. Epenesa has strong hands, can move around a bit and do different things.''
That has McShay listing Epenesa as a late first-round selection.
"I think that is where he fits,'' McShay said.
The COVID-19 pandemic will impact how this year's NFL draft plays out.
The thee-day, seven-round draft is still scheduled to begin April 23 in Las Vegas, but will be closed to the public.
The NFL has also prohibited all pre-draft visits between prospects and its teams because of the pandemic and has pulled team scouts off the road.
With a number of on-campus pro days canceled, Kiper believes Combine performance and game video from last season will have a greater bearing on decisions being made concerning this year's draft.
"I think people will be going back to the tape more than ever,'' Kiper said. "You have to watch what you have the ability to watch. With no pro days, you go back to film evaluation.''
He believes that will ultimately benefit players who did participate in the Combine and put those who were not selected to attend at more of a disadvantage than they may have been in years past.
"There have always been some guys taken in the second, third, fourth rounds who weren't invited to the Combine, but earned their spots at pro days on their campuses,'' Kiper said. "This year, those guys haven't had that chance so there will be an impact.''
He sees this a draft class that is deep in a number of areas.
Iowa's three other Combine participants, defensive backs Geno Stone and Michael Ojemudia and quarterback Nate Stanley, are seen as potential to mid-to-late round selections.
Be the first to know
Get local news delivered to your inbox!