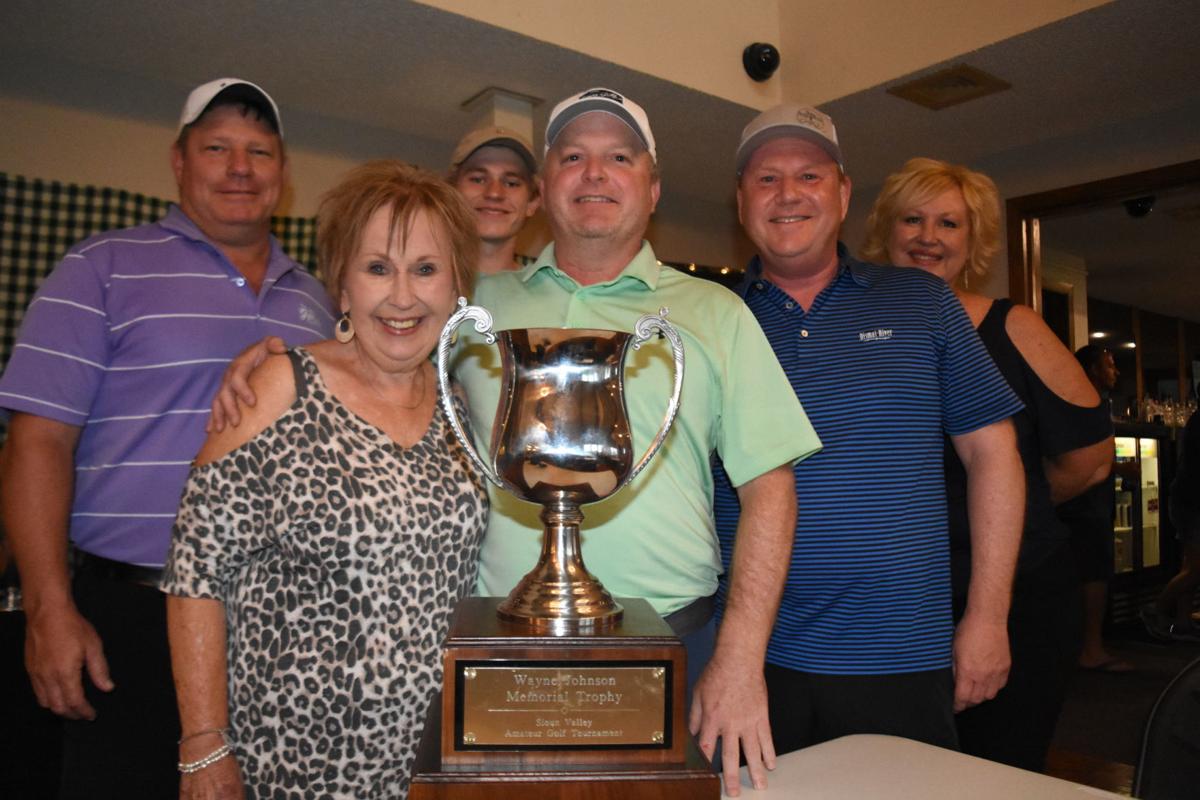 CHEROKEE, Iowa -- Weather interfered with the 86th annual Sioux Valley Amateur Match Play Championship here Sunday, but nonetheless a winner was declared.
And, it was familiar name.
J.D. Anderson of West Des Moines claimed his fifth Sioux Valley title with a rain-shortened 1-up victory over Corey Matthey of Sergeant Bluff. Tournament officials made the decision to halt the match after 10 holes because of lightning in the area.
Anderson, one of the top amateurs in the state, added the 2020 crown to victories in 2018, '13, '09 and '07. Only the late Mike Jividen from South Sioux City has won this tournament more times, having claimed a remarkable six wins, the last in 1985.
With the victory, Anderson earned a second leg of the Wayne Johnson Memorial Trophy. Anderson, who has already retired the Frank Greenwood Memorial Trophy, can do the same to the Johnson Trophy with another victory.
"They kind of blend together, so it's hard to explain," said the 46-year-old Anderson. "The first one was amazing but I feel it's getting harder and harder every year. It seems like the kids get younger. It kind of just motivates me.
"The Greenwood Trophy is at my house. You get to know these families that put these trophies out there for their family namesake and it's really neat to get to know them a little bit."
Anderson, who grew up in Pocahontas, Iowa, and attended Wayne State College, was the Iowa Golf Association Player of the Year in 2017 and '18.
He reached Sunday's final match at Cherokee Golf Course with a 2 and 1 triumph over James DeVos of Cherokee. DeVos, the 2014 Sioux Valley champ, is the Cherokee High School golf coach.
Morningside College golfer Matthey, meanwhile, defeated Ryan Feauto of Carroll, Iowa, 5 and 4 in the other semifinal. Matthey was seeking his second Sioux Valley win, having claimed the 2017 crown.
Anderson and Matthey put on quite a show before, unfortunately, Mother Nature intervened in a cruel way.
They played bogey-free golf the entire championship match, trading birdies along the way.
Anderson struck first with a birdie on No. 2 before Matthey evened things with a birdie on No. 3. A birdie on the sixth hole put Anderson back in front, but Matthey answered with a birdie on No. 7. Anderson's final birdie on the par-4 ninth hole proved to be the winning shot.
"This is one of those courses where if you get it in play you get a lot of wedge shots in, which I think I excel at," Anderson said. "And, the greens are nice where you can make a lot of birdies. It does lend itself to a lot of birdies but there are holes out there where guys can easily mess up and give you a hole here and there with bogeys."
Anderson shot a qualifying round of 2-under 70 and opened with a 3 and 2 win over Jeff Covatto of Marcus, Iowa. He then downed Matt Pitts by an identical score in the second round.
Cherokee resident Pitts, a former Morningside standout and the 2012 Sioux Valley champ, knocked off qualifying medalist Jonny Douglas 2 and 1 in the first round.
Douglas, a current Morningside star from Newcastle Upon Tynes, England, was presented the Don Royer Memorial Trophy for qualifying medalist with a 66.
DeVos claimed third place with a 3 and 2 win over Feauto.
It was a tough call for officials to make in stopping play, but Anderson would have been fine with any decision.
"They were asking me what I wanted to do and I told them it's not up to me, because I had the lead," Anderson said. "I'll do whatever everybody else decides. I've won before in rain-shortened events. It's tough but it still counts."
Aaron Robinson of Overland Park, Kansas, was the first flight champion. First flight matches were also 18 holes and all other flights played nine-hole matches.
Lucas Bruene of Solon, Iowa, won the second flight and Jake Spindler of Norwalk, Iowa, the third. Austin Sweeney of Sutherland, Iowa, (fourth), Carson Jenness of Cherokee (fifth), Tim Robinson of Overland Park, Kansas (sixth) and Brandon VandeGriend of Sioux Falls (seventh) were the other flight winners.
Be the first to know
Get local news delivered to your inbox!